2016 Winner: Bianca Lynne Spriggs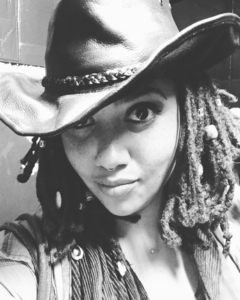 We are thrilled to announce that Bianca Lynne Spriggs will be the recipient of the 2016 Sallie Bingham Award.
Bianca's contribution to the arts and our state is truly remarkable. She is an award-winning literary artist whose poems are filled with lush, surreal, and unforgettable images. She is a talented multidisciplinary artist whose diverse body of work includes a multimedia performance addressing the history of lynchings of black women and girls in Kentucky (The Thirteen), a feature-length film pursuing the definition of personal freedom (Woman at the Gate), and a forthcoming compilation of spoken word, hip-hop, and electronica by vocalists, emcees and producers in central Kentucky (Live From the Mothership), to name a few. She is the Managing Editor for pluck! The Journal of Affrilachian Art & Culture, the Literary Arts Liaison for the Carnegie Center for Literacy and Learning, and creator and Program Director for The SwallowTale Project: Creative Writing for Incarcerated Women.