The annual Firestarter Award honors a young person (under 30) who shows significant potential in developing as a feminist, social change artist, whose work has the potential to create change for women and girls in Kentucky. KFW put out a call for nominations for this award in March, and nominators outlined how each nominee showed potential in:
High quality artmaking, including taking risks in the creation of new art.
Social justice or community engagement, either in a specific neighborhood, county or region in KY and/or a focus on artmaking that aspires to change the lives of women and girls in KY.
A developing feminist voice, including new insights and visions and/or fresh approaches to feminist topics or art for social change.
The 2016 Firestarter Award Recipient is Annie Erskine of Scottsville, KY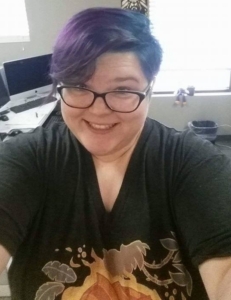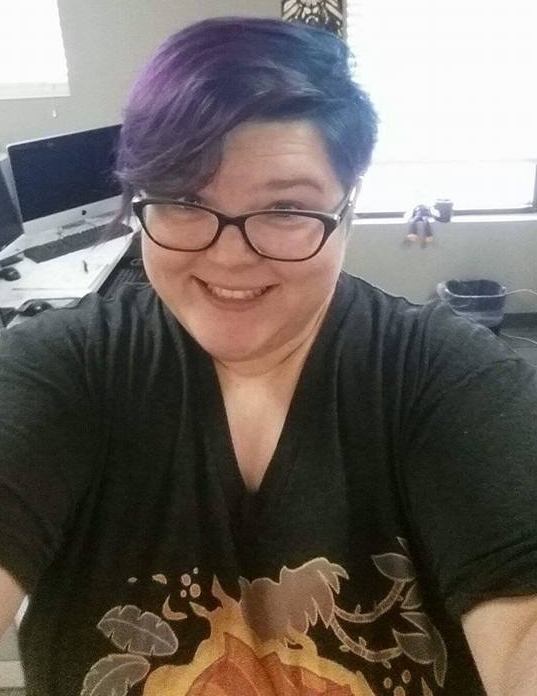 Annie Erskine, 27, is being honored for her unique comic art and her strong voice for underrepresented people in the comic industry, particularly LGBTQ individuals. Annie is committed to paving the way for more female comic illustrators and greater representation of women, people of color and members of the LGBTQ community in the national comic industry.
Annie is committed to expanding representation in the comic industry, taking risks in her own work and to inspiring young girls to create their own comics. She says, "My goal is to show artists, especially young women, that you can get into the industry, you don't have to be sponsored by a major publisher, and you can draw characters and write stories the way you like and the way you want. There is nothing wrong with having a female-heavy cast. There is nothing wrong with drawing your female superhero wearing a teeshirt and sweatpants as their costume if that's what you want them to wear. There is nothing wrong with having every single one of your characters be a member of the LGBTQA community. And most importantly, reading, drawing, writing, or generally being a fan of comics is not just a boy thing. ANYONE can have a passion for comics."
In addition to working for national companies, Annie also creates her own independent art through her original comic series, Variants. The series follows the life of the character Sam, a strong female superhero, mother and lover who hails from rural, south central Kentucky. Together with her lover, Dr. Noelle Rivers, and fellow hero, Technologic, the three women fight to make the world a better place. The series integrates Annie's commitment to feminism and social justice for all people in its content and Annie's choices in who is represented and how they are portrayed. Annie's nominator states, "I am a fan of Annie Erskine's art and her strong voice for the LGBTQ community through gender-bending designs and story lines. Her voice is valued in the region as an artist, feminist, lesbian and pansexual." Her high quality artwork shows fresh approaches to feminism and art for social change. We are excited to see where her work goes in the coming years.
2016 FIRESTARTER award nominees
In addition to Annie, these eight incredible women were nominated by KFW community members.
Jessica Bellamy, 28, Louisville, visual and media
Mackenzie Berry, 18, Louisville, spoken word poetry
Red Biddix, 22, Louisville, visual
Abby Danielle Coin, 17, Greenville, poetry and writing
Sonia Gadre, 18, Prospect, sculpture
Emily Harless, 21, Ashland, theatre
Jessica Kincaid, 28, Louisville, photography
Taylor Simmons, 20, Louisville, Painting and Video
All of the Firestarter nominees are incredibly talented young feminist social change artists. The selection of the 2016 Firestarter Award Winner included many factors. The information used in the deliberations about each nominee came solely from the nominator, so decisions were based largely on the descriptions, interpretations, and samples they shared of nominees' work. Uniqueness of art form, feminist subject matter addressed, and demographic and geographic factors were also considered. KFW honors all of these inspiring young women and looks forward to feeling the heat of the fires they start! More info on each of these nominees below.
Jessica Bellamy is a graphic design artist, entrepreneur, and social change activist from Louisville, KY. In addition to working with numerous nonprofits, social justice organizations, and community groups that support justice and equality, she owns and operates GRIDS: The Grassroots Information Design Studio. "I feel that my artwork is feminist because I use my design and organizing skills to combat disparities that most affect LGBT+ communities," she says. "I hope that my work increases access to information for marginalized communities, uncovers and highlights solutions to inequities, helps investigate and build capacity around local community concerns, and broadens representation of people of color and women in media as well as the design industry in general." Visit the GRIDS website here.
MacKenzie Berry is a spoken word artist and poet from Louisville, KY. In addition to writing and performing her own work, she also empowers other young Kentucky students to express themselves, tackle social issues, and heal through the art of poetry. To accomplish this mission, Mackenzie founded Young Poets of Louisville—a nonprofit organization that helps develop socially engaged and artistic leaders with literary, public speaking, and performance skills. "I hope that my position as Founder & Executive Director of Young Poets of Louisville serves as an inspiration and example for women and girls to create and hold positions of power in the arts and in general," she says. "I view art as a bridge to raise awareness about issues and position them in such a way that those who receive the art have an altered view or at least another viewpoint to consider as they live their lives." Read Mackenzie's work and learn more about her social activism here.
Red Biddix is a visual artist, poet, and social change activist from Louisville, KY. In addition to creating her own original artwork, Red recognizes the power of art to create social change, and has worked with numerous community groups and nonprofits engaging youth in art-making across the city. "My dream is to make the arts more readily available to youth & young adults," says Red. "You cannot dream what you cannot see and I'm here to bring the arts into the line of vision for youth everywhere."
Abby Danielle Coin is a literary artist from Greenville, KY. Her poetry and fiction focus on independent and unconventional women who find their strength by overcoming challenges in significant moments in their lives. She hopes her work can inspire young girls to realize their own strength and empowerment. She received a gold designation on two of her poems in the Scholastic Art and Writing regional competition for the Southeast region. She says, "Throughout my writing journey, I hope to push myself to inspire more and more women and promote radical self-love that we all deserve to spread amongst ourselves. I hope to push the boundaries of stereotypes through my prose and to create beautiful, strong characters that can inspire young girls and older generations alike."  In addition to her art and writing, she is a dedicated community volunteer, working with young girls locally and nationally through various service projects. She aspires to write a novel and become a published author. Abby is happy to share more of her poems and pieces. The best way to contact her is through her personal email abbydanielle98@gmail.com.
Sonia Gadre is a sculptor from Prospect, KY. In addition to sculpting and exhibiting her work, Sonia works as a group leader for Louisville Girls Leadership—a role that has allowed her to empower other young women with art as a vehicle for social justice. "Instead of hitting people over the head with the statement that women can do everything that men could do, I would rather show them," she says. "In today's day and age, or any time period for that matter, strong women are and have been the norm—not the exception. This is the idea I am trying to convey." Click here to view a sample of Sonia's work.
Emily Harless is a playwright from Ashland, KY. Her latest play chronicles the story of a young girl who struggles with prescription drug and heroine addiction. She wrote this play out of necessity. When Emily noticed that so many women in Appalachia went unrepresented in feminist literature and art, she decided to give them a voice. "My artwork is one of the tools I use most to engage with my community – both academic and local," she says. "This play is being written in the form of a 'documentary drama,' and is intended to give a voice to young people whose lives are impacted by the drug abuse epidemic in Appalachia." Emily's play will debut in the fall of this year at Union College.
Jessica Kinkaid is a photographer and curator from Louisville, KY. In addition to her artwork, Jessica also serves as the exhibitions coordinator for the Hite Art Institute. She has a strong interest in community-based and process-oriented art that connects and engages young women in Kentucky and nationally. She has worked to bring several model community-engaged projects to Kentucky such as Hometown Heros, Picture Love, and Inside/Out.  She brings her commitment to young women and feminist principles into all of her work.
Taylor Simmons is a Louisville-based artist who works in multiple mediums, including photography, painting, and video. In a video piece titled "Why do girls wear makeup?" (linked below), Taylor sparks a rallying cry for the freedom of self-expression. In the video, which explores gender politics, identity and internet culture, Taylor layers video of herself applying eyeliner with audio of men's opinions about women wearing makeup. "Recently I have noticed it becoming more of a trend to publicly bash those who wear makeup by making videos and posting online," she says. "I decided with this video that I had a response to those posts, and that those opinions were meaningless as to what I will do in my life, and with my body." While video is a new medium for Taylor, she says it one she would like to explore more in the future.  Click here to see Taylor's video piece.
Previous FIRESTARTER award winner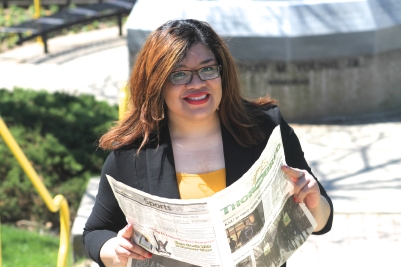 Alexis D. Meza
is the inaugural recipient of KFW's Firestarter Award. Alexis was nominated by KFW grantee Diane Kahlo and received the award in 2015. Born in Veracruz, Mexico, Alexis is a visual artist and graduate of Kentucky State University where she studied mass communications and journalism. She is currently developing a radio show as well as a documentary showcasing the experiences, struggles, and contributions of Latino immigrants in Lexington and across Kentucky.