The Firestarter Award honors a young feminist social change artist for their outstanding ability to inspire others to make a difference!
Accepting Nominations for the 2018 Firestarter Award – Nominations Due Monday, June 4, 2018
Do you know an artist who is young and innovative? Someone who is making an impact on the art and social justice scene? Someone who is kindling the feminist fires of the future? If so, we want to hear from you.
We are looking for:
A young person (under 30) who is making a spark in their community, who shows promise as a feminist, social change artist, whose work has the potential to create change for women and girls in Kentucky. Maybe they are not there yet, but they are on their way!
We want to see potential in:
a developing feminist voice, including new insights and visions and/or fresh approaches to feminist topics or art for social change
social justice / community engagement. This could be in a specific neighborhood, county or region in KY and/or a focus on artmaking that provokes change
taking risks in the creation of new art
This could be you! You can ask someone to nominate you, or nominate a family member or a friend. You can also nominate more than one person.
We are looking for nominations of young artists from all over the state and from many different backgrounds.  Please think about all types of artists, including those who live or work in small towns or rural areas, who work in underrepresented or emerging art forms, who are of African, Latin American, Asian, Arab, or Native American descent, who identify as lesbian, bisexual, transgender or queer, who are low-income or living with disabilities, and/or who are telling unique stories of being a Kentuckian. Nominees must be residents of Kentucky.
HOW TO NOMINATE:
Fill out this brief form to submit a name for the Firestarter Award!
Be sure to submit your nominations by Monday, June 4
You will be asked to tell us a little about this person and their work, including these questions:
What types of artwork does this person focus on? Can you describe 1-2 pieces or projects that are especially meaningful to you?
How does the artist demonstrate a unique feminist voice? How is this person's work on the way to creating meaningful social change, from your point of view?
What kinds of risks were taken in creating new art? How do you see this person kindling fires for the future in her artmaking?
Note: We are not asking for samples of artwork because young artists are at various stages of their development. Some artists might have samples ready and others may not. We want everyone to have an equal opportunity for this award whether or not they have work samples available. We will reach out to each nominee to get a link, if available, and a quote about her response to the nomination, solely for the purpose of promoting her work.
Each year, we honor not only the winner of the award, but all the Firestarter nominees.
Nominations due Monday, June 4
Click here to nominate!! 
2017 Firestarter Award Winner:  Amani Nichae, 19, of Lexington, KY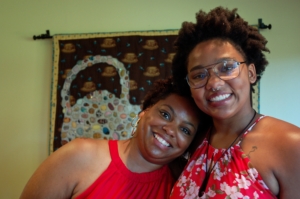 Amani Nichae, of Lexington, is the recipient of KFW's third annual Firestarter Award.
Amani is a photographer and activist. A student at the Art Academy of Cincinnati, she is a photographer for Be Bold, an organization dedicated to feminist ideals of positive body image, self-esteem, and the empowerment of girls ages nine to eighteen. Nichae is currently organizing Fairly Local, a Lexington art show designed to showcase artists and build community that will benefit Step by Step Lexington, a mentoring ministry for at-risk young single mothers ages fourteen to twenty-four.
"Ms. Nichae is being honored for her inspiring photography and her strong advocacy for young women. As a young artist, age 19, Amani's work shows strong leadership and a dedication to the advancement of women and girls. Her depiction of at-risk girls highlight what girls can achieve. Her development of the Fairly Local fair shows a boldness and initiative that marks a true Firestarter," said KFW Executive Director Sharon LaRue.
"My goal is to be a role model for those who really need it. Being a woman artist of color isn't always easy. I want to connect with other artists person to person and build a community," said Nichae. "By working with organizations such as Step by Step, and putting shows on such as Fairly Local, I am able to assist and guide others. I want to show women that they can do the same."
KFW received an incredibly talented pool of nominations for this award.  KFW is deeply impressed with the innovative and community-engaged work of all the feminist artists nominated for this year's Firestarter Award.  It was hard to pick just one~ all of these young artists are truly Firestarters in their communities.  We are fortunate to have these artists as the next generation of Kentucky feminists.
2017 Firestarter Nominees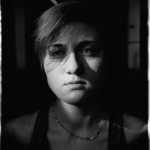 Ali Deane. 21. Photography. Lexington.
Ali is a photographer, focusing on issues of womanhood: interpersonal relationships with body image, mother-daughter connection/relationship, the internal vs external self; identity through intimacy in mother nature. She says, "I believe that my work speaks to many internal conflicts that women of all ages deal with throughout their lifetime. The media-driven society we live in today creates an overpowering perfected external female ideal that is constantly overshadowing women's relationship with self." Her nominator says, "I love her sense of style and purposed pursuit of what makes her passionate. [She is] developing a stronger voice for women in the arts and for women's art voice. She has only just begun and the potential in her is palpable."
For more about Ali and her work, visit her Facebook page.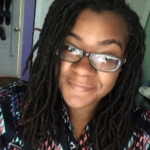 Azuree Dodson. 18. Spoken Word. Louisville.
Azuree is a spoken word poet, speaking about issues of emotional trauma, mental illness, black empowerment, and social injustice. She says, "My art [poetry] is a medium I use to process the ever changing world around me. Through it I hope to spread love and truth to everyone."
She recently was awarded a four year scholarship to the University of Wisconsin-Madison for her poetry. Azuree plans on pairing Psychology with her passion for poetry to form a branch of art therapy that deals with writing as a means to promote healing in children, and eventually plans to open her own practice.  Her nominator says, "With Azuree's brilliance and creativity in her writing I feel as though she is becoming a trendsetter and leader amongst her peers. Speaking out about issues that society feels should stay silent. I see Azuree becoming an arsonist!"
For more information about Azuree and her work, visit her Facebook page.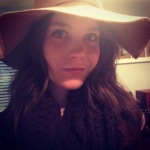 Molly Glynn Eric. 26. Music. Rumsey.
Molly is a musician and visual artist.  Her music, as evidenced from the lyrics of a recent song, encourages young women to 'resist complacency, paddle upstream, go after your dreams'. She says, "my work, especially the music I write, is a reflection of my feelings and struggles as a young woman finding the balance between who I am and where I wish to be. I take the opportunity to write songs that reflect ideas of social change."  She also has visual artwork hanging in school systems throughout her region.  She works with youth to help them embrace diversity and create hanging sculptures and collages. Her nominator says, "Molly is a super strong woman with a passion for feminism and social justice. She is a fierce leader and advocate for change and equality. Her voice is equally beautiful as it is powerful. Her original songs are potent in message and composition."
To contact Molly to learn more her work, email molly@rumseyrecords.com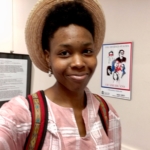 Brianna Harlan. 24. Mixed Visual Media. Louisville (Russell neighborhood).
Briana focuses on printmaking but is skilled in many visual artforms.  Her work focuses on race, class, personhood and social change.  She says, "my work digs deep into the layers of vulnerable topics, providing an open door to shameless expression and honest connection."  She wants her work to show "the bare bone truths of the human condition as it relates to relationships with each other and ourselves." She is an engaged community artist, teaching community art classes through Arts Space, curating community art exhibitions and leading sessions at multiple community conferences and gatherings.  Her nominator says, "her artistic voice is truthful, transparent and intriguing. Her use of many forms of visual media (and her young mastery of many forms!) gives her a unique ability to move folks across many age/race/gender lines."
To learn more about Briana and her work visit Briannaharlan.weebly.com  or  roguerabbitstudios.com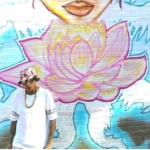 Honesty. 27. Music and mixed visual media. Louisville.
Honesty is primarily a video artist, but incorporates music and other media into her art. His work focuses on gender identity, racial disparities, social and political issues, organic agriculture, education, and accepting individual diversity and uniqueness. They say it wants its work to be "a powerful, innovative, tool used to create progressive social enlightenment." She creates music videos and produces a talk show discussion that empowers women & lgbt communities. His nominator says, "Honesty offers a very raw and honest perspective…. Honesty encourages individuals to truly look within and transform from the darkest pieces of ones inside in order to create the domino effect of change of an entire community."
To learn more about Honesty and their work, visit www.flyyhigh.com or her Facebook page.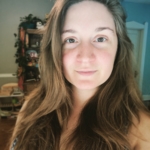 Mandy Zoeller Olivam. 29. Writer. Louisville.
Mandy writes creative nonfiction, fiction, poetry and spoken word. She focuses on topics such as social/racial justice, environmental justice, motherhood, mysticism and white privilege.  Her nominator says, "the beauty and reflective nature of her writing causes her work to stand out. Her writing on motherhood and privilege take the discourse on both topics to a higher level, and through the depth of thought and beauty of her poetic language it spurs people to think more deeply and to act."  She also leads retreats and community rituals, offering participants a chance to shift, grow and change.  Mandy says, "my writing allows me to process my place in the world and my personal role in its transformation for the better; it humbles me and holds me accountable to hear from others that my words inspire and alight their spirits."
For more about Mandy and her work, visit http://olivam.blogspot.com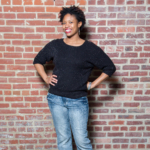 Jasemine Reed. 28. Literary. Louisville.
Jasemine is a poet and spoken word artist.  Her work focuses on social justice and feminism.  She says, "My work is a reflection of the colors that exist in my heart. The rainbow of my soul shines best when I can use my words to heal."  She is currently pursuing an MFA in creative writing at Spalding University.  She worked with youth in social services for five years, she leads empowerment workshops and open mics to help young people find their voices, she is a teaching artist for JCPS, and she has led "freedom workshops" for female inmates. Her nominator says, "Her prose poem 'Untitled (We Are in a State of Emergency)' eloquently and powerfully calls out racial discrimination in 2017. Jasemine writes passionately about the present-day black experience and the injustice she sees in her work as youth advocate. As a poet, her voice brims with contained/frustrated energy at a status quo that limits the options of the young girls (and boys) she mentors. By helping young women find their voices to speak out against injustice, she is helping to create a new generation of activists."
To learn more about Jasemine and her work, visit www.reedmywords.com, or her Facebook page.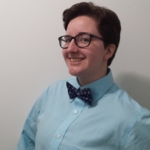 Jace Stovall. 20. Mixed Visual Media. Buckner.
Jace works in several types of media, from illustration to sculpture to animation. Their artwork currently addresses asexuality, gender expectations/non conformity, and lgbt+ awareness.  A recent project used found Barbie dolls as a vehicle to confront and subvert gender and sexuality stereotypes. Another project of Jace's involved using found imagery to create digital prints that express some of the complexities of their sexual orientation, asexuality. They say, "I want people to know that it's always alright to ask questions about my work. I'm dealing with some pretty heavy and complicated subject matter that people may know little or nothing about, but is highly important, so it's okay to inquire about it." Their nominator says, "Jace's projects not only delight the eye but challenge our individual assumptions about gender and sexuality. Their work also contains an educational or awareness-raising aspect. Jace has great potential. I am thrilled to see their development as a member of the community of Kentucky-based artists!"
To learn more about Jace and their work, email j.v.stovall@hotmail.com
Amanda Tussey. 23. Painting. Grayson.
Amanda's primary artform is painting. Her work focuses on the objectification of women, women's empowerment, environmental awareness and social change. She says, "I work primarily in acrylics, inks and watercolor. I use a lot of bright colors and I try to add a whimsical element to all of my pieces."  She is passionate about raising awareness about endangered species.  She recently initiated and organized a "Save the Elephants" art show fundraiser in Grayson, KY, in Eastern Kentucky, the first fundraiser of its type in this area.  Her nominator says, "Amanda's sensitivity to the subjects she paints shows an awareness of the plight of endangered animals from a female's point of view.  This was the first fundraiser of its type done in the area and brought a little risk with it as we were unsure how people would react to raising money for others 'outside' the region as well as somewhat unusual subject matter. The risk paid off and art created with the elephant-theme was very well received. I feel as she grows in her personal and professional life she will always make time for the community and an even broader reach via her art."
To learn more about Amanda or her work, visit her Facebook page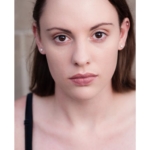 Sarah Wood. 24. Theatre. Hardin County.
A talented actress, Sarah has appeared in multiple plays and films in Kentucky and regionally.  She draws on her background in women's studies to understand and embody challenging roles.  She seeks out roles in productions that address institutional sexism and racism & how they intersect, as well as LGBTQ topics. She says, "It is my goal to make my audience acknowledge the humanity of people it may otherwise be easy to dismiss. I want my work make people analyze their prejudices and to look at their beliefs and ask themselves 'why?'."  She was raised in a conservative, religious household and came to her intersectional feminism in college.  While there, she also was a co-founder and President of her college's LGBTQ+ support group, Alliance.  She says that while she rarely has the luxury to explicitly choose the projects she works on, she has been fortunate to be selected for projects that are reflective of her social and political views.  Her nominator says, "Wood has the talent of great actresses such as Julia Roberts and the self-determination and cultural sensitivity of a Cicely Tyson. She is talented and refreshing and eager to set the world on fire."
To learn more about Sarah and her work, visit her Facebook page.
KFW typically accepts nominations from the community in the spring for this annual award.
Previous FIRESTARTER award winners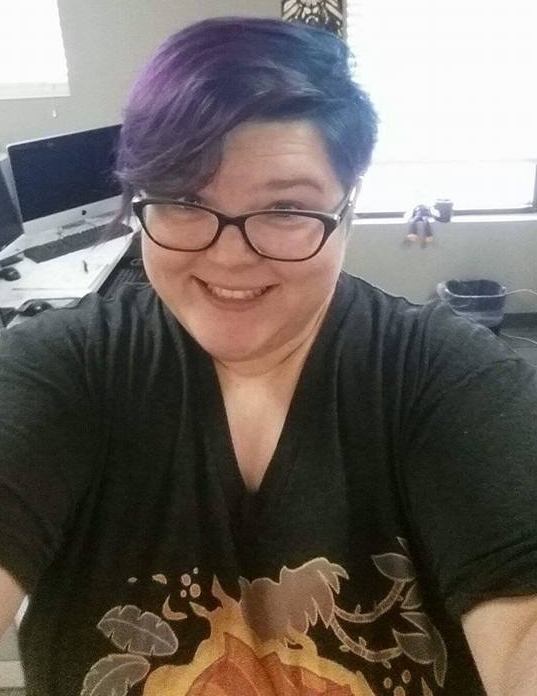 Annie Erskine was the 2016 recipient of KFW's Firestarter Award. Annie was honored for her unique comic art and her strong voice for underrepresented people in the comic industry, particularly LGBTQ individuals. Annie is committed to paving the way for more female comic illustrators and greater representation of women, people of color and members of the LGBTQ community in the national comic industry. addition to working for national companies, Annie also creates her own independent art through her original comic series, Variants.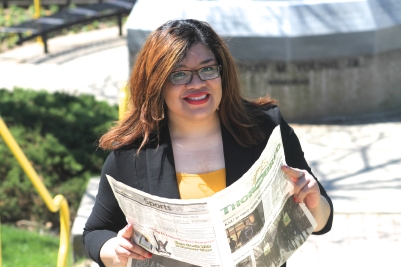 Alexis D. Meza
is the inaugural recipient of KFW's Firestarter Award. Alexis was nominated by KFW grantee Diane Kahlo and received the award in 2015. Born in Veracruz, Mexico, Alexis is a visual artist and graduate of Kentucky State University where she studied mass communications and journalism. She is currently developing a radio show as well as a documentary showcasing the experiences, struggles, and contributions of Latino immigrants in Lexington and across Kentucky.