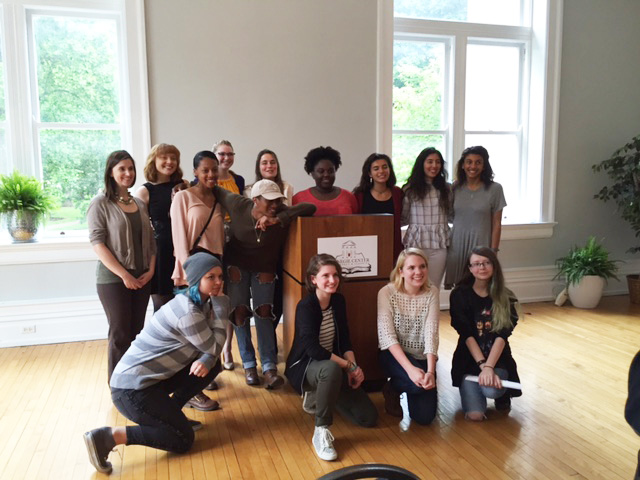 Each year, KFW awards $200,000 in grants; $100,000 is given for each program. The following are the grants most recently awarded.
For Artist Enrichment awards from previous years, click here.
For Art Meets Activism awards from previous years, click here.
ARTIST ENRICHMENT
Beaded Treasures (Prospect): $2,000 to support an artist enrichment program where refugee women artists can explore jewelry making styles, develop their artistic skills, and share their stories through a multimedia presentation. The art they create will also provide a source of income, helping them to become more self-sufficient.
Dorothy Bouzouma (Lexington): $4,620 to write a memoir that focuses on the relationships sexual abuse survivors forge with their mothers. The finished work will help survivors identify physical and emotional trauma, as well as develop close bonds centered on open communication.
Elizabeth Burton (Lexington): $1,000 to finish a collection of stories about Uyghur communities in remote, northwest China. The stories will raise awareness and promote dialogue about the experiences of Muslim women in general and Uyghur women in particular.
Candace N. Chaney (Lexington): $4,805 to complete a poetry collection exploring economic injustice and classism in rural, working class Appalachia. The grant will provide the opportunity for her to attend a series of retreats in Appalachia and abroad that will strengthen her writing, and the book will raise awareness of the effects of economic injustice and classism in the region.
Carrie Jo Coaplen (Louisville): $1,000 to finish a non-fiction book challenging hegemonic perceptions of exotic dancers. Working on the book will help her connect with other likeminded feminist artists and develop as a writer. The book will challenge ideas about women's bodies, sexuality, choices, freedom, and paths to empowerment.
Bethany Cook (Paint Lick): $3,000 to attend a series of immersive music camps to develop her technical fiddle and guitar playing abilities and to host monthly women-centered public jams for women to gain confidence and experience, advance their own musical abilities, and build positive relationships with other musicians.
Rachel Elliott (Lexington): $5,800 to write a graphic novel for young readers, telling a humorous story of an imaginative, gender-non-normative girl and her struggles making male and female friends. The novel will help kids identify, respond to, and alter the gender-based unequal treatment that happens on playgrounds and in classrooms.
Flashback Theatre Company (Somerset): $1,000 to allow Producing Artistic Director Sommer Schoch to work with playwright Amber Frangos to develop a play based on iconic feminist Rose Will-Monroe. Will-Monroe, a Kentucky native suspected to be the real life model for Rosie the Riveter, furthered the role of women in the WW II era.
Natasha Foley and Bethany Cothern (Louisville): $1,500 to fund the composition, recording, and performance of "Baby Book," a six-movement song cycle for soprano and piano on themes of miscarriage, pregnancy, and motherhood. The cycle will inspire dialogue about feminist themes that are rarely addressed in this musical genre.
Jesse Fowler (Berea): $2,500 to attend an intensive workshop to learn loom-building and weaving techniques from indigenous Mapuche women in Chile and to use a Witral Loom to create a blanket informed by Mapuche tradition. The exhibition will expose Kentucky artists to the Mapuche's craft as a form of feminist resistance to colonial and capitalist exploitation.
Katie Gardner (Berea): $1,500 to attend workshops in martial arts and improvisational dance, and to create a series of creative movement classes for women. The classes will increase participants' body awareness, sense of self-worth and self-expression, and physical/emotional empowerment.
Leah Godlaski (Winchester): $3,000 to setup a screen printing studio and create a series of prints visually exploring the untold stories behind the recipes passed along by women who have shaped her life. The prints will provide insight into the lives of women and affirm the value and artistry of home cooking.
Geneva R. Harris (Paducah): $1,000 to make her paintings into functioning solar water fountains that express ideas of self sustaining power and the fluidity/flexibility of women. The fountains will be displayed at local coffee shops and galleries.
Michelle Hollis (Versailles): $4,000 to conduct interviews with 50 Kentucky women on sources of stress in their lives, and from these to create music and a safe space where women can reflect, quiet the mind, and heal by building on their inner strength, compassion, love, empathy, vulnerability, and intuition.
Susan Ishmael (Mt. Sterling): $4,435 to research and write her novel, "When Whisky Meets Water," which tells the story of a missing African American girl whose 1966 death has lasting repercussions on a segregated Kentucky town. The novel will shed a light on how racial disparity persists despite advancements.
Looking for Lilith Theatre Company (Louisville): $5,000 to curate and produce a Festival of Feminist Performances, including a commissioned play, full-length and short original performance pieces, readings, classes, and community workshops. This collaboration and the resulting festival will build community and promote dialogue about intersectionality, social justice, and other feminist topics.
Nada (Louisville): $2,000 to continue recording all the piano works by German composer Johannes Brahms. As the first woman to do so, Nada's recordings will show that women can master Brahms' work while also helping create a more robust classical music scene in Kentucky.
Rachel Mack (Louisville): $1,000 to work with an editor to complete a series of essays about her mother's battle with cancer. The essays will inspire dialogue about attitudes toward women's social roles and relationships, as well as our society's attitudes toward illness, mortality, and grief.
Amelia Martens (Paducah): $3,000 to attend a southern writers' conference, where she will revise and workshop her poems, and to complete a book length poetry collection addressing the conflicts encountered by a mother raising daughters in the current social-political-cultural climate of the American mid-south.
Rachel Matheis (Louisville): $1,000 to combine the art of weaving with poetry, culminating in an exhibit that will include poems, free-hanging weavings, and photos to help bring the poems to life. The exhibit will help her combine different mediums in innovative ways.
Greta McDonough (Owensboro): $4,000 to support travel to Koniakow, Poland, where she will interview and photograph lacemakers, and to create a multimedia exhibit of the work, centering on feminism that reflects Kentucky's tradition of handcrafted art.
April Morales (Disputanta): $3,000 April Morales (Disputanta): $3,000 to hold workshops and work collaboratively with other artists and feminists to design a deck of 78 women's healing tarot cards.
Cynthia Norton, a.k.a. "Ninnie" (Louisville): $2,000 to create a solo exhibition consisting of paintings, a kinetic sculpture and a corresponding album of songs. Creating the exhibition will help her develop and expand her skills as a multimedia artist, and the finished work will transform the boundaries between high and low art and inspire other women to create art in spite of poverty or other limitations.
Tina Parker (Berea): $2,000 to complete a second poetry collection focusing on women and mental health, in particular to research historical accounts of women categorized as "other" by being labeled as "witch" or "insane." The poems will encourage readers to challenge dominant attitudes about gender roles and resist negative labels used against women.
Joanne Price (Bagdad): $3,500 to illustrate a book titled "Beneficial Insects" with her engraved wood prints. The book will educate readers about the importance of insects and the benefits of environmentally conscious gardening practices and challenge viewers' assumptions about insects while demonstrating women's contributions to printmaking.
Jasemine "Jazzy J" Reed, founder of Reedmywords Inc. (Louisville): $3,400 to compete in out-of-state poetry slams and to develop a series of writing workshops for youth in Louisville, both in schools and in other community spaces. The workshops will offer opportunities for positive self-expression for young people with limited access to arts activities.
Donna Schulte (Bowling Green): $1,500 to create ceramic work that brings awareness to the plight of endangered animals and the tradition of women-led wildlife advocacy and stewardship.
Lisa Simon (Louisville): $3,000 to attend an artist residency and create a body of life-sized figurative mixed-media/ceramic sculptures and supporting two-dimensional works exploring the theme of depression through a gendered lens. The artwork created will raise awareness and spark dialogue about the importance of understanding depressive conditions and mood disorders, particularly in times of crisis.
Skylar Smith (Louisville): $3,500 to create a new series of artwork on handmade paper that engages and embodies the history of women's suffrage. The artwork created will raise awareness in the region and beyond about the history of women's voting rights and how it relates to female representation in the political arena today.
Moksha Sommer (Morgantown): $2,000 to work with mentor Faith Wilding to write a book and create a multidisciplinary performance piece on the evolution and devolution of female archetypes in the Judeo-Christian tradition. The book and performance will inspire dialogue about how poverty and sexism intersect in rural communities.
Southeast Kentucky Community & Technical College Appalachian Program (Cumberland): $1,000 to interview diverse women from Harlan, Bell, and Letcher County and to create a podcast and a mixed media visual art display that will travel throughout our region addressing themes such as female role models, body image, and sexuality. The display will spark dialogue about what it means to be a woman in Appalachia.
Teatro Tercera Llamada (Louisville): $3,600 to present the full-length, Spanish language, theatrical production of Las Mujeres Verdaderas Tienen Curvas (Real Women Have Curves) at The Kentucky Center for the Performing Arts. This production will reach new audiences, and the play will raise awareness of Latina women struggling with issues of body image, immigration, domestic violence, family expectations, education, and mutual cooperation.
Rheonna Thornton (Louisville): $1,500 to attend the National Women of the World poetry slam and create her first book, website, and poetry CD. The website will help her reach new audiences, and her new original work will inspire conversations about the negative ways women are impacted by social media, degradation, sexism, and sizeism.
Lisa Tobe (Louisville): $1,000 to edit and publish a memoir, "Shadows of Me," which focuses on sexual abuse and dissociative identity disorder. The published book will create dialogue about preventing and intervening in instances of violence against women.
Lindsey Windland (Berea): $2,500 to create a series of linocut portraits of influential feminists and to create paperback picture books based on these portraits. Completing the project will improve her rendering, illustration, and printmaking skills, and the books will inspire young women to learn more about the history of feminism and become involved in issues they are passionate about.
Whitney Withington (Big Hill): $3,000 to create a series of artist books and chapbooks featuring artistically embellished prints of original photographs of African American women in Appalachia. The books will enhance visibility for African American women in the Appalachian region.
Katy Yocom (Louisville): $7,500 to create a multimedia depiction of the sustaining, 56-year-long friendship between two women of different racial, economic, and educational statuses The mixed-media project will raise awareness of the diversity, complexity, and power of women, and will help her develop new skills as she ventures into a new artistic medium.
Alana Yon (Bowling Green): $3,000 to attend the Vermont Studio Center for a four-week residency, where she will create ceramic and mixed media vessels to be used in fermentation. The finished work will bridge the gap between humans and nature.
ART MEETS ACTIVISM
Americana Community Center (Louisville): $2,875.00 to engage 20 refugee middle and high school girls in a creativity and self-expression workshop culminating in an exhibit to display their work and share their stories. The workshop will help participants find the vocabulary, tools, and courage to express themselves and their stories through art, and the exhibit will raise awareness about the refugee crisis and increase understanding of Muslim cultures and philosophies at a critical political moment.
Michelle Newby Armstrong and Debbie Eller (Lexington): $4,500.00 to engage women clients of the HOPE center in Lexington in artist-led workshops, culminating in the creation of individual feminist artworks, as well as a collective mural project. The workshops will encourage women in recovery to explore and build their artistic capabilities and create original artwork, and the collective mural will provide a visual representation of positive community and personal change.
ArtThrust (Louisville): $5,250.00 to develop a program that engages LGBTQIA youth in papermaking/ book arts and sculpture forms as a means of healing and creative expression. The activities will encourage participants to reflect on trauma while affirming and drawing on the parts of their experience that give them strength and agency, and the art created will raise awareness about the challenges LGBTQIA youth face in daily life.
Athena's Sisters (Louisville): $4,000.00 to engage veteran women in a six-month fiber art program and to create an exhibit titled Fibers of Athena. Participating in the workshops will provide a safe space for military women to share their stories and build community through artmaking, and the exhibit will raise community awareness about the realities of military women's lives.
Bobbi Buchanan (Louisville): $5,030.00 to collaborate with Color Your City to pilot the Community Arts Mentoring Program (CAMP) for young women in rural areas south of Louisville, culminating in an anthology and reading where participants can share their work. The CAMP program will introduce young women to diverse arts programming as a way to improve self-esteem, encourage self-expression, and foster tolerance, and the anthology and performance will provide participants with a creative outlet where they can share their stories and start a community conversation about substance abuse and other issues.
Bondurant Middle/ Western Hills High School Student Support Center (Frankfort) $1750.00 for Betty Lawson to engage at-risk female middle and high school students in journaling to explore topics including self-esteem, relationships, anger management, compassion, and gratitude, and to provide complementary activities such as speakers and community service field trips to help them reflect on their opportunities and set positive goals. The activities will provide a creative outlet for participants while giving them tools to overcome adversity and achieve their goals.
Carnegie Center for Literacy and Learning (Lexington): $4,840.00 for female writers in their 20s and 30s to engage female high school students in workshops exploring writing and literary performance techniques while examining issues of concern to them, such as body image and self-esteem. The mentoring relationship will forge connections between women writers of different ages, and the workshops will encourage young women writers to discover their own voice with confidence and self-respect.
Holly Clark and Mari Mujica (Louisville): $1,700.00 to create wellness workshops focusing on facilitated creativity and mindfulness practices for women with infants under the age of three who have completed residential and/ or intensive outpatient substance abuse programs. The workshops will help participants build confidence in their own creative process, and will provide tools to help them find the strength to maintain their chosen life of sobriety.
'Clear Creek Creative (Big Hill): $7500.00 to support the Clear Creek Festival, a community event in rural Rockcastle county incorporating performances from multiple performing genres, sustainability demonstrations, visual installations, healing opportunities, and art activities. The festival will build community, promote healing, deepen social consciousness, and inspire participants to live in harmony with nature and one another.
Vicki Dansberry (Crescent Springs): $1000.00 to engage women who live with substance abuse disorders in creative writing workshops as a means of self-exploration, self-expression, advocacy, and activism. Participants will learn new techniques for creative expression and self-care, and the project will change the way people think about women and substance abuse.
Diversity at the Table (Louisville): $1,000.00 for Talesha Wilson to produce the second anniversary celebration event, featuring music, poetry, spoken word, and photography from local artists, guest speakers addressing diverse social justice issues, and a creative writing/ poetry workshop for youth. The event will give feminist artists a platform to showcase their talents, and will create a safe and diverse space for artmaking, discussion of social justice topics, and community-building that crosses the campus/community divide.
Family Scholar House (Louisville): $4,500.00 to provide workshops that encourage student-mothers to tap into their own creativity to tell and be proud of their own stories of strength, loss, love, and hope. Participating in the activities will help build community among residents and provide a safe space for them to explore their feelings, address and reframe traumatic experiences, nurture their self-expression, and discern future directions.
The Girl Project (Lexington): $7,500.00 to support a program focused on challenging unrealistic media images of women and girls through dance, spoken word, movement, vocal music, and visual art workshops that culminate in the creation of a collective theatrical performance. Participants will gain the confidence they need to set long-term goals, develop positive relationships, and advocate for social change.
Girls Rock Louisville (Louisville): $7,500.00 to support a week-long music education program for girls and gender nonconforming youth that will include instrument technique, songwriting, professional recording, and a live performance opportunity. Participants will develop musicianship and leadership skills while participating in workshops focused on self-empowerment, social justice, community engagement, and creative and unrestricted self-expression.
Grayson Gallery and Art Center (Grayson): $3,452.00 for Mari Mujica to lead two wellness workshops through which women with little access to arts programming can explore their creative voice in a nurturing and supportive environment. The workshops will build confidence and community among participants, and will provide a space for women with heavy caretaking responsibilities to focus on themselves and their creative power.
Marilyn Holmes (Louisville): $2,912.00 to support a retreat, workshop, and group exhibition for women of color enrolled in the state's post-secondary institutions, as well as a series of collaborative workshops and an exhibit organized by these artists to engage girls attending Frederick Law Olmsted South Middle School in Louisville. The activities will build community, provide a space for artistic development and collective affirmation among women of color who identify as or aspire to be artists, and provide professional exhibition opportunities for artists who are underrepresented throughout the state.
Josephine Sculpture Park (Frankfort): $7,500.00 to conduct a series of workshops to connect people of varying ages with the land and each other through shared artistic experiences and responsible land stewardship practices. Participants will gain greater respect for their own creativity and shared land, and will return to their communities with a deeper connection with the environment and each other.
Kentucky Women Writers Conference (Lexington): $5,000.00 to support their 2016 conference and affiliated activities in order to educate, inspire, and build community among women writers and readers in Kentucky. The conference will address the gender disparity women writers face by providing opportunities for them to earn income through their writing, and the affiliated activities will provide networking opportunities, community engagement, and an increased exposure to and awareness of contemporary feminist authors and their work.
Knox Arts, Crafts, and Humanities Council, Inc. (Barbourville): $6,700.00 to collaborate with seven feminist artists to implement a 10-week arts program at Whitley and Knox County Detention Centers, culminating in the publication of a book and an exhibit of the inmates' art at the public library. The program will provide a supportive environment in which artists and inmates can explore how creativity can reduce stress, enhance self- image, develop communication skills, and promote positive communication about feminist issues, and will ultimately strengthen community support for arts programming in detention centers.
Looking for Lilith Theatre Company (Louisville): $4000.00 to produce Louisville native Marsha Norman's Getting Out, and to engage audience members in talkbacks focusing on the issues facing formerly incarcerated women. The performance and talkbacks will raise urgent questions that remain relevant, and inspire conversations across dividing lines of gender, race, and wealth disparity.
Owensboro Dance Theatre, Inc. (Owensboro): $1000.00 to provide arts education and the physical, mental, and emotional benefits of dance to community members, with special focus on women and underserved populations. The activities will develop and encourage a healthy lifestyle and improve the self-esteem and confidence for participants.
Laura Petrie (Paducah): $4,600.00 to produce a film festival that will showcase films produced by lesbian feminist artists, to include screenings, post-screening discussions, a short film challenge, and a panel discussion. The activities will encourage and inspire participants to find their own voices and create feminist art, while raising awareness about the challenges faced and contributions made by lesbian feminist artists working in film.
Patricia Ritter (Burkesville): $3,267.00 to engage women at a domestic abuse shelter in art workshops centered around food and artful living by creating mandala designs using fresh fruits and vegetables, painting their designs on reusable canvas bags, and making creative cookbooks. The activities will create an artistic space for women to have dialogue about healthy food, body issues, and self-esteem, and the artwork created will raise consciousness about food and body issues among participants and their families.
Rheonna Nicole (Louisville): $6,343.00 to produce the second annual Lipstick Wars, an all-female poetry slam competition, to take place at the Kentucky Center for the Performing Arts. The slam will engage diverse artists and provide a venue for expanding their writing and performance skills, and the event will build community while raising awareness about the complex issues women and girls face, such as discrimination, exploitation, sexism, and body shaming.
Megan Sauter (Frankfort): $3,907.00 to engage women at the Franklin County Women's Shelter in workshops to create ceramic tiles, which will be assembled in a collaborative mural installation at the shelter. Creating the tiles will build community and develop stronger social relationships among participants, and the mural will enhance the environment at the shelter by reflecting the vision and creativity of residents.
Spirit of Sophia, Inc. (Louisville): $3,263.00 to create workshops integrating the tool of art journaling with vision boards to engage women who are undergoing major life transitions. The workshops will encourage women to trust their own intuition and chart their own course as they face challenging transitions, which will create positive change for the women participating, their families, and the communities in which they live.
Steam Exchange (Louisville): $7,408.00 to work with local artists and young people to engage residents of Smoketown and Shelby Park in dialogue about changes taking place in their communities, and to create a series of collaborative screen prints based on those conversations to be displayed in two large-scale installations. The creation of the prints will build community while teaching critical thinking and leadership skills to young participants, and the installations will shift perceptions and inspire dialogue about the changes taking place in these neighborhoods.
Wellspring (Louisville): $3900.00 to engage women with severe and persistent mental illness in creative writing workshops, culminating in a print anthology and a writers' showcase where participants can read their work. The activities will provide a safe way for participants to share life experiences, express their fears and joys, learn communication skills, and move along the path to recovery via therapeutic use of the written word.