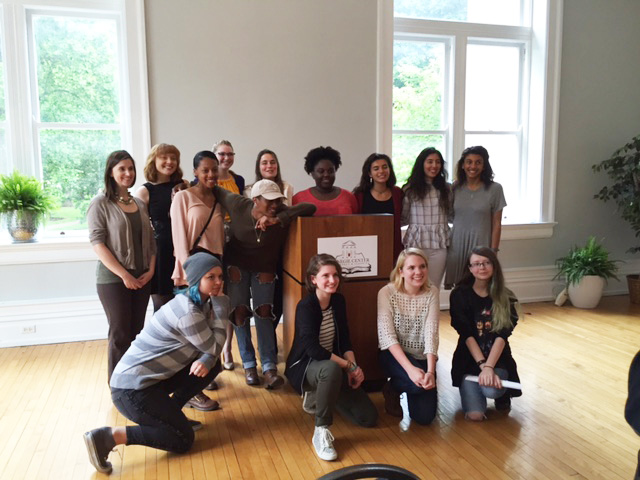 Each year, KFW awards $200,000 in grants; $100,000 is given for each program. The following are the grants most recently awarded.
ART MEETS ACTIVISM
Olivia C. Allen, Founder, I Can Be Girls Confidence Conference (Louisville): $2,900 to support a series of self-expression workshops to be conducted during the I Can Be Girls Confidence Conference in Fall 2018. Through dance, poetry, spoken word, music and photography, tween girls (ages 8 -12) will learn to find, develop and utilize their voices for causes and issues that are important to them.
Americana Fiberworks (Louisville): $5,629 to engage refugee and immigrant women in the creation of culturally-relevant fiber art that directly benefits their families and communities. The program will cultivate connections between women of different cultural backgrounds and enable participants to build a new social support network as they adjust to their new hometown of Louisville, Kentucky.
The Appalachian Artisan Center (Hindman): $5,300 to support a camp and series of classes teaching young girls the art of blacksmithing and its relevance in the Appalachian region. The girls will work with a master blacksmith on projects that incorporate lessons on feminism, empowerment, equality, and justice, leading them become leaders in their community
Rev. Cynthia P Cain (Mackville): $1,500 to engage 15-20 young women in the creation of a literary blog/website which will incorporate interviews with elders and women in the Black community, culminating in a public presentation based on this work in early 2019. This project will empower youth and create a venue for future engagement and truth-telling across racial lines in this small, rural town.
Carnegie Center for Literacy & Learning (Lexington): $1,500 to support the Young Women Writers Project, in which established female writers mentor groups of young women. Students from ninth to twelfth grade will explore writing and literary performance techniques while examining issues of concern to them, including body image and self-esteem. This project helps young writers develop writing skills, gain confidence and self-respect, and find their own voices.
John A. Coulter (Director) and Ashley R. Glass (Actress) of Tunnell Mill Pictures, LLC (Bardstown): $3,000 for post-production expenses for their full length feature film titled The Private, focused on the participation of women fighting as soldiers in the American Civil War. The film will shed light on a neglected chapter of women's history and raise awareness about women whose stories are rarely told.
EpiCentre Arts (Whitesburg): $4,250 to work with the women at a local domestic violence center in the design and creation of a mural in the entrance hallway of the facility. Participants will learn new skills and gain self-confidence while easing the stress of clients entering a new and unknown space. The finished mural will provide a cheery, welcoming, and safe atmosphere for future residents.
The Girl Project (Lexington): $4,000 to add a new focus on documentary theatre, involving workshops, performances and community outreach, to its already established program for young women and girls. Participants work together to raise their voices against unrealistic media images and engage in forms of art that allow them to understand women's lived experiences of social inequalities. The program helps girls gain the confidence they need to set long-term goals, develop positive relationships and social circles, and advocate for social change.
Girls Rock Louisville (Louisville): $5,000 to support a summer camp for girls and gender non-conforming youth ages 10-18 at Western Middle School. Campers will develop musicianship and leadership skills while participating in workshops focused on self-empowerment, social justice, community engagement and creative self-expression.
Hindman Settlement School (Hindman): $1,500 to seed the new Nikki Giovanni Scholarship program, which will provide free attendance to the Appalachian Writers Workshop for select women writers of color. This seed money will provide a needed foundation for current efforts to diversify the Appalachian Writers Workshop's constituency, creating feminist social change in the Appalachian literary movement by increasing access and welcome to all women-identified writers of color who want to study in a tradition that is too commonly homogenized as white and male.
Kentucky Women Writers Conference (Lexington): $1,500 to support workshops, craft talks, publishing seminars, and readings focused on socially engaged writing as part of the 40th annual Kentucky Women Writers Conference. Grant funds will be used to compensate artists leading the activities, which are designed to educate, inspire, and build community among women readers and writers in Kentucky.
Latinx Leadership and College Experience Camp Social Justice Project (Lexington): $5,000 for LLCEC Corazón Leadership Team to engage Latinx and immigrant students in diverse art activities (mural, beat production, poetry, podcasting, and more) while they learn about social justice movements and cultural organizing skills, as a strategy for shifting consciousness. The project promotes self-care through the arts, healing from past/current trauma, and lifelong artistic development.
Betty Lawson/ Bondurant Middle/ Western Hills High School Student Support Center (Frankfort): $1,000 to engage middle and high schools students in workshops that incorporate forms of creative expression such as poetry and journaling to reflect, set goals, and build relationships. The workshops will teach students to use writing as a means to reflect on and communicate about topics important to them, such as self-esteem, relationships, suicide, human trafficking, depression, and bullying.
Leslie Pryor Productions (Louisville): $2,000 to address health issues that affect the African-American community, such as HIV/AIDS, breast cancer and mental health, through theatre. The production will raise awareness about issues affecting the community, continuing LPP's mission of educating and informing through entertainment.
Louisville Urban League (Louisville): $4,000 to launch their first Girls League of the West (GLOW) Summer Camp, a space of sisterhood rooted in activities that promote the celebration, liberation, and motivation of self. Using creative expression and cultural excursions, this five-day camp will provide a safe space for Black girls to connect with each other and challenge society's flawed perspective of their experiences.
Daniel Martin Moore (Louisville): $2,425 to create an album (LP, CD, and digital) of all-original, new recordings in collaboration with diverse artists and writers from across the Commonwealth, culminating in a series of concerts/ readings/ events celebrating this work. The project will bring together social justice artists from many disciplines from across the state, and raise awareness about land and water conservation and other issues addressed by participating artists.
Media Working Group/ Jean Donohue (Covington): $3,500 to produce a documentary about a 1970s feminist consciousness-raising experiment in Lexington, KY and the subsequent migration to a farm in Mt. Sterling. The story will be constructed with interviews, photos and other materials provided by the women who participated in The Women's Collective. The documentary will inspire women and young girls to seek their own life course, to gather with inquiring and like minds, and to live true to their nature.
Candace Mullins (Somerset): $7,121 to work with non-profits and community spaces to host weaving, spinning and dying workshops in three communities in Kentucky. Attendees will learn how to take natural fiber all of the way to useable fiber and cloth. The project will raise awareness about the energy and artistry involved in transforming fiber into clothing and finished cloth.
Pamela Mullins, Community and Restorative Justice Covington (Covington): $1,000 to hold workshops exploring the detrimental impact of female incarceration on families, and to create videos reflecting an informed understanding of activism and advocacy for social change by the participants. Workshops will inspire reflection and dialogue, while creating the videos will provide participants a platform for action, collaboration, and community building.
Owensboro Dance Theatre, Inc. (Owensboro): $3,750 to offer a five-day residence with Nan Giordano and Giordano Dance Chicago where 500 women (ages 5-75) will utilize dance to find their artistic and creative voices while challenging unrealistic expectations of women in today's society. Participants will engage in performances, classes, and development sessions that edify and enrich their quality of life while celebrating diverse body types and abilities through movement and dance.
Laura Petrie (Paducah): $4,000 to support My Syster's Art Initiative, an umbrella event which will inspire, encourage and challenge women and lesbians to produce feminist art to share in the public forum. The event will provide spaces for women to display their art, build feminist community, increase public awareness of female issues, and encourage other women to find their voice.
Brenda Richardson (Somerset): $5,000 to bring Art Behind Bars, a holistic arts program, to women incarcerated in the Knox County Detention Center. The women will gain self-esteem and a new means to express themselves. The project will build support networks for an arts-centered approach to addressing recidivism, abuse and addiction in Knox and surrounding counties.
Rise and Root Rewilding Project, in association with Kentucky Heartwood (Berea): $4,000 to facilitate a series of immersive nature experiences with children and youth with a focus on sharing, receiving, and developing the stories that grow out of a relationship with wildness and place. Participants will learn to artistically interact with the natural world through nature journals. The experience will inspire them to step into their power as advocates for social and ecological justice.
Steam Exchange (Louisville): $3,700 to work with kid focus groups in the Smoketown neighborhood to collaboratively design a gender neutral t-shirt collection that helps kids feel safe and empowered to be themselves. The culturally progressive clothing will also educate the Louisville community, including parents, to grow beyond binary gender stereotypes.
Rheonna Thornton (Louisville): $6,500 to partner with ArtsReach to create the 4th annual Lipstick Wars Poetry Slam, a feminist platform for women of color spoken word artists in Kentucky and neighboring states. The poetry slam will feature women poets of diverse backgrounds who will bring to light a multitude of complex issues women and girls face today including gender discrimination, exploitation, sexism, and body-shaming.
Doris Thurber (Frankfort): $4,000 to work with Karen Hatter, Joanna Hay, and other artists to continue the arts-based addiction recovery program, Hands Healing HeArts, which engages women attending Franklin County's Drug Court program in a range of arts workshops. The program empowers women to share their stories and find their voices. The public events will raise awareness and create much-needed dialogue in the community about addiction, recovery, and the healing power of art.
Jayne Moore Waldrop (Lexington): $1,500 to lead a writers' workshop called "Finding One's Voice: It's Never Too Late," to encourage beginning women writers at mid-life and older to use their voices to promote positive change in their communities. The workshops will help participants find their voice, learn new writing skills, and tell the stories that are important to them.
Amy Weinfurtner (Mount Vernon): $1,000 to lead a series of workshops on raising, preparing, and using rabbit hides for creative purposes. The workshops will empower women to put healthy food on their tables at the same time they are providing their own materials for sustainable fiber artistry.
Pamala G. Wiley (Louisville) $1,000 to engage women in retreats at three venues throughout Metro Louisville, designed to explore the subject of feminine power and discover ways in which women can empower each other through dialogue and poetry. Participants will be introduced to mindfulness art journaling, poetry and drumming as a way to tap into their feminine essence and discover ways to manifest their feminine power in daily life.
Talesha Wilson and Tamika Dozier (Louisville): $3,500 to create a short documentary of LBGTQ couples in Louisville, their relationships, and the obstacles they have faced across generations based on sexuality, race, and gender. Participants will develop new skills and build connections with other LBGTQ people/ couples. The documentary will provide positive representations of healthy Queer love, inspiring dialogue and understanding both within and outside of Louisville's LBGTQ community.
Melody Youngblood (Berea): $2,425 to create a safe space for young women to share vulnerable stories of experiences that have shaped them and their self-image, and to turn those stories into song. The listening and sharing sessions will inspire and encourage women to create deeper connections with one another. The songs will move audiences and empower other women to tell the stories and heal from their own trauma.
ARTIST ENRICHMENT
Sylvia Ahrens (Lexington): $1,000 for research and writing time to create a manuscript of poems about Rosalind Franklin. Creating the work will further advance her commitment as a feminist writer. The poems will highlight the life and accomplishments of a much undervalued voice in the field of science, reinforcing the idea that women can succeed in any field they choose.
Leslie Anglin (Louisville): $2,750 to attend a workshop on the art of kintsugi (the Japanese art of repairing broken pottery) and to create a new series of mixed-media work that addresses the transformative effect of loss on feminine identity. The workshop will expand her visual language as an artist. The resulting work will encourage dialogue among women about breakage and repair as essential parts of life.
Carrie Billett (Harlan): $7,000 to create new works and an exhibition exploring unconventional uses of traditional craft materials and techniques often seen as "women's work." Experimenting at the intersection of these varied techniques will refine her artistic voice. The finished work will create space for conversations in her community about art and women's roles.
Tasha Cotter (Lexington): $1,000 for completion of a narrative-driven poetry collection tentatively titled Near and Far: A Poet's Journey through America's Parks. This grant will enable her to visit two parks that will be explored in detail in the manuscript. The finished work will address issues related to climate change, sustainability, and preserving natural resources from a feminist perspective.
Shannon Davis-Roberts (Murray): $2,000 to attend a series of workshops through Women Who Write and to write a short story cycle that centers on a young woman who develops a relationship with an intersex man. Attending events will help her develop as a feminist writer, and the stories will challenge traditional concepts of intimacy, love, and gender identity, and promote dialogue about the social stigma surrounding sexual ambiguity.
Rachel Grimes (Milton): $4,500 to support the continued creation and development of the music and script for a folk opera, The Way Forth, which explores perspectives of generations of Kentucky women from 1775 to the present. Creating the piece will expand the scope of the work and help her hone her orchestration skills. The finished work will inspire dialogue about the systematic oppression of women of European and African-American descent, and envision a new path forward.
Vanessa Grossl (Lexington): $1,000 to create a multimedia pop-up exhibit showcasing the stories of immigrant entrepreneurs/ restaurant owners in Lexington, KY. The project will further develop her skills as a photographer and cultural anthropologist. The exhibit will humanize immigrants and increase understanding of their hopes, dreams, and contributions in communities across the state.
Aaisha Hamid (Louisville): $3712 to produce and market a series of books dedicated to encouraging high school and college aged women to embrace their identities and speak up in a society that continuously stills their voices. The project will enable her to refine her writing skills while celebrating her own identity as a Pakistani American, Muslim woman. The books will introduce young women to powerful women protagonists and redefine the literary narrative society has created for them.
Julie Hensley (Richmond): $1,507 to fund a writing residency at the Virginia Center for the Creative Arts, where she will complete and revise her novel, The Recklessness of Water. The residency will deepen her skills as a feminist novelist. The finished work will foster more open dialogue about (in)fertility, sexuality, depression, abuse, and other topics affecting women, ultimately guiding readers toward personal and familial healing and growth.
DaMaris B. Hill (Lexington): $4,500 to create a multimedia digital poem titled "Harriet's Crown" — a remixed version of a piece from her forthcoming poetry manuscript. Working in mixed media will expand her scope as a literary artist. The finished work will honor the legacy of Black women activists across time and create dialogue about the complex negotiation between national identity and the mass media coverage of police brutality against black bodies.
Jenny Hobson (Berea): $3,020 to complete a set of letters and essays exploring what it means to communicate with powerful men who set national policies with local impacts, and to create web-based tools and workshops with local activists based on this work. The letters and essays will create public dialogue about this form of political participation, and workshops will encourage others to communicate with and reflect on their interactions with those in power.
Rebecca Gayle Howell(Hindman): $3000 to work on her third book of poems, The Decisive Moment, which grapples with the 24-hour news cycle and the confessional voice. Writing in this mode will help her develop her feminist voice and connect the personal and the political in new ways. The finished work will encourage dialogue and inspire other women to speak their truths.
Trish Lindsey Jaggers (Smiths Grove): $3,711 to complete a poetry collection titled Birdshot: The Pellet Poems, and to conduct workshops and poetry readings based on this work. The grant will provide her the time, space, and objective distance needed to create the work. The workshops and readings will enlighten and encourage women to break old patterns of subservience and self-doubt and renew their goals.
Karen Jones (Lexington): $3,200 to produce an audio and videotape session of music and interviews with contemporary women fiddlers from Central Kentucky, to be held at the Lyric Theatre in Lexington. Producing the project will further her goals as a feminist artist by helping her fine-tune her own skills while providing a unique opportunity for other women fiddlers to hone their craft, learn from one another, and highlight their accomplishments.
Karen Lanier of KALA Creative (Lexington): $2,500 to attend conferences, work with a writing mentor, and attend workshops to develop her skills to better communicate about women's perspectives on farming and the food systems. The activities will strengthen her writing skills and help build connections with women in the sustainable farming community, and will ultimately expand the scope of her work and its impact in the community.
Amira Karaoud (Louisville): $3,890 to create a multimedia art installation showcasing the variety of perspectives and experiences of Arab women living in the United States. The activities will strengthen her interviewing and photography skills and further her development as a feminist artist. The finished work will provide a voice for a community that is underrepresented and misrepresented locally and nationally.
Lori Larusso (Lexington): $5,000 to create a series of painting installations and printed materials that explore the relationship between traditional domestic practices and everyday activism. Creating the work will deepen her engagement with social change through art. The finished work will celebrate and encourage structural change though individual acts of resistance.
Jaqui Linder (Versailles): $1,000 to rent a gallery for a one-woman show and to exhibit a body of feminist artwork, much of which has never before been seen due to its very personal and gender political nature. The exhibit will increase her visibility as a feminist artist. The work itself will inspire dialogue about body hatred, eating disorders, media representations of women, and other feminist issues.
Looking for Lilith Theatre Company (Louisville): $4,000 to work with New Orleans' based RacePeace to develop a framework for shifting racial dynamics and dismantling racism within their company. Working with RacePeace will help them develop as intersectional feminist artists, and will ultimately strengthen their ability to inspire social change within the larger community in which they live and work.
George Ella Lyon (Lexington): $1,500 to revise The Other Side of Everything, a novel about unacknowledged sexual abuse and grief carried over from one generation to the next. The revision process will deepen her ability to represent women's silencing, shaming and scapegoating through the story. The finished work will be a catalyst of change within herself as an author, as well as her readers.
Kristen Renee Miller (Louisville): $4,500 to translate a book-length collection of poetry by indigenous poet Marie-Andrée Gill into English. The project will help Miller hone her skills as a feminist translator. The finished work will bring Gill's work, which addresses themes of colonialism, ecology, and commodification, to an English-speaking readership that has not previously been able to access the work.
Marie Mitchell (Richmond): $1,000 to write a biography of Mary Creegan Roark, the first female President of what is now Eastern Kentucky University, for young readers. Working on the biography will strengthen her skills as a nonfiction writer. The finished work will educate readers about Roark's contributions and inspire students to set goals and overcome obstacles in their lives.
Mary K. Morgan (Chappell): $1,000 to assemble a series of feminist, provocative, abstract, marketable, multimedia visual works. The grant will provide an opportunity for her to create and exhibit her work in an area where there are few resources for artists like herself. The work will expose audiences to perspectives, mediums, and ideas that challenge the status quo and foster respectful engagement across a variety of differences.
Jill Robertson (Hazard): $7,500 to take classes with a local artist and to produce a large community sculpture to be placed along the River Arts Greenway in the heart of downtown Hazard, Kentucky. The classes will further develop her metallurgy skills. The finished work will increase her visibility as a female welder and help normalize welding as an art form practiced by women.
Savannah Sipple (Lexington): $4,000 for a year of continuing education in creative nonfiction craft, ultimately leading to the completion of a collection of interconnected memoir essays. Attending workshops will strengthen her prose and give her the opportunity to work with other feminist LGBTQ writers. The finished work will address the intersection of issues such as women's autonomy, physical and emotional abuse, Christian fundamentalism, body shaming, and homophobia from a queer, rural, feminist perspective.
Rainbow Star (Berea): $1,000 to complete her debut folk pop album and to tour this new work in venues across Appalachia. The tour will build her confidence as a feminist singer/songwriter and broaden her audience. The music will encourage dialogue about patriarchy and inspire women to pursue creative outlets as a means of healing and as a form of activism.
Jamey Temple (Williamsburg): $3,950 to complete a book of poetry about Korean international adoption informed by her experiences as an adoptive parent of Korean children. The project will develop her writing skills and deepen her commitment as a feminist writer. The finished work will raise awareness about the injustices facing the adoption triad (birth family, adoptee, and adoptive family) within a deeply flawed adoption system.
The Local Honeys (Linda Jean Stokley & Montana Hobbs) (Versailles): $2,000 to record a full-length album of songs to preserve and share traditional music of their region, including original works that speak to their experiences as Kentucky women. Creating the album will expand their reach and scope as musicians. The finished work will increase the visibility of women in traditional music as a way to inspire social change.
Tanya Torp (Lexington): $3,500 to attend writing classes and workshops and to develop a creative nonfiction instructional book raising awareness about subversive and effective community building strategies. Attending the workshops and classes will hone her skills as a writer in a new genre. The finished work will highlight the effectiveness of recurrent community gatherings for relationship building and community problem-solving, fostering hope in divisive times.
Tucky Williams (Lexington): $7,500 to create a second Daggar Kiss film, a fantasy adventure about two women from different worlds who fall in love. Creating the work will expand her reach to include a younger audience. The finished work will continue to spread the message of acceptance of lesbians and all women who love women romantically.
Lindsey Windland and Meg Wilson (Berea): $6,260 to purchase materials needed to create a series of tintype portraits, and to attend a workshop covering the wet plate collodion process. Attending the workshop and creating the work will enhance their skills in creating photographic portraits. The finished work will raise awareness about feminist change-makers in the Berea community and celebrate their accomplishments.
Whitney Withington (Big Hill): $3,000 create three artist books featuring vintage vernacular photography from Eastern Kentucky to reverse the trend of invisibility of African American women in Appalachian imagery and literature. The activities will strengthen her computer, design, and decoration skills. The finished work will create dialogue and challenge stereotypes about African Americans in the Appalachian region.

For Artist Enrichment awards from previous years, click here.
For Art Meets Activism awards from previous years, click here.