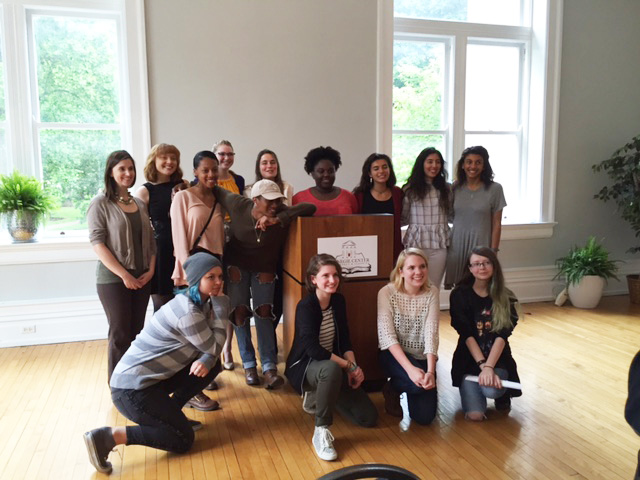 Each year, KFW awards $200,000 in grants; $100,000 is given for each program. The following are the grants most recently awarded.
For Artist Enrichment awards from previous years, click here.
For Art Meets Activism awards from previous years, click here.
ART MEETS ACTIVISM
Americana World Community Center (Louisville): $5500 to engage refugee and immigrant women in making socially relevant fiber art that directly benefits their families, and to support an exhibit to raise awareness of diversity in the community. The program will provide artmaking skills and an opportunity for participants of different cultural backgrounds to interact, build a new social support network and enhance their English skills.
Anchal Project (Louisville): $6888 to provide opportunities for women who have been exploited in the sex trade to create marketable products using natural dyes, helping women rediscover their dignity, independence and creativity in a financially rewarding way. This project addresses the exploitation of women around the world by creating employment opportunities, products and markets that support empowerment, and raise awareness about sex trafficking in Kentucky and around the world.
Art Guild of Paducah (Paducah): $3100 to work with girls ages 12-18 to create personal photo essays and written journals that explore their lives and the lives of their mothers, grandmothers, and/ or the adult women closest to them. The workshops will provide the girls with multimedia art skills and an opportunity to tell their stories and connect with their families. The exhibition will raise awareness in the community about the changing lives and challenges of Kentucky women and girls over the generations.
Athena's Sisters / Lindsay Gargotto (Louisville): $1500 to provide a creative storytelling workshop/retreat for military women to share their stories and build sisterhood, culminating in the publication of a zine by, for, and about military women. The retreat will create a safe space for exploration and connection via different art forms and writing methods, and the zine will provide a sense of pride and accomplishment among participants while raising awareness about the diverse experiences of military women.
B.A.Y.A. Corporation "Beautiful as You Are" (Louisville): $2400 to provide a photo-shoot, paint and sip, and fancy tea to make young girls feel beautiful and help build their self-esteem. The events will expose participants to art activities they may not otherwise have access to and teach them to walk with confidence, love themselves, and embrace their own beauty and power.
Mackenzie Berry (Louisville): $2500 to create a documentary film project about Muhammad Ali's influence on Hip Hop and spoken word poetry. The documentary has a special focus on the effects of misogyny and the impact women have made on Hip Hop.
Boys and Girls Haven (Louisville): $4000 to support "Still I Rise," a visual and performing arts program that partners local artists with young women currently living in their residential treatment facility. The program will empower young women to share their stories as they discover their strengths and find hope for their future, while providing a growth opportunity for collaborating artists.
Bobbi Buchanan / Color Your City (Coxs Creek): $4500 for a weekly creative writing workshop for incarcerated women at the Bullitt County Detention Center, culminating in the production of a print anthology of participants' work. Through workshop discussions and the writing process, female inmates will improve their critical thinking skills, helping them successfully reintegrate into civilian life, stay on a path to recovery from substance abuse by focusing on self-care, and develop healthy relationships with significant others, family members, and friends.
The Buttafly Center, Inc. (Louisville): $1000 to develop a documentary titled The Caterpillars, which will bring to light the current lives of contemporary female creatives in Ghana. The documentary will promote the work of local women of color artists while connecting those "outside of the diaspora" with knowledge and awareness about the effects of the diaspora and the current condition of women in America versus Africa.
Carnegie Center for Literacy & Learning (Lexington): $1900 to support the Young Women Writers Project, through which female writers in their 20's and 30's will mentor and engage female high school students in writing and literary performance techniques while examining issues of concern to them, including body image and self-esteem. Participants will discover their voices with confidence and self-respect, and the mentoring component will forge connections between women writers of varying ages.
Chrysalis House, Inc. (Lexington): $1800 to support the Clothesline Project, where women affected by violence decorate shirts and display them on a clothesline in order to raise awareness about domestic or intimate partner violence. The project provides emotional expression and an artistic outlet for women to break the silence that often surrounds their experience, while raising awareness about violence against women in the community.
Clear Creek Creative (Big Hill): $4368 to support the Clear Creek Festival, a community event in rural Rockcastle County, Kentucky, which offers a variety of artistic performances including music, theatre, dance, storytelling and spoken word, along with educational workshops and activist engagement opportunities. The Festival will provide a diverse cultural and educational space in which participants can enjoy art, build community, promote healing, deepen public consciousness and inspire themselves and others toward action for living in harmony with nature and one another.
Sam L. Cole (Richmond): $5500 to support "Her Appalachia," a digital storytelling project that engages Appalachian women and girls in the telling of their own stories, specifically addressing the role popular media plays in the construction of their identity. The project will encourage participants and audiences to think more critically about their own perceptions of Appalachian women, and hopefully inspire more nuanced, multi-dimensional media portrayals of women in the region.
Commonwealth Theatre Center, Inc. (Louisville): $2625 to stage a production of THE TROJAN WOMEN, a Greek tragedy featuring a cast of Commonwealth Theatre Center youth (primarily female) and professional adult actors and to support drama residencies focusing on feminism, art and social change for local refugee and immigrant youth at Americana Community Center and Doss High School in Louisville. The residents will create original artwork relating to the play. The performance and residencies will raise awareness and understanding in our community of the immigrant and refugee experience while empowering students to tell their stories as agents of social change.
Donna M. Crow (Irvine): $1500 to engage girls and women across generations and socio-economic circumstances in writing workshops to share their stories, create monologues based on their experiences, and create a community play based on the monologues. The workshops will promote self-awareness and healing among participants, and the play will instill pride, courage, strength, and a sense of place in the larger Estill County community.
Janelle Renee Dunn (Louisville): $3868 to produce Smoked Apple Theatre Group's annual 6:10 Play Showcase, which highlights women playwrights of color, as well as a series of events leading up to the showcase. The events will give an opportunity for women actors and playwrights of color to gain experience, learn new skills, and have their work showcased in a supportive environment, while increasing exposure and recognition in the larger Louisville theatre community.
Benéa Durrett (Louisville): $1000 to support a mentoring program for young girls focused on self expression through the arts. The mentoring artists will provide participants with creative ways to think critically about themselves, their identity and goals, strengthening their self confidence and giving them skills to become future community leaders.
Deborah Eller and Michelle Armstrong (Lexington): $2000 to engage clients of a women's drug and alcohol recovery program in monthly multi-media art workshops, culminating in a public exhibit. The workshops will promote personal growth, self-awareness, and self-confidence for participants, and the exhibit will inspire other clients and help educate the general public about the important role art can play in recovery process.
Family Scholar House, Inc. (Louisville): $1000 to support their Building Empowered Women program, which engages single-parent student mothers in the creation of vision boards and multi-media art pieces, giving them a sense of strength as they navigate the challenges of poverty, homelessness and single parenthood. Participants will learn artmaking skills, gain self-confidence and decrease anxiety and stress, and the program will raise awareness about the healing power of art.
FFOYA House (Bowling Green): $3675 to host art and writing workshops for survivors of domestic violence and sexual assault, culminating in a series multimedia art events in Southern Kentucky. The activities will support the work of female artists, empower survivors of domestic violence and sexual assault through the creation of art and literature, and promote awareness about violence against women in the community.
Girls Giving For Good / Olivia C. Allen (Louisville): $1000 to support a series of self-expression workshop to be conducted during the I Can Be Girls Confidence Conference in Fall 2017. Through dance, poetry, spoken word, music, and photography, tween girls (ages 8 -12) will learn to find, develop and utilize their voice for causes and issues that are important to them.
Girls Rock Louisville (Louisville): $2625 to engage girls and gender non-conforming youth from all backgrounds in a summer camp program at Western Middle School, in which campers ages 10-18 will learn to play an instrument, form a band, and collaboratively write a song. The experience culminates with a concert and professional recording session. Campers will develop self-confidence, musicianship, and leadership skills while participating in workshops focused on intersectional feminism, experimentation in music and sound, and self care.
Grayson Gallery and Art Center, Inc. (Grayson): $2345 to hold a series of workshops involving visual, performance, and literary arts for substitute parents and children affected by the growing addiction crisis, culminating in an exhibit featuring their works. Participants will learn to express their feelings and connect with others who share their struggle, and the exhibit will raise awareness about the challenges facing substitute parents in light of the drug problems in the community.
Jay Holtman (Erlanger): $1000 to create a life sized sculpture of a mother and child being lifted and supported by a sea of hands to be displayed on the front wall of the common room at the Scholar House. Collaboratively creating the work will give participants a sense of accomplishment and belonging, and the finished work will celebrate and promote the value of mothers furthering themselves and their families through education.
RaeShanda Johnson (Louisville): $1000 to provide Cupcakes and Conversations workshops throughout the year to edify, educate, and empower women as they express themselves through a variety of activities including journaling, collage, drawing, and painting. The workshops will allow women to explore issues of self-esteem and body image, and ultimately strengthen their bonds with one another, their families and communities.
Kentucky Shakespeare (Louisville): $1365 to provide a series of workshops titled Shakespeare for Strength for the clients of the Center for Women and Families, using ensemble techniques and Shakespeare's words to empower participants to express themselves in a safe and nurturing environment, culminating in an event with an invited audience of friends, family, and CWF staff. The workshops will provide a creative outlet for participants to reflect on their experiences and express themselves, and the event will deepen family and friends' understanding of abuse and celebrate the strength, courage, and resiliency of survivors.
Kentucky Women Writers Conference, Inc. (Lexington): $1000 to support the 2017 conference which will include writing workshops, craft talks, and panel discussions. The conference provides professional and artistic development for women writers, raises awareness about feminist authors from Kentucky and beyond, and exposes audiences to diverse literary voices, genres, and perspectives.
Karen Lanier / KALA Creative (Lexington): $6400 to create the short film The Wisdom of Women Farmers, which provides a platform for Kentucky farmers of diverse backgrounds and all levels of experience to share their wisdom, practical advice, and hopes for the future. The lead artist will interview and make farm visits with women farmers who want to connect, share, converse, and support each other, and the film will be used to stimulate discussions within sustainable farming organizations and the communities they serve.
Betty Lawson / Bondurant Middle / Western Hills High School (Frankfort): $1000 to engage female students in a journaling program where they will write about self-esteem, relationships, anger management, compassion for others, gratitude, and other themes relevant to their daily lives, and to take them on a field trip to an arts event. The journaling program will give them skills for personal reflection and empower them to reach their goals, and the field trip will give them exposure to the arts.
Jesse Levesque and Jessica Oberdick (Louisville): $2500 to work with emerging and established visual artists, spoken word performers, and other collaborators to create a co-curated exhibition exploring ideas that surround female sexuality and gender, to be exhibited at 1619 FLUX: Art + Activism in Louisville.  The collaboration will provide an opportunity for local artists to interact with each other and receive compensation for their work, and the exhibit will encourage dialogue and challenge outdated ideas about female sexuality and gender identity in the larger community.
Looking for Lilith Theatre Company (Louisville): $1000 to support the production of Carefully Taught by Cheryl Davis–a timely and radical work addressing intersectionality in the commonwealth. The play and talkbacks will raise awareness and dialogue among participating artists and audiences alike about the issues of privilege and racial (in)justice that infuse their daily lives.
Louisville Grows, Inc. (Louisville): $2000 to support a 13-week visual art workshop exploring themes such as feminist environmental justice and systemic social disinvestment, culminating in a public art exhibition and community conversation with the artists. The workshops will cultivate connections among feminist artists and the exhibit will foster dialogue about social and environmental themes that are of deep concern to the neighborhoods and communities engaged.
Sue Massek (Willisburg): $1000 to organize a retreat for a diverse group Kentucky feminist artists from all genres who are looking for ways to amplify the impact their art has on current social justice issues. Through a series of interactive sessions, participants will pool their collective knowledge, exchange stories and ideas, and build momentum and connections that will help them pursue their collective social change goals more effectively.
Owensboro Dance Theatre, Inc. (Owensboro): $4468 to provide dance/movement experiences for women of all ages, abilities, income levels, and backgrounds with a focus on improving the self-image and confidence through dance. The classes will encourage women and girls of all body types, backgrounds, and abilities to embrace their unique bodies and skills, explore the range of their mobility, and find their inner artistic voice.
Laura Petrie (Paducah): $2000 to support the My Syster's Art Initiative, which will serve as an umbrella event which will inspire, encourage and challenge women and LGBTQ women to produce feminist art through a film festival, short film challenge, spoken word event, and fiber art challenge, culminating in an eight-week feminist art exhibit. The activities will build feminist community, increase public awareness of female issues, and encourage women to stand against unfair practices which keep women and girls oppressed.
Charity Rust-Jordan (Independence): $1000 to produce a first annual art gala, featuring the photography and artwork of women residing at the local Women's Shelter and/or housing of Welcome House of NKY. Creating the artwork will reduce stress, increase connection among women and children in the shelter, and provide an outlet for healthy discussions about complicated emotions, and the gala will raise awareness about the important work of the organization in the community.
Jeneen Sallaz (Frenchburg): $3000 to support a program in partnership with art and history teachers in Menifee County schools that gives students an opportunity to create multimedia art projects honoring the women who are impacting their lives, culminating in an exhibit of their work at the Menifee Mountain Memories Festival. The program will provide an expansion of art appreciation and expression in an area with limited access to arts activities. The works created will challenge stereotypes and encourage students and the community to think differently about the women in their lives.
Squallis Puppeteers (Louisville): $2000 to work collaboratively with Portland neighborhood residents and local activist organizations to create six new larger-than-life backpack puppets representing historic female activists, which will be used to enhance the visual spectacle of local resistance movements. Creating the puppets will offer opportunities for artists and activists to work and organize together in Squallis' new satellite workshop location in Portland. The end product will enhance visibility and messaging strategies for local activists.
Steam Exchange (Louisville): $3800 to engage middle and high school young women in screen printing to create wearable art that challenges mainstream messages about female identity and body image, culminating in an opening reception and fashion show where neighborhood residents showcase their feminism inspired t-shirts. Participants will gain screen printing skills, engage in critical dialogue about identity and intersectionality, and promote positive images of women and girls in the community.
Teatro Tercera Llamada (Louisville): $3568 to produce its original play, Guiando a Molly (Molly Driven), about two outreach workers seeking homeless minors at risk of being victims of human trafficking.  The play will raise awareness about human trafficking in Louisville and beyond, and what can be done to prevent it.
Doris Thurber / Hands Healing HeArts (Frankfort): $7500 to work with Jennifer Zingg, Karen Hatter, and Joanna Hay to continue their arts-based addiction recovery program, "Hands Healing HeArts," for women attending Franklin County's Drug Court program. The multi-genre program promotes creation and self-exploration resulting in a visual arts installation, writing workshops, a collaborative dramatic performance, allowing the voices of women in recovery to lead themselves, and their community, toward empowerment and healing.
Honesty L. Truth (Louisville): $2000 to create a docu-series on her life as a queer-identified, brown-hued, gender-fluid human, capturing interviews with social justice activists and diverse women going about their daily lives in Kentucky. The docu-series will address themes of womanhood, equality, social acceptance, and social expectation while building authentic connections among participants.
University of Louisville's PEACC Center (Louisville): $1000 to engage female University of Louisville students who have been impacted by power-based personal violence to share their stories as well as their hope for change.  Students will participate in a weekend writing retreat with lead artist Christy Burch and share their written stories with the larger campus community in a performance designed to raise awareness of the impact that abusive power has and the capacity we have to collectively change our culture.
Vanessa Becker Weig (Lexington): $1875 to support The Girl Project, a program that empowers teenaged girls to challenge the misrepresentation of women and girls in contemporary American media culture by introducing participants to female artists who lead them in theatre, dance, spoken word, movement, music, sketch comedy, and visual art workshops, culminating in the collective creation of a theatrical performance. By engaging in the workshops, performances, and community outreach initiatives, participants will challenge unrealistic media images and gain the confidence they need to set long-term goals, develop positive relationships and social circles, and advocate for social change.
Whitney Withington (Big Hill): $1000 to engage with her community through an interactive feminist bookmaking booth, where children and adults will learn basic bookmaking techniques using feminist quotes and imagery, to be held during ten local farmers market events during the summer and fall. Participants will learn new skills to create booklets which will provide a safe space for writing thoughts, feelings, artwork, and stories.
ARTIST ENRICHMENT
Beaded Treasures (Prospect): $2,000 to support an artist enrichment program where refugee women artists can explore jewelry making styles, develop their artistic skills, and share their stories through a multimedia presentation. The art they create will also provide a source of income, helping them to become more self-sufficient.
Dorothy Bouzouma (Lexington): $4,620 to write a memoir that focuses on the relationships sexual abuse survivors forge with their mothers. The finished work will help survivors identify physical and emotional trauma, as well as develop close bonds centered on open communication.
Elizabeth Burton (Lexington): $1,000 to finish a collection of stories about Uyghur communities in remote, northwest China. The stories will raise awareness and promote dialogue about the experiences of Muslim women in general and Uyghur women in particular.
Candace N. Chaney (Lexington): $4,805 to complete a poetry collection exploring economic injustice and classism in rural, working class Appalachia. The grant will provide the opportunity for her to attend a series of retreats in Appalachia and abroad that will strengthen her writing, and the book will raise awareness of the effects of economic injustice and classism in the region.
Carrie Jo Coaplen (Louisville): $1,000 to finish a non-fiction book challenging hegemonic perceptions of exotic dancers. Working on the book will help her connect with other likeminded feminist artists and develop as a writer. The book will challenge ideas about women's bodies, sexuality, choices, freedom, and paths to empowerment.
Bethany Cook (Paint Lick): $3,000 to attend a series of immersive music camps to develop her technical fiddle and guitar playing abilities and to host monthly women-centered public jams for women to gain confidence and experience, advance their own musical abilities, and build positive relationships with other musicians.
Rachel Elliott (Lexington): $5,800 to write a graphic novel for young readers, telling a humorous story of an imaginative, gender-non-normative girl and her struggles making male and female friends. The novel will help kids identify, respond to, and alter the gender-based unequal treatment that happens on playgrounds and in classrooms.
Flashback Theatre Company (Somerset): $1,000 to allow Producing Artistic Director Sommer Schoch to work with playwright Amber Frangos to develop a play based on iconic feminist Rose Will-Monroe. Will-Monroe, a Kentucky native suspected to be the real life model for Rosie the Riveter, furthered the role of women in the WW II era.
Natasha Foley and Bethany Cothern (Louisville): $1,500 to fund the composition, recording, and performance of "Baby Book," a six-movement song cycle for soprano and piano on themes of miscarriage, pregnancy, and motherhood. The cycle will inspire dialogue about feminist themes that are rarely addressed in this musical genre.
Jesse Fowler (Berea): $2,500 to attend an intensive workshop to learn loom-building and weaving techniques from indigenous Mapuche women in Chile and to use a Witral Loom to create a blanket informed by Mapuche tradition. The exhibition will expose Kentucky artists to the Mapuche's craft as a form of feminist resistance to colonial and capitalist exploitation.
Katie Gardner (Berea): $1,500 to attend workshops in martial arts and improvisational dance, and to create a series of creative movement classes for women. The classes will increase participants' body awareness, sense of self-worth and self-expression, and physical/emotional empowerment.
Leah Godlaski (Winchester): $3,000 to setup a screen printing studio and create a series of prints visually exploring the untold stories behind the recipes passed along by women who have shaped her life. The prints will provide insight into the lives of women and affirm the value and artistry of home cooking.
Geneva R. Harris (Paducah): $1,000 to make her paintings into functioning solar water fountains that express ideas of self sustaining power and the fluidity/flexibility of women. The fountains will be displayed at local coffee shops and galleries.
Michelle Hollis (Versailles): $4,000 to conduct interviews with 50 Kentucky women on sources of stress in their lives, and from these to create music and a safe space where women can reflect, quiet the mind, and heal by building on their inner strength, compassion, love, empathy, vulnerability, and intuition.
Susan Ishmael (Mt. Sterling): $4,435 to research and write her novel, "When Whisky Meets Water," which tells the story of a missing African American girl whose 1966 death has lasting repercussions on a segregated Kentucky town. The novel will shed a light on how racial disparity persists despite advancements.
Looking for Lilith Theatre Company (Louisville): $5,000 to curate and produce a Festival of Feminist Performances, including a commissioned play, full-length and short original performance pieces, readings, classes, and community workshops. This collaboration and the resulting festival will build community and promote dialogue about intersectionality, social justice, and other feminist topics.
Nada (Louisville): $2,000 to continue recording all the piano works by German composer Johannes Brahms. As the first woman to do so, Nada's recordings will show that women can master Brahms' work while also helping create a more robust classical music scene in Kentucky.
Rachel Mack (Louisville): $1,000 to work with an editor to complete a series of essays about her mother's battle with cancer. The essays will inspire dialogue about attitudes toward women's social roles and relationships, as well as our society's attitudes toward illness, mortality, and grief.
Amelia Martens (Paducah): $3,000 to attend a southern writers' conference, where she will revise and workshop her poems, and to complete a book length poetry collection addressing the conflicts encountered by a mother raising daughters in the current social-political-cultural climate of the American mid-south.
Rachel Matheis (Louisville): $1,000 to combine the art of weaving with poetry, culminating in an exhibit that will include poems, free-hanging weavings, and photos to help bring the poems to life. The exhibit will help her combine different mediums in innovative ways.
Greta McDonough (Owensboro): $4,000 to support travel to Koniakow, Poland, where she will interview and photograph lacemakers, and to create a multimedia exhibit of the work, centering on feminism that reflects Kentucky's tradition of handcrafted art.
April Morales (Disputanta): $3,000 April Morales (Disputanta): $3,000 to hold workshops and work collaboratively with other artists and feminists to design a deck of 78 women's healing tarot cards.
Cynthia Norton, a.k.a. "Ninnie" (Louisville): $2,000 to create a solo exhibition consisting of paintings, a kinetic sculpture and a corresponding album of songs. Creating the exhibition will help her develop and expand her skills as a multimedia artist, and the finished work will transform the boundaries between high and low art and inspire other women to create art in spite of poverty or other limitations.
Tina Parker (Berea): $2,000 to complete a second poetry collection focusing on women and mental health, in particular to research historical accounts of women categorized as "other" by being labeled as "witch" or "insane." The poems will encourage readers to challenge dominant attitudes about gender roles and resist negative labels used against women.
Joanne Price (Bagdad): $3,500 to illustrate a book titled "Beneficial Insects" with her engraved wood prints. The book will educate readers about the importance of insects and the benefits of environmentally conscious gardening practices and challenge viewers' assumptions about insects while demonstrating women's contributions to printmaking.
Jasemine "Jazzy J" Reed, founder of Reedmywords Inc. (Louisville): $3,400 to compete in out-of-state poetry slams and to develop a series of writing workshops for youth in Louisville, both in schools and in other community spaces. The workshops will offer opportunities for positive self-expression for young people with limited access to arts activities.
Donna Schulte (Bowling Green): $1,500 to create ceramic work that brings awareness to the plight of endangered animals and the tradition of women-led wildlife advocacy and stewardship.
Lisa Simon (Louisville): $3,000 to attend an artist residency and create a body of life-sized figurative mixed-media/ceramic sculptures and supporting two-dimensional works exploring the theme of depression through a gendered lens. The artwork created will raise awareness and spark dialogue about the importance of understanding depressive conditions and mood disorders, particularly in times of crisis.
Skylar Smith (Louisville): $3,500 to create a new series of artwork on handmade paper that engages and embodies the history of women's suffrage. The artwork created will raise awareness in the region and beyond about the history of women's voting rights and how it relates to female representation in the political arena today.
Moksha Sommer (Morgantown): $2,000 to work with mentor Faith Wilding to write a book and create a multidisciplinary performance piece on the evolution and devolution of female archetypes in the Judeo-Christian tradition. The book and performance will inspire dialogue about how poverty and sexism intersect in rural communities.
Southeast Kentucky Community & Technical College Appalachian Program (Cumberland): $1,000 to interview diverse women from Harlan, Bell, and Letcher County and to create a podcast and a mixed media visual art display that will travel throughout our region addressing themes such as female role models, body image, and sexuality. The display will spark dialogue about what it means to be a woman in Appalachia.
Teatro Tercera Llamada (Louisville): $3,600 to present the full-length, Spanish language, theatrical production of Las Mujeres Verdaderas Tienen Curvas (Real Women Have Curves) at The Kentucky Center for the Performing Arts. This production will reach new audiences, and the play will raise awareness of Latina women struggling with issues of body image, immigration, domestic violence, family expectations, education, and mutual cooperation.
Rheonna Thornton (Louisville): $1,500 to attend the National Women of the World poetry slam and create her first book, website, and poetry CD. The website will help her reach new audiences, and her new original work will inspire conversations about the negative ways women are impacted by social media, degradation, sexism, and sizeism.
Lisa Tobe (Louisville): $1,000 to edit and publish a memoir, "Shadows of Me," which focuses on sexual abuse and dissociative identity disorder. The published book will create dialogue about preventing and intervening in instances of violence against women.
Lindsey Windland (Berea): $2,500 to create a series of linocut portraits of influential feminists and to create paperback picture books based on these portraits. Completing the project will improve her rendering, illustration, and printmaking skills, and the books will inspire young women to learn more about the history of feminism and become involved in issues they are passionate about.
Whitney Withington (Big Hill): $3,000 to create a series of artist books and chapbooks featuring artistically embellished prints of original photographs of African American women in Appalachia. The books will enhance visibility for African American women in the Appalachian region.
Katy Yocom (Louisville): $7,500 to create a multimedia depiction of the sustaining, 56-year-long friendship between two women of different racial, economic, and educational statuses The mixed-media project will raise awareness of the diversity, complexity, and power of women, and will help her develop new skills as she ventures into a new artistic medium.
Alana Yon (Bowling Green): $3,000 to attend the Vermont Studio Center for a four-week residency, where she will create ceramic and mixed media vessels to be used in fermentation. The finished work will bridge the gap between humans and nature.