Welcome to the KFW Blog!
In an effort to make more voices heard, the Kentucky Foundation for Women created a comprehensive communication plan this past year. In addition to our Facebook presence, we started Twitter and Instagram accounts, so that we can spread the word about the powerful and diverse work feminist artists are doing across the state, and to spark a conversation about how feminist art facilitates social change in Kentucky. In a similar spirit, we've started the blog you're reading right now. We envision all of these forums as opportunities to feature a wide range of perspectives and views on feminism, art, and social change.
Disclaimer: 
The contents on this blog are submitted by guest bloggers from across the state who interested in feminist art for social change in KY. The viewpoints expressed belong to the guest authors, who are not members of the KFW staff.  
_____________________________________________________________________________________________________________
The following guest blog is from Ellen Birkett Morris, a Louisville-based writer.
Spotlight on Sara Martin: Blues Pioneer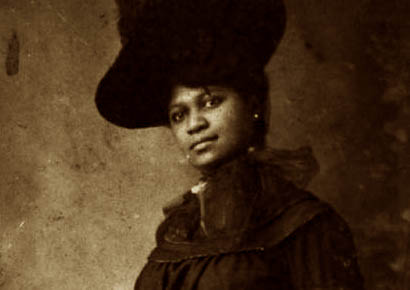 Kentucky has a rich musical heritage that continues to this day, but few are aware of the legacy of Sara Martin, a popular blues singer of the 1920s who was known as "the blues sensation of the West."
Sara was born in Louisville's Smoketown neighborhood in 1884. She began her career as a vaudeville singer around 1915. She performed with a jug band, a popular style of music which is still played today. Louisville jug band music was a mix of African American folk traditions and jazz instrumentation, according to Michael L. Jones, author of "Louisville Jug Music: From Earl McDonald to National Jubilee." Sara recorded "Blue Devil Blues" with the Dixieland Jug Blowers in 1924. Their recording was the first recorded jug band on record.
Known as "moanin mama," Sara secured a recording contract with Okeh Records in 1922, when she was 38 years old. One of her first recordings was 'Taint Nobody's Bizness if I Do' with Fats Waller on piano.
Her tune "Sugar Blues" was popular and helped draw attention to her singing. The following year Okeh released seventeen records by Sara. Her work with popular sidemen Clarence Williams, Sidney Bechet, Sylvester Weaver and King Oliver's band helped make her a best seller. She continued recording until 1928.
Sara was renowned for her stage show, where she appeared in lavish costumes with diamonds in her teeth. She toured Cuba, Puerto Rico and Jamaica and major US cities in the late 20s.
According to the blues historian Daphne Duval Harrison, Martin tended to use more swinging, danceable rhythms than some of her peers, but when she sang a traditional blues her voice and styling had richer, deeper qualities that matched the content in sensitivity and mood. He noted that her renditions of the songs "Mean Tight Mama" and "Death Sting Me" approach "an apex of blues singing."
Her talents included performing in films. Sara was in the 1929 film "Hello Bill" with Bill Bojangles Robinson and appeared in the first talking picture with an all-black cast, "Darktown Scandals Revue" in 1930.
"She was truly one of the classic blues singers," said Keith Clements, a founding member and a current director for the Kentuckian Blues Society.
Sara retired from blues singing in the 1930s and returned to Louisville, where she opened a nursing home and sang in the local church gospel choir. She passed away from a stroke at the age of 71. Sara was buried in Louisville Cemetery off Poplar Level Road in an unmarked grave.
Kentuckiana Blues Society and National Jug Band Jubilee raised funds to install a pictorial headstone to mark the grave site of Martin. One side of the marker shows Martin performing in a '20s-style gown, and the other side includes her bio. The headstone was placed two years ago. Her collaborators Earl McDonald and Slyvester Weaver are buried in the same cemetery. Kentuckiana Blues Society and National Jug Band Jubilee are receiving an award from the Kentucky Historical Society in March for their efforts to celebrate this blues great.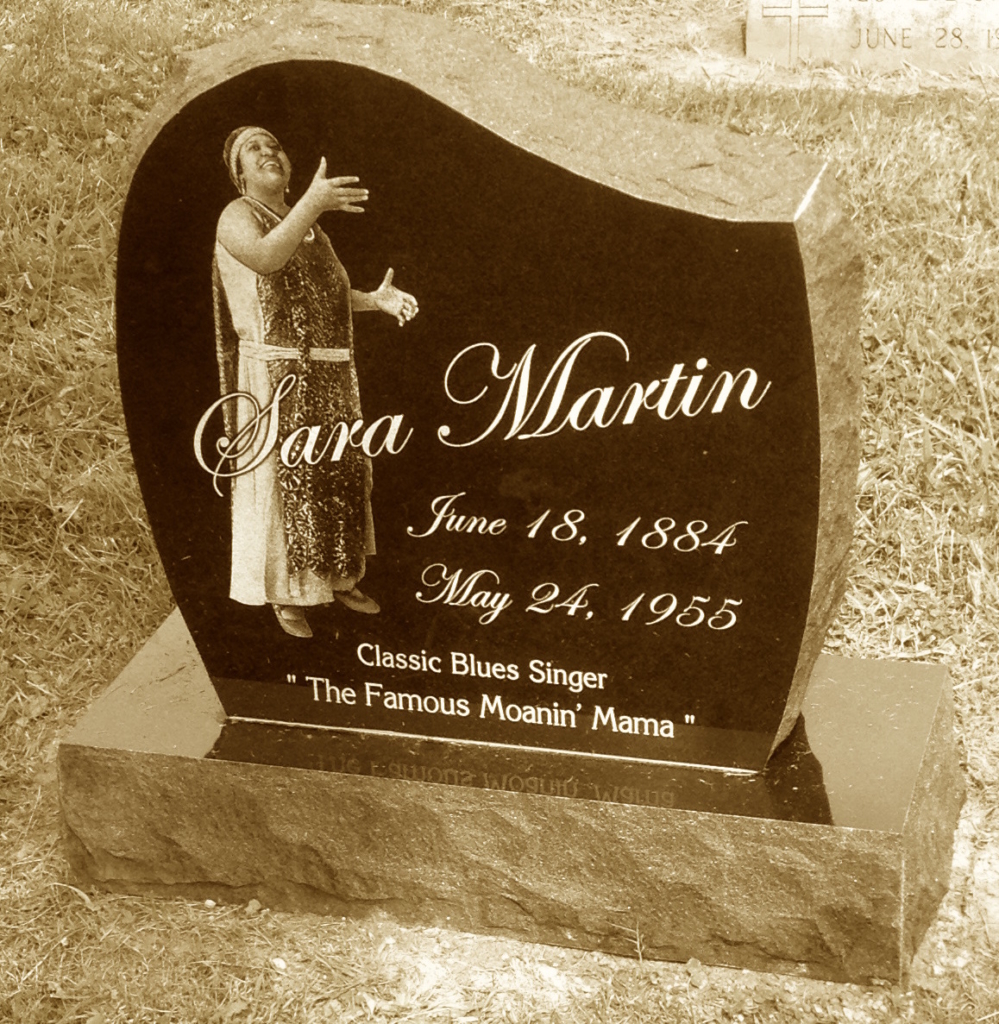 Samples of her music can be find online and include tracks such as Jug Band Blues, I'm Gonna Be a Lovin' Old Soul, and Death Sting Me Blues.
Ellen Birkett Morris, added 2-15-17
_____________________________________________________________________________________________________________
The following guest blog is from KFW Board member Jacquelyn Carruthers—a nurse and artist living in Paducah, KY. Below she shares her story of a mural project in her community.
Artistic Rejuvenation in Paducah
Like many downtown areas from yesteryear which have vacant buildings due to urban expansion from construction of malls, Paducah has one building that caught the eye of local artists to renovate. The old Kresge dime store…which needed some attention. So the local Arts promotion director, Melissa Winchester asked for the assistance Paducah Art School students and me to help out with the "Murals" to enhance the downtown area.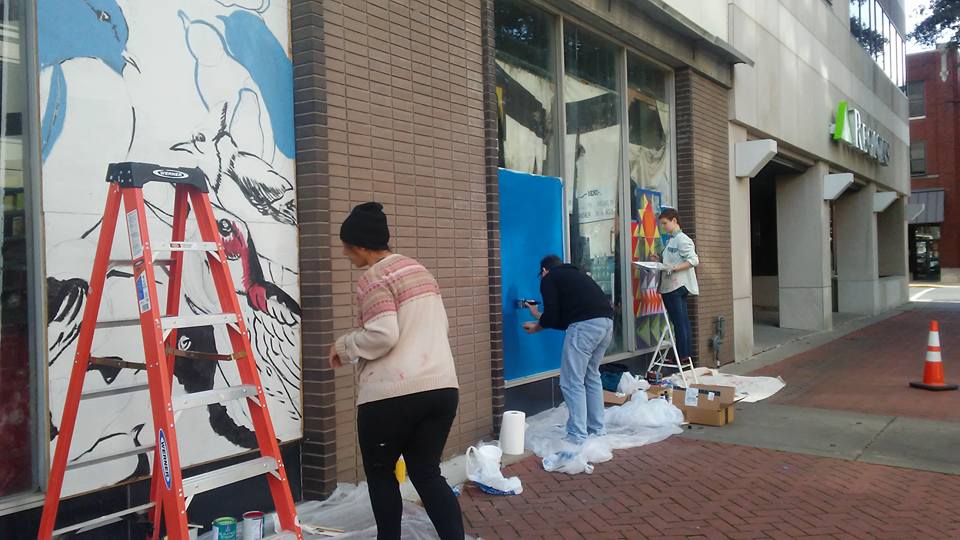 I had been wanting this project to happen for quite awhile and the suggestion to start with the go ahead…"The Mural project" began. I knew that it would be a positive undertaking because I had traveled to western states for example, Oregon, California, Arizona and Denver. Then to the deep south in Atlanta to the Artist Districts of 5 Points which specialized in Graffiti Arts Wall Painting. Paducah would soon be initiating their own form of artistic rejuvenation for the local community by covering the old store windows first with plywood covered in white primer paint to begin the process.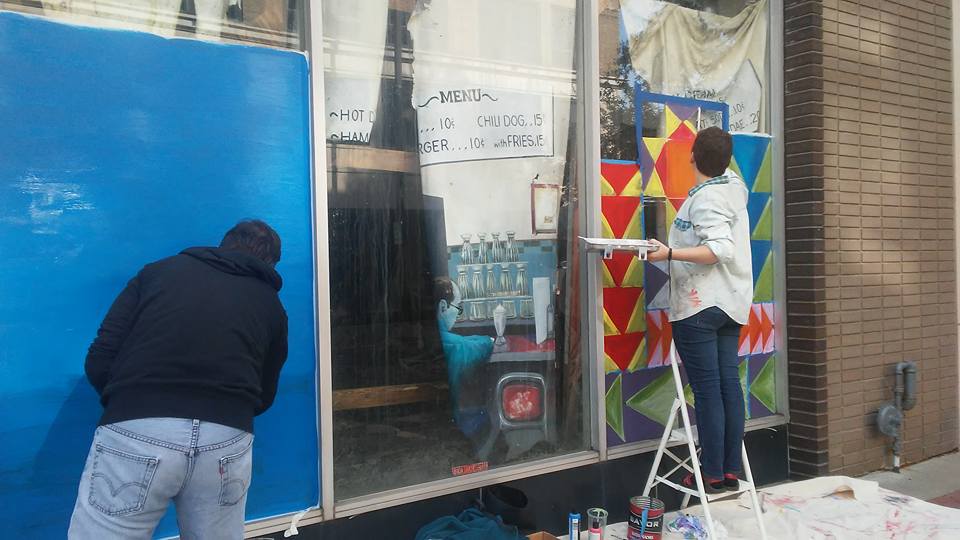 I knew it would work because I had seen it done many places across the country. It was very enthralling of how artists had painted murals in all the cities I listed above…using as their media format, concrete tunnels and bypasses, old billboards and abandoned buildings.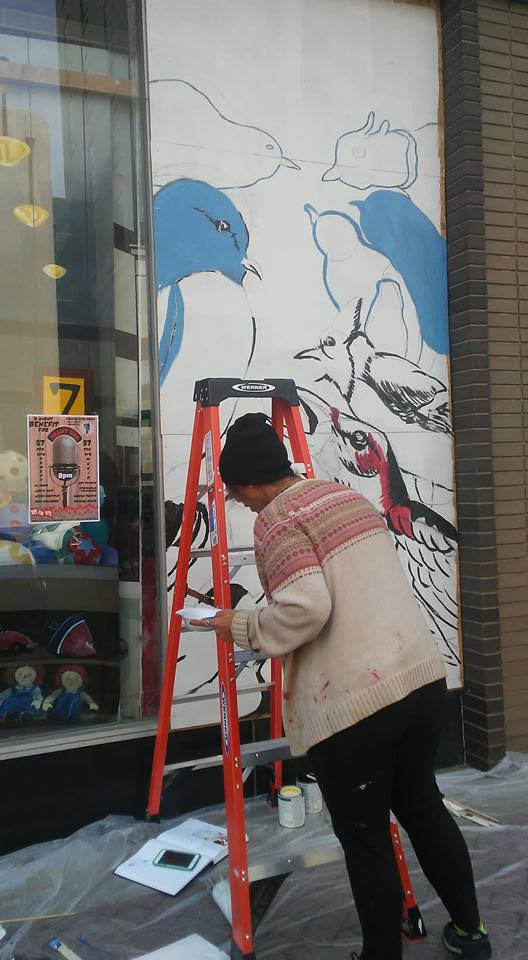 So my call to action was to become part of the artistic rejuvenation in Paducah. As soon as the weather breaks I will help out my hometown by eventually painting a second mural. I favor the Impressionist form of Picasso I had admired in Phoenix Arizona. Mural Painting can be inspirational for large and small communities and enjoyed by all age groups.
Jacquelyn Carruthers 1/21/17
_____________________________________________________________________________________________________________
Natalie Frank Adds a Sisterly Touch to the Brothers Grimm
An imaginary world of magic, mystical creatures, and the overarching desire to find one's self are a few of the traits we all recognize from fairytales. Natalie Frank, a New York-based artist, has taken the works of the Brothers Grimm and transformed them into a collection of feminist pieces that connect the magical world with everyday life. While admiring the pieces, many find that the stories they escaped to as a kid are actually mirroring the world they live in.
Through her natural talent and background education from Yale and The Slade, Natalie interpreted thirty-six different tales through what she calls a "Feminist lens". She has taken back women's ownership of the tales since they were originally told orally and collected throughout the centuries by women until the Brothers Grimm gathered and altered them for various reasons. The alterations have been taken even further through Disney where one of the greatest desires of a majority of the female characters is to find true love. Natalie chose to interpret the Grimm versions while adding her own touch and says that the women in the Grimm stories vary from Disney because these women are more complex. They are not always "meek and prim" and Natalie had no interest in traditional gender roles in her drawings. For example, the evil stepsisters in Cinderella did not merely bully Cinderella and loathe in the fact that they could not fit into the slipper. Instead, they went as far as self-amputation to hopefully get what they desired. The stories are shown through bright colors and images that are catching to the eye and the imagination.
Natalie owes the pursuit of following her dream career as an artist to many people she has met along her journey. Many of them fostered independence, which is an important trait for every woman. She began drawing when she was twelve years old and took life drawing classes with her mother in an artist named Ellen Soderquist's garage. Feminism is an overall concept weaved throughout her show. Her independence and female role models have no doubt had a hand in her feminist passion. She defines feminism as "equal rights and opportunity for men and women…basic human rights".
Natalie's Brothers Grimm show began at The Drawing Center in New York where it was curated by Claire Gilman. It then traveled to the Blanton Museum of Art in Austin where it was curated by Veronica Roberts. Now it can be seen at the University of Kentucky Art Museum in Lexington where it is organized by Stuart Horodner. Each drawing can be taken home in a book available at the show that includes essays by Linda Nochlin, Claire Gilman, and Julie Taymore. Natalie hopes that when people view her works, they see that narratives and our stories reflect a great deal about our humanity.
About the Author:
Blair Johnson is an honors student at the University of Kentucky with a major in journalism and a double minor in psychology and gender and women's studies. She has written for the Kentucky Kernel and USA Today College. Blair was a spring intern at the Lexington Art League and now serves as the Director of Communication for the University of Kentucky Student Government Association. She is also the Director of Academics for her sorority, Alpha Phi, and a member of the University of Kentucky Feminist Alliance. Blair plans to attend law school after her undergraduate career where she will continue to advocate for women's rights.
Disclaimer: 
The content on this blog is composed by a independent student voice who is interested in feminist art for social change in KY. The viewpoints expressed belong to the guest author, who is not a member of the KFW staff.