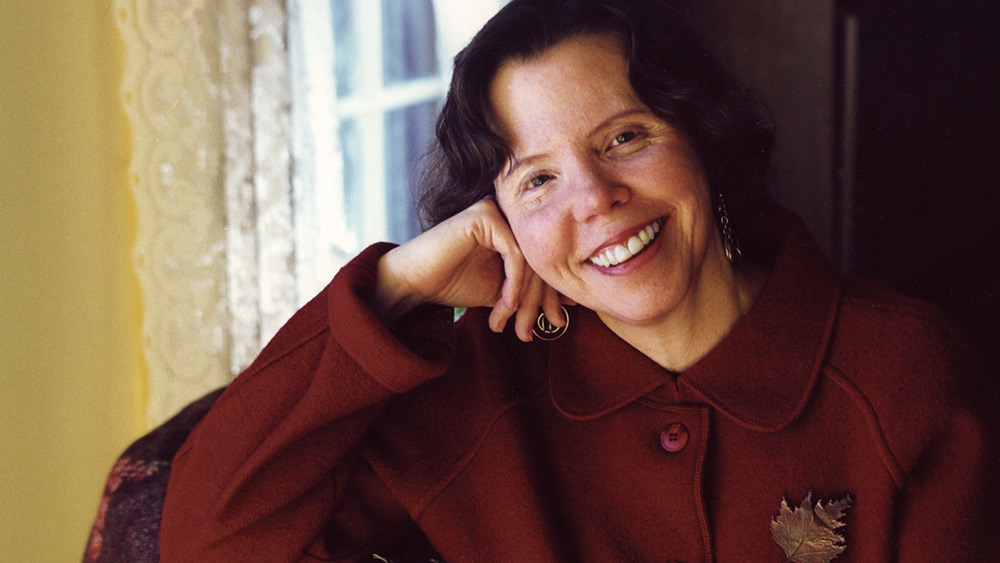 2017 Summer Residency Program
KFW's 2017 Summer Residency Program, "Voice Lessons," June 11-17, 2017 invites applications from Kentucky women writers who wish to work closely with Writer-in-Residence George Ella Lyon to develop their artistic skills.
To preview the application questions and a full description click HERE.
To access the online application portal and apply, click HERE.
All applications must be submitted by March 3, 2017 at 5 pm EST
SPREAD THE WORD to those who would be interested. Here's a flyer: srp-flyer-2017
Voice Lessons: An Invitation from Writer-in-Residence George Ella Lyon
 Invitation:
Do you ever feel like you can't hear your own voice? Do you sometimes sense its presence but can't bring it to the page? Do you struggle to believe in your words or to share them once they're written? Are you looking for ways to ground your writing practice and to connect it with the larger community? Come to Hopscotch House for a week of workshops, writing time, individual conferences, communal meals, and outside rambles focused on finding, claiming, nurturing and sharing your voice.
Note: George Ella Lyon will also host a free, one-day community writing workshop at Hopscotch House on Saturday, June 10. Information and registration will be available for that workshop in May.
About KFW's Summer Residency Program at Hopscotch House
KFW's 2017 Summer Residency Program offers four to six participants a week-long immersion in writing craft, voice development and community building. The program provides literary artists with a skilled and experienced writer/instructor, George Ella Lyon, who will facilitate group workshops and provide individual mentoring. KFW's Summer Residency Program offers an accessible entry point for developing artists as well as an opportunity for established feminist artists to deepen their work and consider the social change power of their art. Residents will also share ideas, exchange work and make connections that will help strengthen the collective experience. A combination of the individual transformation experience and the community building experience will give participants an opportunity to produce new work and new perspectives and to continue to develop as writers beyond the residency experience.
The natural setting at Hopscotch House provides an opportunity to explore the power of creativity within a feminist social change artist community. Participants have access to 400 acres of historically significant privately held land surrounding Hopscotch House. The forests, watersheds, meadows, wildflowers and wild life can be sources for inspiration, reflection and connections to the natural world. Through this special Residency opportunity, Kentucky feminist literary artists will spend 7 days and 6 nights, June 11 to 17, at Hopscotch House, deepen their writing practice and consider strategies to expand the social change impact of their work.
Housing and Food: Residents will be provided a space within Hopscotch House or in the adjacent studio structure. Some participants will share a sleeping room and bathroom. KFW will provide a stipend for food costs and residents will work out a plan for taking turns cooking and cleaning up, or develop an alternate plan for sharing kitchen space.
 Costs: This residency is offered free of cost to participants. KFW provides housing, a food stipend, instruction and mentoring and any other activities related to this residency.
Who Can Apply: The 2017 Summer Residency program is open to all women who are feminist social change artists with a literary arts focus who live and work in Kentucky. Artists with varied backgrounds, worldviews, cultural heritages, and sexual orientations are encouraged to apply. The communal environment created by the residents offers fresh thinking and cross-fertilization of ideas. Summer Residents regularly report that these kinds of exchanges inspire new insights, which strengthen their individual work. KFW is committed to making the residency program accessible to a wide range of women regardless of age, race, ethnicity, sexual orientation, educational level, economic condition, or geographic origin. All applicants must be able to commit to completing the full seven day, six night residency from June 11 through 17, 2017.
About George Ella Lyon
The outgoing Poet Laureate of Kentucky, George Ella Lyon is the author of four books of poetry, a novel, a memoir, and a short story collection as well as picture books, novels, and poetry for young readers. In addition to the Laureateship, her honors include: an Al Smith Fellowship, fellowships to the Hambidge Center for the Arts, numerous grants from The Kentucky Foundation for Women, a Pushcart Prize nomination, and a feature in the PBS series, The United States of Poetry. Her books have been chosen for the Chafin Award, the Appalachian Book of the Year award, the Aesop Prize, ALA's Schneider Family Book Award, the Jane Addams Honor Book, the Golden Kite Award, the New York Public Library's Best Book for Teens, and the Parents' Choice Silver Medal. Lyons recent books include Many-Storied House: Poems and Voices from the March on Washington, co-written with J. Patrick Lewis. A native of Harlan County, Kentucky, Lyon works as a freelance writer and teacher based in Lexington. She and her husband, musician/writer Steve Lyon, have two grown sons.
SUMMER RESIDENCY PROGRAM
The Summer Residency Program encourages women to advance their artistic development, participate in building community within a feminist setting and deepen their understanding of art and social change.
Founded in 2006, KFW's Summer Residency Program at Hopscotch House has fostered many of Kentucky's most diverse feminist social change artists and art activists. By supporting individual and collective artistic development with a focus on social impact, the Summer Residency Program is an important component of the growing and inclusive feminist social change movement in Kentucky.

Artists with varied backgrounds, worldviews, cultural heritages, and sexual orientations are encouraged to apply. The communal environment created by the residents offers fresh thinking and cross-fertilization of ideas. Summer Residents regularly report that these kinds of exchanges inspire new insights, which strengthen their individual work.
KFW Photo Release
Here is a link to KFW's liability release form for Hopscotch House: Liability Release Form
RESIDENCIES
2016 Summer Residents in Review
Participants in the 2016 Summer Residency Program responded to the KFW call to create work that is radical, timely and urgent. During their week-long stay at Hopscotch House residents shared conversations of using art to find personal peace, address social/political discourse and to inspire healing. They made art. They became allies and friends.
"The house was electrifying, and very encouraging for art making." said Lindsey Windland, a resident whose fabric art focuses on exposing unsafe abortion practices. Alexis "STIX" Brown, used the week at Hopscotch House to advance illustrations for her book that depicts women as warriors and men as nurturers. "We talked about social issues, we shared ideas on ways to further our careers. This experience is more profound than I imagined it could be." said "STIX" The work of these Residents, along with Sandra Charles, who began her series of dynamic paintings on African Warrior Queens, will be featured in an exhibit in 2017.
2016 Summer Residents
Lindsey Windland created textile pieces that encourage dialogue around access to safe, medically-supervised abortions and highlight unsafe methods used in the past that have resulted in women dying.
Sandra Charles created a series of paintings that give testament to five accomplished African American Women who overcame tremendous struggle by portraying them as warrior queens from Africa.
Alexis Stix Brown created illustrations for her short story "The Purpose Tree," which addresses gender stereotypes by depicting women as respected warriors and protectors of community and men as healers and nurturers.
2015 summer residency in review
IN REVIEW
During the Summer Residency Program at Hopscotch House, a dynamic group of women increased their writing skills, shaped a nurturing communal experience and forged connections that have extended beyond the residency. The combination of diverse backgrounds and a willingness to grow personally and professionally created space for a life changing experience. "For some, there's not another opportunity to have this cross-sectionality of life experience," said Crystal Wilkinson, Writer – in – Residence. DaMaris Hill, one of six participants, added "All of us are different and define feminism in specific ways, but equally we were all committed to being a collective of women that supported one another."
In this video the residents, Elizabeth Angell, Monica Bowling, Bobbi Buchanan, Asha French, DaMaris Hill, Patrice Muhammad talk about the writing process and their personal transformation.
On the final day of the residency fourteen writers participated in the Community Writing Workshop with Crystal. These women explored the power of writing about women-centered issues, memories and connecting to the spirit of the land.
2015 SUMMER RESIDENTS
Crystal Wilkinson and the six participants in the 2015 Summer Residency Program "Living the Ink": AN IMMERSION INTO LITERARY CRAFT AND COMMUNITY BUILDING designed a dynamic experience of advancing skills and creating publishable work, while growing into a supportive community.
Elizabeth Angell completed a residency to focus on a writing project featuring characters who give voice to people who are non-white, LGBT+ orientations, disabled or mentally ill.
Monica Bowling completed a residency to complete her memoir about her experience of gender and expressions of power within her own family and the broader Latin culture.
Bobbi Buchanan completed a residency to have time to focus on her essay collection titled "Secret Life of Huskies" that explores the connections of family, land and dog-sledding.
Asha French completed a residency to work on a memoir First Year Queer that chronicles a year spent exploring her identity as a queer Black mother and community builder within marginalized populations.
DaMaris B. Hill completed a residency to workshop and revise her novel that explores the layered experiences of girls in a juvenile detention center in the 1930's.
Patrice K Muhammad completed a residency to develop her skills as a fiction writer with a goal to publish a short story capturing the experience of Black Women in Islam.
2014 SUMMER RESIDENTS
The five participants in the 2014 Residency Program – An opportunity to strengthen individual and collective creativity, brought extraordinary talent as artists, and built an inspiring and supportive community network that continued beyond the residency period.
Nora Burton (Lexington) completed a residency to begin re-writing her memoir, and to build community with women who were committed to feminism and social change.
Susie Fenwick (Water Valley) completed a residency to continue work on her memoir, gain perspectives from other residents to enhance her writing skills and cultivate beneficial relationships.
Joy Marie Priest (Louisville) completed a residency to finalize poems for a chapbook, develop writing prompts, explore ideas for a feminist art project and to participate in a symbiotic artistic experience.
Danielle Ryle (Somerset) completed a residency to work on an essay on how Shakespeare uses source material for Hamlet and how contemporary women poets use Hamlet as a source in their work and to participate in a communal experience.
Sara Louise Soltau (Louisville) completed a residency to learn a composition for violin by a female composer, study books about women and music, explore basic composition exercises, and begin development as a feminist and art activist.
2013 SUMMER RESIDENTS
KFW congratulates the feminist social change artists who were selected to participate in the 2013 Hopscotch House Summer Residency Program.
Beth Dotson Brown (Lancaster) completed a one week residency to assess and rewrite the beginning of her novel manuscript In the Arms of the Ocean, exploring themes of mental illness, homelessness, friendship, ancestry, and survival. As a result of her residency, she will create opportunities to share this novel-in-progress in public.
Judith Faulkner (Berea) completed a two week residency to write a play based on memories of her life as a feminist, an African-American woman, and a lesbian. Judith undertook this work with the belief that writing and sharing her story can contribute to diversifying the movement for social change in Kentucky.
Marian Foster (Louisville) completed a two week residency to complete a rough draft of her fictional novel about a woman who is recovering from addiction and finding her voice through a blog. Marian hopes her personal act of sharing words and perspectives will continue to encourage women to share their own stories.
Karen L. George (Florence) completed a one week residency to complete a collection of poetry, which chronicles the grief and healing associated with her husband's death from cancer. As a result of her residency, she hopes to facilitate writing workshops with at-risk populations of women.
Lisa Taylor (Lexington) completed a one week residency to develop two short stories, about freedom and body modification, as they pertain to feminism. When the work is complete, Lisa will submit the stories to a publisher so they can reach others.
Barbara Minton (Eminence) completed a one week residency to revise her fictional novel about a tribe in biblical times, which suffers by overlooking the gifts of its daughters. The residency helped her continue to develop as a woman with a responsibility to create change.