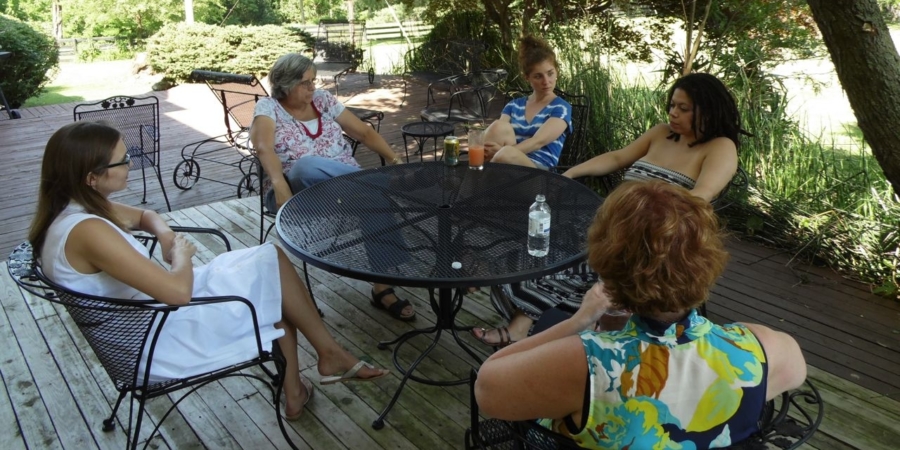 CONGRATULATIONS TO THE 2018 SUMMER RESIDENCY ARTISTS
KFW's 2018 Summer Residency Program offers five artists a week-long immersion in art-making and community building. Feminist social change artists will deepen their artistic practice and consider strategies to expand the social change impact of their work.
Isabelle Ballard (Bardstown): Ballard will develop self-portraits that explore what it means to identify as a Latinx in Kentucky. She looks forward to engaging with other feminist artists this summer as she creates art to inspire other girls and women who do not always feel represented in art.
Stephanie Cobb (Louisville): Cobb will cultivate herself as an artist, using traditional and non-traditional media to explore home, identity, and their relationship to nature. Using glass as a substrate for paint, Cobb creates manipulated images that represent neither male nor female. She hopes to advance her studio practice, refine her skills, and build community through art.
Grace Ann Rogers (Owingsville): Rogers will create a multimedia presentation that combines her commitment to art and social justice with learning and performing the songs of female Kentucky singers and creating dancing puppets modeled after those women. Rogers welcomes the time to work in an all-female space and hopes to give names and voices to female ballad singers and union activists from Appalachia.
Pamala Wiley (Louisville): Wiley will continue working on her e-book series to further her digital media skills as a means to create and share a new language about her experiences as a woman. She looks forward to the opportunity for collaboration and networking with other feminist artists.
Whitney Withington (Big Hill): Withington will create video slideshows that feature vintage photographs of African American women and their families in Appalachia. The slideshows will form the foundation of a future documentary that will increase the visibility of African American women and families. She looks forward to the opportunity to receive both inspiration and feedback through close interaction with other feminist artists.
About KFW's Summer Residency Program at Hopscotch House
The mission of the Kentucky Foundation for Women is to promote positive social change by supporting varied feminist expression in the arts.
The 2018 Residency Program provides media, visual, and performance artists with time and space to create and work on their art. Residents will also share ideas, exchange work ,and make connections that will help strengthen the collective experience. A combination of the individual transformation experience and the community building experience will give participants an opportunity to produce new work and new perspectives and to continue to develop as artists beyond the residency experience.
KFW's Summer Residency Program provides an accessible entry point for developing artists as well as an opportunity for established feminist artists to deepen their work, build community and consider the social change power of their art.
The Summer Residency Program at Hopscotch House offers a unique opportunity for feminist social change artists from across Kentucky to spend time together in a natural environment. Participants have access to 400 acres of historically significant privately held land surrounding Hopscotch House. The forests, watersheds, meadows, wildflowers and wild life can be sources for inspiration, reflection and connections to the natural world.
Artists with varied backgrounds, worldviews, cultural heritages, and sexual orientations are encouraged to apply. The communal environment created by the residents offers fresh thinking and cross-fertilization of ideas. Summer Residents regularly report that these kinds of exchanges inspire new insights, which strengthen their individual work.
Founded in 2006, KFW's Summer Residency Program at Hopscotch House has fostered many of Kentucky's most diverse feminist social change artists and art activists. By supporting individual and collective artistic development with a focus on social impact, the Summer Residency Program is an important component of the growing and inclusive feminist social change movement in Kentucky.