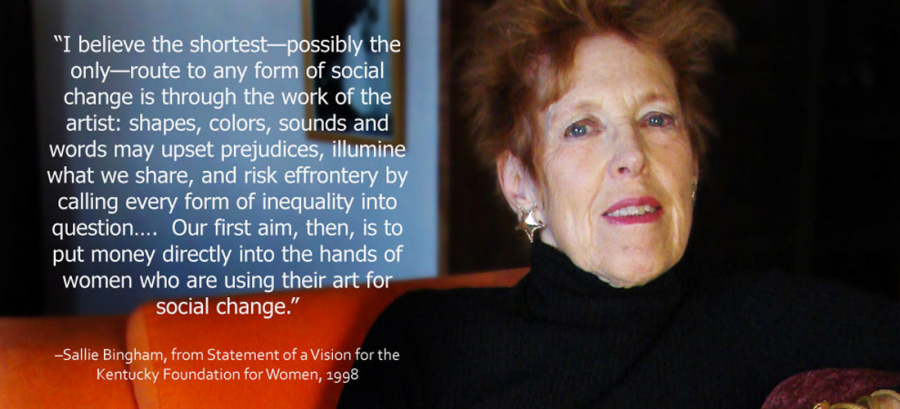 SALLIE BINGHAM AWARD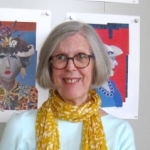 Named for KFW's founder, The Sallie Bingham Award recognizes Kentucky women who are leaders in changing the lives of women and girls across the state by supporting feminist expression in the arts.  The award was founded in 1996 by former KFW Director, Ann Stewart Anderson (pictured at right).  Honorees are recognized at the annual KFW Day Celebration at Hopscotch House.
2018 Sallie Bingham Award Winner: Betty Dobson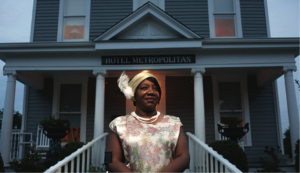 We are pleased to announce Betty Dobson as the recipient of the 2018 Sallie Bingham Award.
Betty Dobson was selected for her tireless work as a community activist and performance artist, preserving and interpreting African American history at the Hotel Metropolitan in Paducah. Betty co-founded and leads the Upper Town Heritage Foundation (UTHF) to restore and preserve the hotel and the legacy of its owner Maggie Steed. Steed welcomed and nurtured African American travelers, musicians and athletes at the hotel during segregation. Betty offers tours, which she leads in the persona of Maggie Steed.
Betty has been a community activist from a young age. She redeveloped Hotel Metropolitan to create a "comfortable space in which to address the many questions people have regarding race."
Her work as a community builder is ongoing. She has fostered partnerships with multiple organizations over the years, mentored young girls, made connections among women in the hotel space during salon-style evening gatherings, and operated as a gallery to display the work of local artists.
Betty received one of this year's Girls of Color: Voice and Vision grants to lead the Bronzeville Artistic Divas, a group of young African American girls in discussing issues of the day and developing skits and raps that allow the girls to express their feelings and concerns. The program will culminate in a public performance of the pieces.
Betty Dobson is a passionate educator and mentor working to ensure that younger generations know about the hotel and its historic significance in our area and in the country. She has provided a central space for the community, the arts, and academic community that facilitates research and reflection on the role that the African American community has played in the past and will play in the future history of the area. This is a legacy that will last for generations to come.
The award will be given at annual celebration and gathering of community, KFW Day, on Sunday, September 23th at Hopscotch House.
SBA RECIPIENTS
1996: Mary Jefferson, 
Writer
1997: Alma Lesch, Textile Artist
1998: Ann Stewart Anderson, Visual Artist
1999: Laverne Zabielski, Writer
2000: Nana Yaa Asantewaa, Storyteller
2001: Pat Buster, KFW Staff
2002: Lorna Littleway, Theatre
2003: Elizabeth Oakes and Jane Olmsted, Writers
2004: Kentucky Women Writers Conference, Writers
2005: Judy Sizemore, Writer
2006: Carridder Jones, Writer
2007: Gail Martin, KFW Board Member
2008: Joyce Ogden, Visual Artist
2009: Crystal Wilkinson, Literary
2010: Kate Larken, Performing- Music
2011: Trish Ayers, Performing-Theatre
2012: Kentucky Domestic Violence Association, Literary, Performance & Visual
2013: Leatha Kendrick, Writer
2014: KFW Community
2015: Nzingha Beverley Sweeney-Sheppard
2016: Bianca Lynne Spriggs
2017: Judi Jennings