Advocacy in Action: Meet the KFW Board – Judy Nichols
Ellen Birkett Morris has been interviewing KFW Board members and will profile a different Board member each month.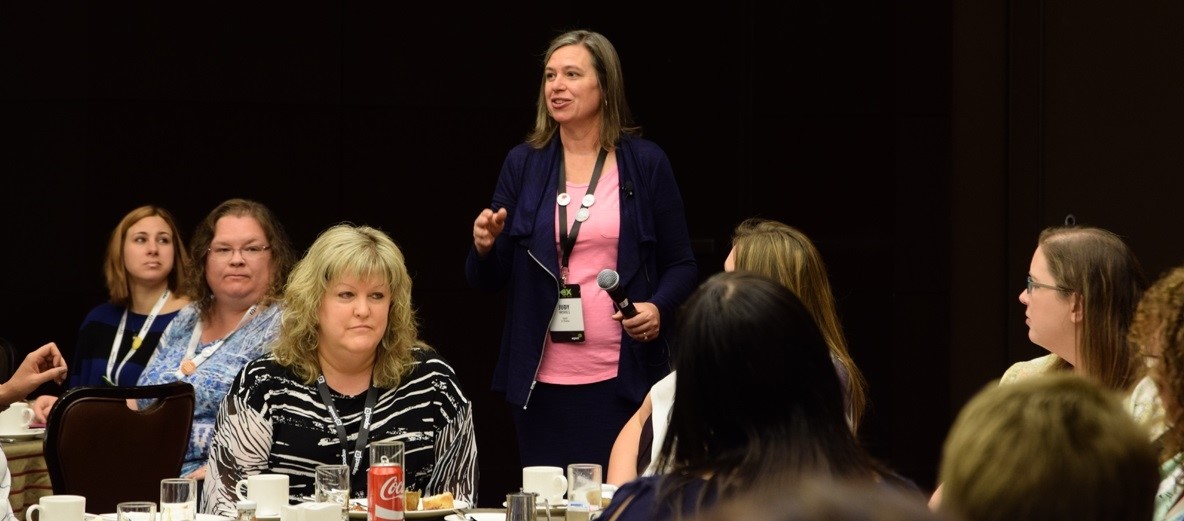 JUDY NICHOLS, Board Member
Activism in Action
Judy Nichols can't remember ever not being a feminist, although it wasn't always stated in those terms. "I had arguments with my father in elementary school about the unfairness of being left out of the father/son basketball pickup games he scheduled. I wore a t-shirt that stated "a woman's place is in the house and the senate" in middle school in the 70s. I refused to believe my high school guidance counselor's advice that my only career choices were to be a teacher or a nurse," said Judy.
She channeled her feminist energy into becoming a successful businesswoman, as co-owner of Breakpoint Technology, and an advocate for women and girls. In addition to her work on the KFW Board, Judy is also a member IAMCP and their Women In Technology Group, the Jefferson County 4-H Council, 4-H Leader for the Kids & K9s 4-H Club, and Chair of Missions for Watkins United Methodist Church. She has previously been an active volunteer for Jefferson County Public Schools, Eastern High School Soccer, Eastern High School Choir, and the YMCA sports program.
"To me, being a feminist means that I believe all people are equal citizens of the world and deserve to be treated with love and respect. It's just that simple—no need for additional qualifications," said Judy. "I've raised my daughters to believe in this and to understand why I call out the inequalities that I see."
Judy was drawn to serve on the board of the Kentucky Foundation for Women by the mission of the organization.  "This is a time when we all have to step forward and do our part if we really want to change the lives of women, and therefore people, everywhere.  If I can do my small piece to further feminism through participation in the board, I can play a role in the huge changes through the work that all of the amazing artists accomplish through this organization," said Judy.
She shares information about KFW whenever she gets the opportunity.  "I've often found that other organizations are not aware of KFW and what it offers for them so I will pass along the newsletter and links and make sure they know about grants," said Judy.  "In addition, when there are events related to artists that would be of interest to a particular group or person, I try to get that information to them and bring it to their attention.
Though she is deeply involved in technology and business, creativity plays a role in her daily activities. "It is a much more subtle role in my life than in many of the other people involved in this organization.  As someone focused more in the business world, it's so important to remind myself that the creative process should be encouraged in my daily tasks.  This is how I can grow and expand in what I offer myself, my employees, and my clients," observed Judy.
Her faith also plays a strong role in Judy's activism. She is Mission Chairperson for Watkins United Methodist Church and a volunteer for many children and youth group activities at her church. Her favorite quote is from Mother Teresa—God doesn't require us to succeed, he only requires that you try.  "My faith definitely inspires/requires me.  I also have many amazing women in my family tree that remind me that much can be accomplished if you persist," said Judy.
Her hopes are high that "one day soon we will no longer have to keep fighting just to establish that women deserve equality and can actually move on to solving some other social issues."