2019 Firestarter Award Winners Announced!
The Kentucky Foundation for Women is proud to announce that Arielle "Red" Biddix and Candy Glass are the recipients of the annual 2019 Firestarter Award. This award honors artists age 18 to 25 who are taking risks in the creation of new art, engaged in social justice/community engagement, and who demonstrate a developing feminist voice, including new insights and visions and/or fresh approaches to feminist topics or art for social change.
"These young feminist artists are confronting issues of mental health, gender equity and self-expression that are central to a healthy society. Each are forging new spaces for dialogue and engagement, thought-provoking performances and community participation. They are breaking new ground with the courage and initiative that marks a true Firestarter," said KFW Executive Director Sharon LaRue.
Red Biddix,
(they/them/their) 25, of Louisville was nominated and selected as a Firestarter Award Winner for their work in fashion and spoken word. Red's work lifts up issues such as mental health, Black lives matter, black girl magic, pride, and community. Red is the creator of the clothing line Vintage as Fuk, which promotes mental health awareness. A single mother, Biddix has dealt with anxiety and depression. Under the pseudonym Afrodisiac, Red also creates written word poetry and textile work with a focus on color and freedom from labels. They have worked with the city on community murals. Their approach is multifaceted. They draw, paint, and work with textiles to create a whole world of color. Their unapologetic use of words to make us think, their street style and handpainted textiles are a tribute to the black gender spectrum.  Red is pushing boundaries and taking risks in their art, bringing fresh approaches to feminist art for social change.
Candy Glass,
(she/her/hers) 21 of Grayson, was nominated for her feminist work in both visual arts (painting/drawing) and performance art (aerial acrobatics). Candy graduated Ashland Community and Technical College in 2017 with an Associate of Arts degree and works with visual arts and performance/aerial arts to address topics including mental health, body positivity, LGBTQ+/equality, female empowerment, freedom of expression, desexualizing nudity, chronic illness, sexuality, self-growth, and individuality. Candy's art is created from a unique feminist voice. Both her two-dimensional art and her Cirque and Flow dance deal with feminism, equality, and the female form. Her drawings are thought provoking and insightful. Reoccurring themes in her artwork include mental illness, body positivity, desexualizing the naked female body, and female empowerment. She is also a member of the performance art troupe, the Cosmadolls, which is centered around female empowerment, self-love, and social change. Cosmadolls performs to raise funds for domestic violence shelters and Trans Equality. Candy's art has exposed subjects considered "taboo," to some audiences, yet she persists.  Candy is not afraid to create art that is provocative, controversial, and feminist.
The Firestarter Award honors a young feminist social change artist for their outstanding ability to inspire others to make a difference!  If you know a Firestarter, please nominate someone next year!

Previous FIRESTARTER award winners
2018 Firestarters Announced!
KFW has four remarkable young feminist artists as our 2018 Firestarters. These four leaders are making waves in their communities through theatre, music, visual installations and literary publishing. All are forging new spaces for dialogue and engagement, thought-provoking performances and community participation. We are pleased to honor these four feminists as part of KFW Day, our annual gathering of community. We extend our sincere thanks to the nominators for bringing forward the work of our next generation of Kentucky feminists. We look forward to seeing the fires they ignite to create change for women and girls across Kentucky. Firestarters set our hearts ablaze!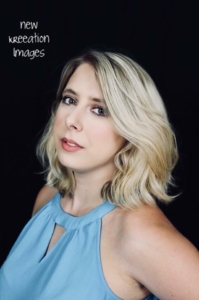 Mackenzie Fraley, 20, Inez (Martin County)  
Artform: theatre.  Topics/issues addressed in her artwork: strong will power of women, mental health, early feminists
Mackenzie is a Theatre minor at the University of Pikeville. In her work with the theatre (Both at UPIKE and at Jenny Wiley Theatre), Mackenzie has sought roles that focus on female empowerment. For example, she played Aunt March in "Little Women", a strong, independent woman. Mackenzie has taken risks with the types of roles she has sought in theatre. The topics she has tackled with her work include domestic violence in a Murder Ballads project, sexual assault and abuse in The Amish project, and mental illness in Next to Normal. These issues have forced Mackenzie and audiences out of their comfort zones and brought awareness to important factors in the lives of women.
Mackenzie sees her role in theatre as engaging the audience in a story she helps to tell. She says, "the way theatre can give people a break from real life and a moment to see a story be told is very empowering because I helped create that story." Her nominator, professor Amanda Jo Slone wrote, "Mackenzie's choice of focus in her theatre work demonstrates her dedication to advancing women and girls and carving a path for empowerment in future generations."
Inspired by a class project about Appalachian Murder Ballads, Mackenzie researched the historical facts of a popular murder ballad and wrote and performed an original stage script about Lula Viers, a woman only remembered for her murder.  After the course was completed, Mackenzie continued researching the women named in these ballads and has spoken at the Elkhorn City Historical Society and other venues to bring stories of tragic and forgotten women's history to light.
In addition to her scene work, Mackenzie has also made a name for herself in the backstage crew at the theatre, still a fairly male-dominated field. Mackenzie works with outreach and educational programs sponsored by the theatre to teach younger students how to tackle a wide variety of difficult jobs.
In the nomination, Amanda Jo Slone states, "Mackenzie is fearless. She is creative, bold, and genuine." In response to her nomination, Mackenzie says, "I feel incredibly privileged and honored to be nominated and to be a part of this program."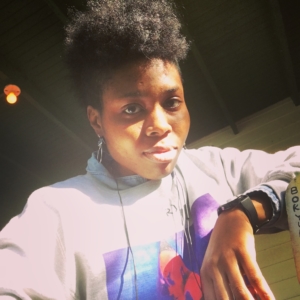 Brianna Harlan, 25, Louisville
Artform: multidisciplinary, socially engaged art. Topics/issues addressed in artwork: radical vulnerability, identity, social constructs and cultures, oppression/self suppression
Brianna works to make her art the "happening" that causes something to occur to the viewer. Through visceral storytelling and radical vulnerability, her process prompts and then manifests experiences with participants into works that invite others to discover, reflect, and shift their consciousness. Brianna's nominator, who wishes to remain anonymous, believes Brianna's work invites intimacy through vulnerability and can foster a more open, questioning heart in her viewers. "Her basic concept is that if people can really 'see' each other and understand each other as people, whether they are black or white or male or female, Muslim or Christian, that we can create meaningful social change by being empathetic with one another and vulnerable enough to learn from those who are often overlooked or talked over." Her nominator continues, "I was particularly moved by her work in 'Oasis', an installation for the Festival of Faiths. She created a space where you could experience the wisdom of other women and bask in the power and comfort of that combined knowledge. I was also very interested in her photo series 'What the Dark Knows'. She took photos of several black women in a dark room with very direct light on their face. The photos command attention and really make the viewer identify with the subject. The images are striking and testimony to Harlan's skill as a photographer and as a feminist artist."
Brianna focuses on creating artwork that can spark a moment of reflection in her viewer. She takes her lived experiences and the experience of others and transforms them into art that can speak across identities, age groups, and race to spark dialogue and change on an individual level. She is dedicated to her art career and to an art practice that can inspire change. She is a member of the founding class of Hadley Creatives and inspired classes at Meyzeek Middle school where she was a resident artist for the "Heroes + Sheroes" project with IDEASxLAB.
Her nominator says, "Brianna Harlan is a dedicated and industrious person. I believe that she will succeed anywhere and that Kentucky should be proud to be the home and birthplace of such a bright and promising young artist and activist." Brianna says, "It has been a whirlwind year for me and I'm just thankful for all of the support and generosity I've been shown as I combine my love for art and activism!"
To learn more about her work see her website, BriannaHarlan.com or her Instagram @BHarlanArt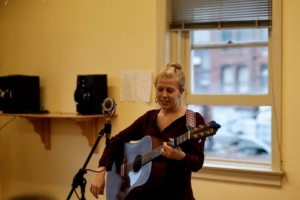 Jeri Katherine Howell, 24, Frankfort
Artform: music. Topics/issues addressed in artwork: environmental justice, social justice, cultural exchange, self-actualization and community organizing.
Jeri Katherine Howell is an Americana singer-songwriter-guitarist and teaching artist whose workshops and original songs focus on accessing one's authentic self, building community, and "bringing to the mic" local and global social and environmental injustices.
She facilitates community arts workshops (songwriting, collage and more) focused on social change and resiliency. She has been a part of several innovative projects including facilitating a songwriting workshop with the women in Franklin County drug court as part of Hands Healing HeArts programming; participating in the Kentucky Dream Coalition's "Artivismo" camp, during which she facilitated a "songwriting for social change" workshop in English and Spanish with several Latinx high school students; teaching beginning guitar lessons in Spanish to migrant workers at the Backside Learning Center at Churchill Downs; and touring Japan as lead singer in a band for "Kentucky Bluegrass Week."
Her songwriting focuses on various social and environmental justice issues including the experiences of indigenous women in Guatemala, environmental racism and climate justice, and the experiences of child refugees migrating to the U.S. from Central America. Through her music, Jeri demonstrates a unique feminist voice using traditional Kentucky music roots and intentional lyricism to highlight the intersections of oppression in our local and global communities. She received a 2017 Fulbright grant to teach in Costa Rica and has recently been accepted into the Kentucky Arts Council's Performing Artists Directory.
Jeri's nominator, Jennifer Zingg says, "I have known Jeri since she was a freshman in high school. I have watched her grow, both as an artist and as a human being. I know very few 24-year-old women who have the determination, intelligence, and compassion, that Jeri effortlessly injects into everything she does. Her potential is endless!" Of receiving the nomination, Jeri says, "Thank you for recognizing young Kentucky women's leadership in creating the Commonwealth we all deserve. This nomination is fuel to our collective fire to continue working towards social change through arts and activism and celebrating one another along the way."
To learn more about her work visit www.jerikatherinehowell.com OR www.facebook.com/jerikatherinehowell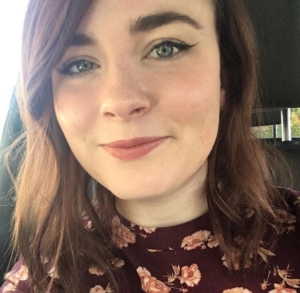 Lacey Trautwein, 22, Louisville
Artform: creative nonfiction, literary publishing.  Topics/Issues addressed in artwork: LGBTQ+, privilege, sexual abuse, body issues, consensual love, millennial relationships
Lacey Trautwein writes poetry and creative nonfiction and publishes an innovative literary magazine.
Lacey, who prefers they/ them/ their pronouns, often focuses their work on issues relating to sexual abuse, body issues and consensual love. Their nominator, Sylvia Collings, says, "the truthfulness that comes out in Lacey's poetry and lyric essays are sucker-punching in the most artful ways."
Lacey also runs a literary magazine, Lemon Star Mag. They say, "I assist young voices in an online literary publication, Lemon Star Mag, to truly shine that are otherwise not given a platform." Lemon Star Mag is an open space for truthful work from writers and artists of all backgrounds and orientations. With Lemon Star, the main focus has been to support women, people of color and the LGBTQ+ community. Lacey provides a safe space for anyone who needs it, part of their nominator's definition of feminism.
In her nomination, Sylvia Collings relates, "Lacey, again, is truthful in their brutally honest way of sharing painful past life experiences. They go through the fear and feeling of vulnerability, so that other people can have hope and relate." Lacey says, "I am truly honored to be nominated for such an innovative and compelling award!"
To learn more about Lacey's work, visit https://lemonstarmag.wordpress.com or @lacey_trautwein for all social media.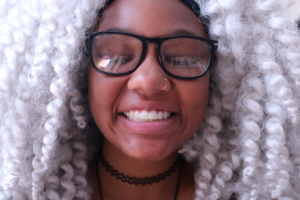 Amani Nichae,
of Lexington, was the recipient of the 2017 Firestarter Award. Amani is a photographer and activist. A student at the Art Academy of Cincinnati, she is a photographer for Be Bold, an organization dedicated to feminist ideals of positive body image, self-esteem, and the empowerment of girls ages nine to eighteen. Amani organized Fairly Local, a Lexington art show designed to showcase artists and build community that benefited Step by Step Lexington, a mentoring program for at-risk young single mothers ages fourteen to twenty-four.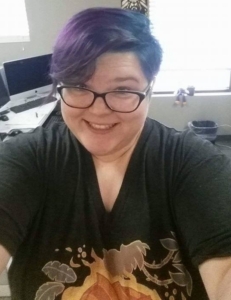 Annie Erskine was the 2016 recipient of KFW's Firestarter Award. Annie was honored for her unique comic art and her strong voice for underrepresented people in the comic industry, particularly LGBTQ individuals. Annie is committed to paving the way for more female comic illustrators and greater representation of women, people of color and members of the LGBTQ community in the national comic industry. addition to working for national companies, Annie also creates her own independent art through her original comic series, Variants.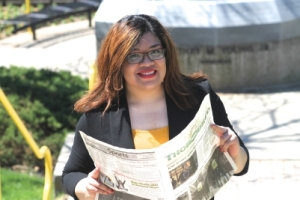 Alexis D. Meza
is the inaugural recipient of KFW's Firestarter Award. Alexis was nominated by KFW grantee Diane Kahlo and received the award in 2015. Born in Veracruz, Mexico, Alexis is a visual artist and graduate of Kentucky State University where she studied mass communications and journalism. She is currently developing a radio show as well as a documentary showcasing the experiences, struggles, and contributions of Latino immigrants in Lexington and across Kentucky.