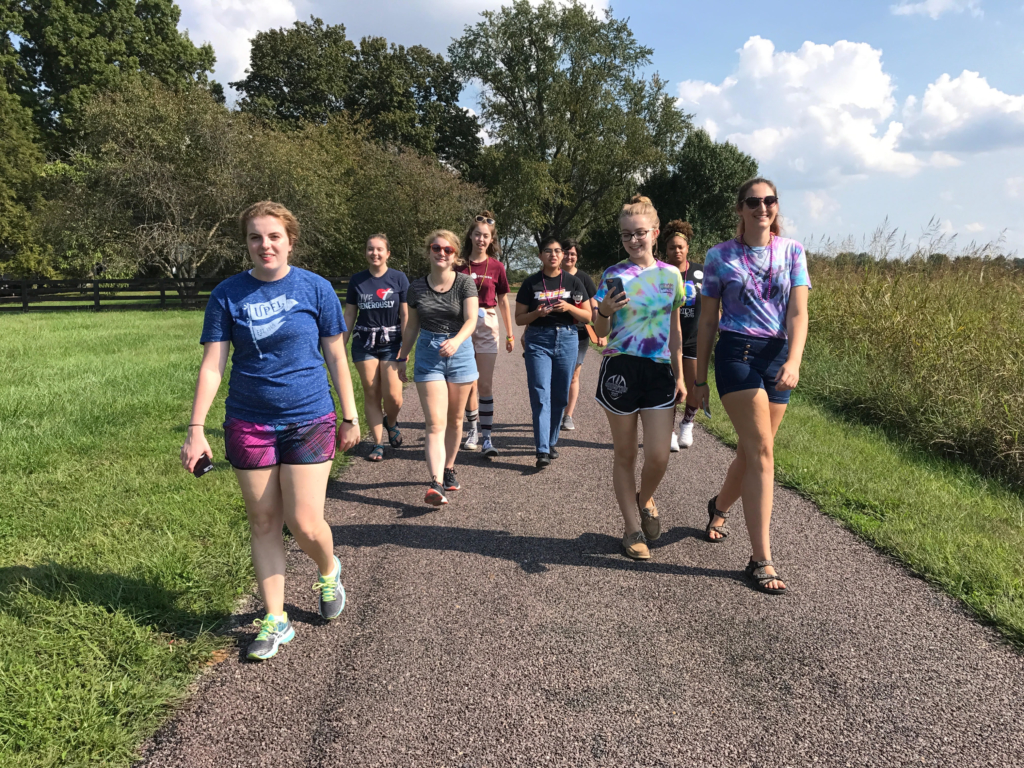 RETREAT OPPORTUNITIES
Scheduling for 2020 Spring Session is now open!
Scheduling now open for Individual and Group Retreats taking place January 18 through June 28.  Retreats are open to artists, activists and allies, both individuals and groups.
Please Note: Hopscotch House will be open Tuesdays through Sundays. The maximum retreat is six days.
Closings: April 10-12, May 8-10, May 22-25, and June 19-21.
Retreat requests may now be submitted online.  Review the information below, and on the Individual Retreats page or the Group Retreats page.
Retreat requests may now be submitted online.  Review the information below, and on the Individual Retreats page or the Group Retreats page.
AT HOPSCOTCH HOUSE
Creativity demands that women be allowed to retreat, at times, from their world and their obligations. Hopscotch House provides the setting for such retreats.
-Sallie Bingham's vision statement, May 1998.
Before you decide to request a retreat at Hopscotch House, please review the links below to make sure you understand KFW's mission and to help you think through your ideas about feminist art and social change.
If KFW determines your goals are not within the scope of the mission, you may not be granted a retreat.
Thinking About KFW's Mission Questions to help you think about whether you understand and fit KFW's mission.
Thinking about feminism, art & social change, results and impact. Questions to help you think about your ideas and practices relating to feminism and how feminism connects with the art you want to create & the change you want to make.
KFW's Retreat Program offers up to six days free of cost at Hopscotch House to artists, activists and allies who live and work in Kentucky and whose goals are to create art, gain a deeper understanding of feminism, and strengthen their understanding of their art and social change goals. The program brings together artists, activists, and allies in a feminist space located on 10 acres of land. Retreats support participants at all stages in their artistic, feminist and social change development.
During retreats, participants have time to focus fully on the goals of their stay. The natural environment allows for renewal of feminist, artistic and activist commitments, while creating space for inspiration for developing new work, strategies, and ideas for participants to take back to their communities.
KFW's Retreat Program operates approximately ten months out of the year. With no minimum length of stay, participants can request up to six days that best suits their individual or group needs.
To support the creative and social change development of women who have financial barriers, KFW offers a limited number of stipends. Retreats are open to individuals and groups. Individuals under 18 must be accompanied by an adult. To read full under 18 policy, click here.
Examples of Successful Group Retreats
Five visual artists participate in a six-day retreat to create work for a fundraiser to support a school building effort in Ghana, West Africa. The group is able to advance their art-making skills together, discuss issues that affect women and girls in Kentucky, and consider the global intersections of social change with their work at home.
An inter-generational retreat brings together mentors with teenage girls representing various nationalities and educational levels. The adults arrive first to discuss their mentoring process. The teenagers arrive on day two. Together with the mentors, the girls explore writing approaches for creating a magazine they publish and distribute to teen girls. The goal of the publication is to empower the girls who read it as well as the girls who produce it.
Examples of Successful Individual Retreats
A visual artist participates in a six-day retreat to explore video and installation. She gains experience working with multi-dimensional space and strengthens the feminist content of her art. A stipend provides her the financial support to take time from work to develop her artistic practice. Her focus is on creating sculptural forms with found objects. She will teach youth the new techniques she learns.
A poet participates in a five-day retreat to finalize and format her collection of feminist themed poems for publication. Her work is accepted for publication and her chapbook is now available in hard copy and online, which creates broad opportunity to impact social change.
DURING RETREATS at HOPSCOTCH HOUSE
Hopscotch House offers a natural environment and home-like setting with spaces to be alone as well as community spaces where participants can share time together when they choose. To make Hopscotch House available to more participants, individuals and small groups are occasionally scheduled at the same time. Sharing space also provides opportunities for conversation and connection. Strengthening the connections between feminists, artists, and activists participating in retreats at Hopscotch House also strengthens the statewide movement to advance creative feminist change in Kentucky.
Participants at Hopscotch House  plan their own time and activities in a way that is best suited for moving their goals forward. The Retreat Program encourages participants to embrace the processes, approaches, questions, pace, and challenges that will lead them to deeper understanding and development of their vision.
KFW's Retreat Program recognizes that honoring diversity and supporting creative expression are important and interconnected values. KFW's retreat program at Hopscotch House recognizes inclusivity as integral to building a strong creative, feminist and social change network in the state.
Participants scheduled to share space at Hopscotch House with other individuals and groups may meet participants with diverse expressions of cultural identity; from varying communities of place; and with a range of worldviews, races, ethnicities, gender identities, sexual orientations, and levels of ability.