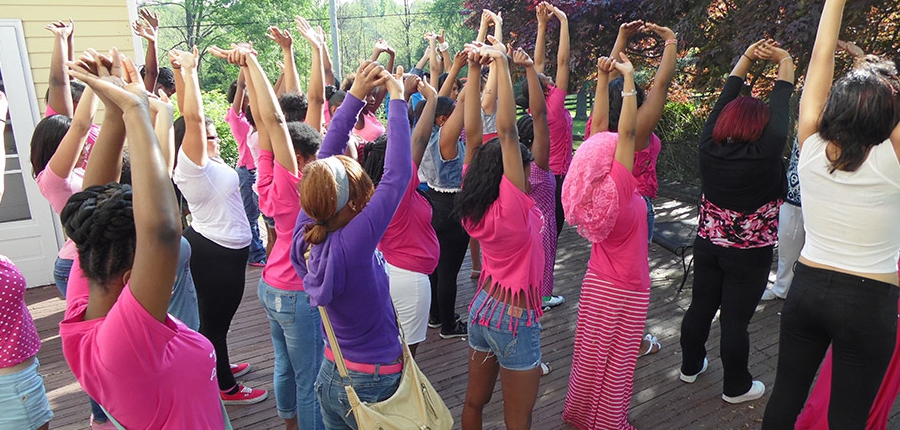 REQUEST a GROUP RETREAT
Before you decide to request a retreat at Hopscotch House, please review the links below to make sure your group understands KFW's mission and to help group members think through ideas about feminist art and social change:
Prior to making a request Group members should review The Retreat Program at Hopscotch House and Criteria for Group Retreat Participants which includes Eligibility Requirements. Groups of five or less submitting requests will be asked if they would like to share Hopscotch House space with individuals who may request a retreat at the same time, so that as many participants as possible can be accommodated.
To request a Group Retreat, log in to our online portal here.
DAY AND OVERNIGHT RETREATS
To help you think about what kind of retreat you want to request, you can review What to Expect During a Retreat. You might also refer to the Examples and Criteria.
Day-Only Stays are good for groups who seek to take advantage of the informal and homelike setting, workspace and surrounding land but do not require overnight accommodations.
Overnight Stays are for groups who wish to take advantage of the overnight accommodations in addition to the meeting spaces and surrounding land. Overnights are good for groups traveling from a distance or for participants who wish to have extended retreat time.
      Anyone under 18 must be accompanied by an adult. To read full policy, click here.
Example of Successful Group Retreat
A team from an organization dedicated to ending violence against women participate in a one-day retreat to form new bonds as a group and consider how their new structure could help them better accomplish the agency's goal of social change. The supportive and quiet setting, gives them a place to focus and move their work forward as a team.
GROUP RETREAT PARTICIPANTS
Group leader and majority of group members live and work in Kentucky
Groups may not use Hopscotch House for for-profit activities.
Group consists of two or more people, with the majority arriving and departing on the same days
Group designates one member per visit as the Group Contact person who will communicate with KFW's Retreat Programs staff person to insure a successful retreat experience
Please note: Men may participate in day-long group stays but may not participate in overnight stays at Hopscotch House.
Criteria for group retreats
Group requesting retreat is focused on feminism, art and/or activism
Group focus of the retreat will be on advancing artistic expression, deepening an understanding of feminism, and/or advancing social change for women and girls in Kentucky
Group requesting retreat has a goal or plan for taking their newly developed work, ideas, or understandings back into their communities
In scheduling more than one retreat request for the same time period, KFW staff will strive for compatibility among the participants by taking into consideration the numbers of those requesting retreats and the purpose of the retreat.
In considering retreat requests of equal merit based on the criteria above, priority will be given to groups containing members of the following priority populations as defined by the KFW Board of Directors: first time visitors to Hopscotch House, women from rural and inner city areas, women of color, especially African American women, lesbians, low income women, and women who did not complete high school or college.