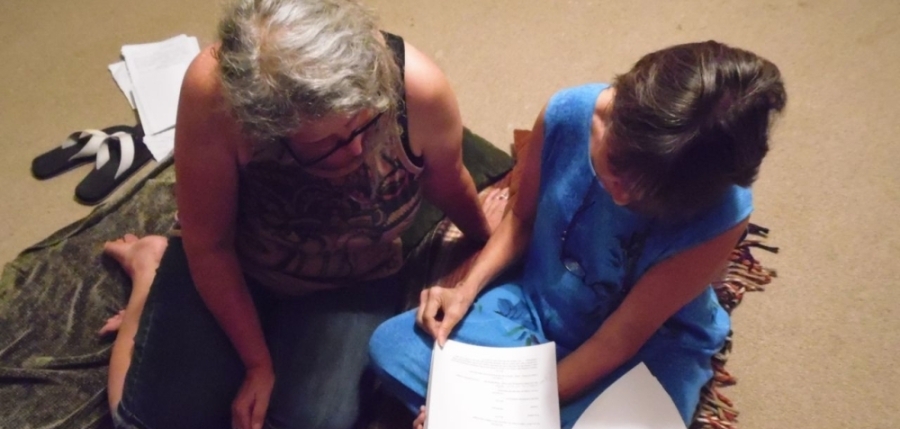 RETREAT OPPORTUNITIES
Scheduling now open for Individual and Group Retreats taking place January 19 through June 30, 2018.
Please Note: Hopscotch House will be open Tuesdays through Sundays. The maximum retreat is six days.  Retreats are open to artists, activists and allies.
Holiday closings: May 25-28, June 8-15, 2018.
Retreat requests may now be submitted online. To request a retreat or to request a stipend, log in to our online portal.Apply Here
REQUEST an INDIVIDUAL RETREAT
Before you decide to request a retreat at Hopscotch House, please review the links below to make sure you understand KFW's mission and to help you think through your ideas about feminist art and social change.
Thinking About KFW's Mission. Questions to help you think about whether you understand and fit KFW's mission.
Thinking about feminism, art & social change, results and impact. Questions to help you think about your feminist beliefs and practices and how feminism connects with the art you want to create & the change you want to make.
Individuals should review The Retreat Program at Hopscotch House and the Criteria for Individual Retreat Participants below including Eligibility Requirements, prior to submitting a request.
Individuals submitting requests will be asked if they would like to share space at Hopscotch House with groups who may request space at the same time to make Hopscotch House available to more participants and offer opportunities for community building.
For more information about requesting retreats email hopscotch@kfw.org
STIPENDS
To support the artistic, feminist, and social change development of participants who have financial barriers, a small number of stipends may be available for individuals by request. Stipends may be used for travel expenses, food, supplies, dependent care and loss of wages. Individuals may request up to $30 for a 2 day retreat, $50 for a 3-4 day retreat, and $85 for a 5-6 day retreat.
An individual may submit a stipend request for a retreat to take place during the open time period. A limited number of stipend awards will be made when funds are available.
In considering all stipend requests, priority will be given to women who have not previously participated in an individual retreat, women of color, lesbians, women who are low income, women living in rural areas or outside the Louisville area.
To request a stipend to cover basic expenses for your retreat, download the Stipend Request Form and submit it with your retreat request. Please send completed Retreat Request and Stipend Request forms together, at the time of your request.
If you wish to request paper forms by mail, please contact hopscotch@kfw.org
DAY AND OVERNIGHT RETREATS
To help you think about what kind of retreat you want to request, you can review What to Expect During a Retreat. You might also refer to the Examples and Criteria.
Day-Only Stays are good for individuals who seek to take advantage of the informal and home-like setting, workspace and surrounding land but do not require overnight accommodations.
Overnight Stays are for individuals who wish to take advantage of the overnight accommodations in addition to the meeting spaces and surrounding land. Overnights are good for individuals traveling from a distance or for participants who wish to have extended retreat time.
Example of Successful Individual Retreat:
An activist dedicated to movement building participates in a three-day retreat to focus on renewal and gaining new inspiration for her work. She uses creative writing exercises to re-connect to the meaning in her work and reflect on her life experiences. She also researches powerful women activists and interacts with other feminists sharing the retreat space. This interaction helps strengthen her understanding of her art and social change goals. An understanding she is able to incorporate into her movement building practices for social change.
INDIVIDUAL RETREAT PARTICIPANTS
Individual requesting the retreat lives and works in Kentucky, or is a former longtime KFW community member seeking special permission for a retreat that will further work benefiting women and girls in Kentucky.
Individual requesting the retreat will not use Hopscotch House for for-profit activities.
Criteria for a retreat request
Individual requesting retreat is working in the areas of feminism, art, and/or activism
Individual requesting retreat can clearly explain why participating in a retreat at Hopscotch House will advance her feminism, art or activism
Focus of the retreat is on advancing artistic expression, deepening an understanding of feminism, and advancing social change for women and girls in Kentucky
Individual requesting retreat has a goal or plan for taking her newly developed work, ideas, or understandings back into her community
In scheduling more than one retreat request for the same time period, KFW staff will strive for compatibility among the participants by taking into consideration the numbers of those requesting retreats and the purpose of the retreat. In considering retreat requests of equal merit based on the criteria above, priority will be given to members of the following populations as defined by the KFW Board of Directors: first time visitors to Hopscotch House, women from rural and inner city areas, women of color, especially African American women, lesbians, low income women, and women who did not complete high school or college.