2017 Winner: Judi Jennings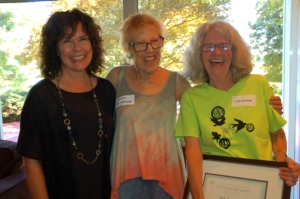 We are thrilled to announce Judi Jennings as the recipient of the 2017 Sallie Bingham Award.  Dr. Jennings was selected for her work advancing art for social change both nationally and statewide and for her integral role in putting Kentucky at the forefront of national conversations about the arts and social justice.
Judi served as Executive Director of KFW for 16 years until her retirement in 2014. During her tenure, she increased board diversity, expanded the grant and residency program to include artists of all backgrounds, and increased the foundation's community connections on local, regional, and national levels. She established KFW's Special Project, which provides art making opportunities for families of incarcerated people. During this period, Jennings also served for six years on the Board of Grantmakers in the Arts and became a founding member of the Art x Culture x Social Justice Network.
Judi currently directs the Special Project, serves on the Boards of Appalshop and Arts & Democracy, and is part of the NEA cohort on Creative Placemaking from the Community Up initiative.  The Sallie Bingham Award honors Judi's tireless work as a voice for women and rural people in Kentucky and on a national level.