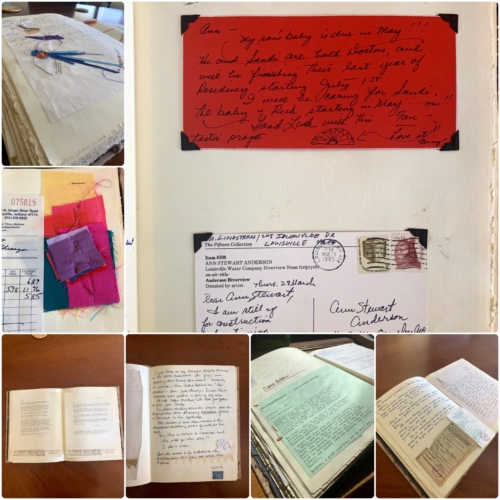 "T
he world is a mess and a
rt is 
just 
so important. It calms our souls."  Ann Stewart Anderson
Ann Stewart Anderson's Art and Work Honored Women 
KFW is sad to mark the passing of former KFW Executive Director and artist Ann Stewart Anderson, who died March 4.  
Anderson retired from teaching in 1991 to become the Executive Director of the Kentucky Foundation for Women, a post she held for seven years. During her tenure she supervised the awarding of grants to dozens of feminist artists each year, oversaw the statewide KFW 10th Anniversary show that highlighted the work of previous grant recipients in a range of artistic endeavors, and established the Sallie Bingham Award, which recognizes Kentucky women who are leaders in changing the lives of women and girls across the state by supporting feminist expression in the arts.   
"In its first decade, the KFW was remarkable in that it told women in Kentucky that the art, the poetry, the music they created was valuable– so valuable that the Foundation had been established to support financially and encourage female voices which had often been too quiet to be heard in our state. For many, KFW was the beginning of big dreams realized and significant change became possible," Anderson observed on the thirtieth anniversary of KFW. 
Her impact was far reaching. KFW Grantee Joanna Hay's creative life was shaped by early exposure to Anderson.  
"Ann was my high school art teacher and it was in her class, where she taught us "drawing on the right side of the brain," that I got what that surrender to the creative process was and I found out I could actually draw!" said Hay.   
Hay is the owner of Joanna Hay Productions, which offers video production, graphic design, oral history projects, and arts and culture projects.  
"I'm still not a visual artist, I've focused on sound, music, and story in my work, but isn't it all really the same process?  That's what Ann taught me and I remember that "click" in senior year drawing class to this day.   I had no idea that I would have a career as an artist, but turns out I do!"  
In her work interviewing and creating films about Kentucky artists, Hay reunited with Anderson 30 years later.  "I found her the same:  calm, smiling, authentic, kind and adventurous!  Her life, her friendships and her work were all built around art.  Whenever I see her "grandmother" collages or mosaics around town they make me smile.  I hope those portraits inspire all artists, especially young female artists, to follow in Ann Stewart Anderson's footsteps and live creatively, independently and beautifully!  She is a teacher for all of us."    
A graduate of Wellesley with an art history degree, Anderson worked at the Corcoran Gallery, and later taught art in the Montgomery County, MD public schools while she earned a master's degree in painting from American University. She later became Dean of Students at the Art Institute of Chicago. She earned a Mary Elvira Stevens Traveling Fellowship, taking photographs in Egypt. When she returned to the United States she toured the South, lecturing in cities scheduled to exhibit the Tutankhamen treasures, using slides from her project to prepare audiences to better appreciate the art in the show. When she settled in Louisville in 1977, Anderson became Saint Francis High School's first artist-in-residence. 
Anderson's art centered on women and included a series of Ugly Brides, self-portraits reflected distortedly in shiny objects like teapots and toasters, women in conversation with other women; a series of women shopping; a series of women primping in front of vanity mirrors, Mythic Women Juxtaposed, in which she explored the archetypal resonance of women from myth to contemporary women, and Wonderful Old Women, paper mosaics depicting older women who refuse to let age diminish their love of display, their interest in fashion, their willingness to be looked at for the strong, independent people they present themselves as. 
Anderson was part of the groundbreaking creation of a collaborative art work Hot Flash Fan, facilitated by renowned feminist artist Judy Chicago. In 1984, the Water Tower Art Association, under the leadership of John Begley, received a "Collaborative Effort" grant from the National Endowment for the Arts to explore new forms of contemporary artistic cooperation. Five Louisville artists would partner with leading contemporary artists to create new works.  
Anderson invited Judy Chicago to collaborate and proposed the topic of menopause for their work together. Judy Chicago agreed, and the two artists began researching, corresponding, dreaming, talking to their friends, and creating something big. Ten months later in June 1985, the Hot Flash Fan debuted at the Martha White Gallery, along with the works of four other collaborating pairs of artists. 
The 8 foot by 16 foot Hot Flash Fan as the work of 53 women artists, who cut, stitched, beaded, quilted, knotted, wrapped, sewed, and incorporated objects and photographs to create a piece that spoke to the experience of menopausal women.  
The Hot Flash Fan was exhibited again in 2008 at Spalding University and at University of Louisville in 2016 along with the International Honor Quilt.  A press release from the exhibit at Spalding described the significance of the work:  
This specific piece has particular historical significance because it was one of the first artworks to ever visualize the subject of menopause.  Through its vivid colors and intricate detailing the Hot Flash Fan depicts the various myths, stereotypes, as well as lived experiences of women transitioning through the multiple phases of menopause.  Though historically, representations of menopause have largely focused on the decaying of women's bodies, as the piece indicates, there are also many reasons to celebrate menopause as one of the important phases in women's lives. 
As a young artist and art student in 1985, Joyce Ogden was invited to join the project as a general assistant. "It was incredibly empowering to be included in Ann Stewart Anderson's monumental project, the Hot Flash Fan.  Ann had a deeply inclusive and generous approach to the project," said Ogden. "My role was not simply task oriented, Ann Stewart also found a way for me to have a hand in the making process. In addition to running errands and keeping the workspace tidy, I wrapped thousands of yards of brightly colored embroidery floss around strands of rope that were used to outline each artist's segment of the fan. The careful and meticulous method of wrapping was already part of my emerging practice."  
Ogden currently serves as Dean and Vice President of Academic Affairs at Kentucky College of Art + Design.  
"I may have been the youngest participant, so it was impactful for me to be surrounded by many established female artists.  Working with older women who were sharing their lived stories and experiences about menopause deeply connected me to an intergenerational recognition and celebration of the female body.   This work was also an example of a collaborative practice that would influence my attitude toward art making for years to come," she noted.  
"As the lead artist in the "Hot Flash Fan" and later as the Director of the Foundation, Ann Stewart provided validation for a younger generation of feminist artists to seek equality and to explore work that took ownership of the female experience." 
This legacy of generosity, inclusion and collaboration was a hallmark of Anderson's approach to life and art.  
"Ann Stewart was simply the best," said KFW Founder Sallie Bingham. "She had the unusual talent of a working artist who know how to combine her own devotion to her work with devotion to the possibilities of other creative women. She is sorely missed." 
Author and advocate Cass Irwin said, "How do you explain that when you meet someone for the first time you instantly love her?  You feel comfortable with her, you feel she sees you as a real person, a person that deserves inclusion.  As a disabled person, that was very important to me and reassuring. For me, Ann is the epitome of what the Kentucky Foundation for Women stands for.  I loved her the minute I met her." 
KFW grantee and artist Gaela Erwin became friends with Anderson through their mutual enthusiasm of French classes at the Alliance Francaise and yard sales. They drove together to these weekly events for several years. When she began teaching at St. Francis for a ten year period, their paths crossed only fleetingly. Within the last few months of Anderson's life they reconnected.   
"I am presently working on a painting of Ann in her final few days. She graciously allowed me to photograph her in hospice care. I work intuitively so I don't have a preconceived notion of what the painting will be projecting. But it is a portrait of Ann, so her indomitable spirit will be very much in evidence," said Erwin.  
Stay tuned to the KFW blog in the future for a look at this depiction of Ann Stewart Anderson.  
Click here to view an oral history with Anderson.
Feature written by: Ellen Birkett Morris