[fullwidth backgroundcolor="transparent" backgroundimage="" backgroundrepeat="no-repeat" backgroundposition="left top" backgroundattachment="scroll" video_webm="" video_mp4="" video_ogv="" video_preview_image="" overlay_color="" overlay_opacity="0.5″ video_mute="yes" video_loop="yes" fade="no" bordersize="0px" bordercolor="" borderstyle="solid" paddingtop="20px" paddingbottom="20px" paddingleft="0px" paddingright="0px" menu_anchor="" equal_height_columns="no" hundred_percent="no" class="" id=""][imageframe lightbox="no" style_type="glow" bordercolor="#ffffff" bordersize="10px" borderradius="0″ stylecolor="" align="left" link="" linktarget="_self" animation_type="0″ animation_direction="down" animation_speed="0.1″ class="" id=""]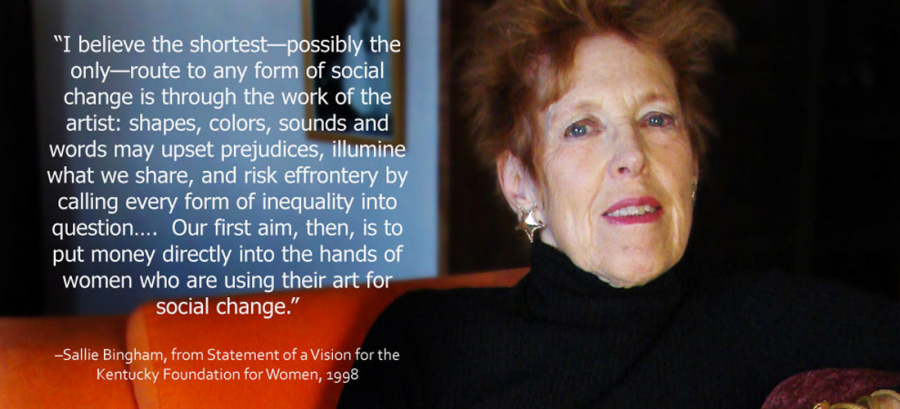 [/imageframe][separator style_type="none" top_margin="" bottom_margin="40″ sep_color="" icon="" width="" class="" id=""][title size="5″ content_align="left" style_type="single" sep_color="" class="special" id=""]annual[/title][fusion_text]
SALLIE BINGHAM AWARD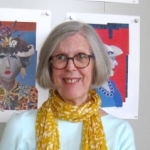 Named for KFW's founder, The Sallie Bingham Award recognizes Kentucky women who are leaders in changing the lives of women and girls across the state by supporting feminist expression in the arts.  The award was founded in 1996 by former KFW Director, Ann Stewart Anderson (pictured at right).  Honorees are recognized at the annual KFW Day Celebration at Hopscotch House.
 [/fusion_text][separator style_type="none" top_margin="" bottom_margin="40″ sep_color="" icon="" width="" class="" id=""][title size="5″ content_align="left" style_type="single" sep_color="" class="special" id=""]2019[/title][fusion_text]
Sallie Bingham Award Winner: Elmer Lucille Allen
Elmer Lucille Allen, an award-winning fiber and ceramic artist, is the recipient of the 2019 Sallie Bingham Award. Allen graduated from Central High School in 1949, Nazareth College (now Spalding University) with a Bachelor of Science in 1953, and University of Louisville with a Masters of Studio Arts in 2002. She took her first ceramic class in 1977 and began creating her own work. She has had several exhibitions of both her ceramics and silk shibori art works. From the beginning, Allen has had a passion for creating art and also for supporting other artists, especially women artists, new artists and people of color.
She began to pursue her art full time after retiring from Brown Forman in 1997 after 31 years as Senior Analytical Chemist, where she was the first African American chemist, and one of only five women when she started.
In the 1980s, while she was still working at Brown Forman, Allen was the president of the Kentucky Coalition for Afro-American Arts, Inc., which received a grant from the Kentucky Arts Council to document African American artists in the Commonwealth of Kentucky. In 1986 Allen was awarded the Governor's Community Arts Awards for contributions to the arts in the Commonwealth of Kentucky.
In 2002, she received a Masters of Art in Studio Arts. In addition to pursuing her own art, Allen's life has been dedicated to creating opportunities for others.  She founded the Arts Council of Louisville, which serves as an arts, arts education, and resource center supporting Louisville community artists for over 20 years. She has served as treasurer from its inception and is a lifetime Charter Board of Directors Member. "Her artistic vision and genius is compelling. Ms. Allen is an icon who inspires others and shares her artistry and leadership within our community and across Kentucky to build a better world through the arts." said Nana Yaa Asantewaa, current head of the Arts Council of Louisville.
Allen has been intricately involved in supporting feminist artists as well as women and girls in Kentucky through multiple organizations. She was the curator/director of Wayside Christian Mission's Wayside Expression Gallery for twelve years, from 2005-2017.  In 2016, Wayside did an exhibit featuring women artists Barbara Tyson Mosely, Toya Northington, Brenda Smith and Nzingha Beverley Sweeney-Sheppard, all KFW community members. Her goal there was to showcase artists, some of whom had never exhibited. She did all of the scheduling, press releases, fliers, and finding new artists as a volunteer, from her home.
"Elmer Lucille's legacy is authentic art for social change. She recognizes the potential in artists and works to create entry points so that we can all experience the gifts that each artist brings. She has planted the seeds of transformation that will blossom into the next generation of artist change makers." said Sharon LaRue, executive director of Kentucky Foundation for Women.
Allen is one of eight co-founders of the West Louisville Women's Collaborative, whose mission is to create and sustain artistic, peaceful spaces in West Louisville.  The group hosts community conversations and creative arts activities which invite community participation in the design and implementation of their vision to promote the positive identity of Louisville's West End. The group regularly plans retreats at Hopscotch House and has also received numerous KFW grants for their excellent work for feminist social change in the community. Allen helped create Spalding University's Lauderdale Miller Endowed Scholarship for African-American women. The scholarship is named for Patricia Lauderdale Bell and Barbara Miller, who were Nazareth College's first black graduates in 1951.
Allen's dedication as a friend and mentor is reflected in local art by women artists.  Allen recently participated in the dedication of the art piece by Ramona Lindsey at Hopscotch House, and is depicted in the piece.
"Elmer Lucille Allen is a wise mother figure for numerous female artists in Louisville.  Her active demonstration of embracing, supporting, and nurturing other artists is a guide for me as I actively take steps to cultivate a community of artists.  I'm proud to call her my Art Mother!" said artist Ramona Dallum Lindsey.
Allen has been depicted in other art works based on her community presence, including an art installation by Mary Carothers and a play by Eve Theatre. Nancy Gall-Clayton wrote a play about her. Several authors have written about her. Two books in particular are – Portraits of Grace written by Marian T. Call with original art by Joan Zehnder (2007), which interviewed and featured fifteen women over 70 who had made a difference in the Louisville community; and Kentucky Women: Two Centuries of Indomitable Spirit and Vision edited by Eugenia K. Potter (1997).
Her accolades are numerous. In 2015 she received the Kentucky Museum of Arts and Craft's Art and Advocacy Award. She was the recipient of the 2011 Spalding University's Caritas Medal  Spalding's Highest Alumnus Award. Other recent awards include:
Louisville Defender – Lifetime Community Service Recognition Award (2016)
Outstanding Community Leader by Metro Council (2016)
Parkland Rising Up Project (2015)
Community Spirit Award given by the University of Louisville College of Arts and Science and the Yearlings Club (2015)
Muhammad Ali Center Daughters of Greatness Series (2019)
And … she's not done yet. Currently, she is serving on the Women's Suffrage committee at the Frazier museum, the Metro Louisville Commission on Public Art (COPA), and several committees for the Louisville Central Community Center.  She is an active member of several organizations – Louisville Area Fiber and Textile Artists, Louisville Clay, Alpha Kappa Alpha Sorority, West Louisville Women's Collaborative, and more.
KFW staff and Board are honored to join in the recognition of this indomitable woman, whose life is an example of how dedicating yourself to uplifting others while creating art that you love can truly make an impact in the lives of women and girls in Kentucky.
sources:
https://alicenter.org/?event=daughters-of-greatness-elmer-lucille-allen
https://insiderlouisville.com/lifestyle_culture/arts-and-entertainment/artist-and-activist-elmer-lucille-allen-honored-as-one-of-the-pillars-of-louisville/
https://www.louisvillevisualart.org/artebella/2018/2/20/elmer-lucille-allen
https://www.whas11.com/video/features/great-day-live/trailblazer-elmer-lucille-allen-honored-with-distinguished-award/417-6a013578-954b-4f9e-942f-908fc5be8cfd
https://www.facebook.com/pages/category/Artist/Elmer-Lucille-Allen-266708106686369/
http://carnegiecenter.org/exhibitions/the-art-of-elmer-lucille-allen-sandra-charles-and-barbara-tyson-mosley/[/fusion_text][modal name="Nzingha " title="Nzingha-Beverley Sweeney-Sheppard" size="large" background="" border_color="" show_footer="yes" class="" id=""]We are pleased to announce Nzingha-Beverley Sweeney-Sheppard as the recipient of the 2015 Sallie Bingham Award. In selecting Nzingha for this honor, KFW staff and board considered her strong work as an artist, mentor, and long-time KFW Board member and ally. Nzingha is an inspiring feminist artist and cultural worker who has been involved in a wide range of institutional and grassroots social change efforts. She has held the space of elder and has been a grounding presence on the KFW Board. Nzingha approaches her work with passion and integrity, and has earned deep gratitude and respect from her colleagues at KFW and beyond. She exemplifies the vision of the Foundation as set forth by Sallie Bingham, and our state is better off because of her presence here.[/modal][separator style_type="none" top_margin="" bottom_margin="40″ sep_color="" icon="" width="" class="" id=""][title size="5″ content_align="left" style_type="single" sep_color="" class="special" id=""]Previous[/title][fusion_text]
SBA RECIPIENTS
[/fusion_text][one_half last="no" spacing="yes" background_color="" background_image="" background_repeat="no-repeat" background_position="left top" border_size="0px" border_color="" border_style="" padding="" class="" id=""][fusion_text]1996: Mary Jefferson, Writer
1997: Alma Lesch, Textile Artist
1998: Ann Stewart Anderson, Visual Artist
1999: Laverne Zabielski, Writer
2000: Nana Yaa Asantewaa, Storyteller
2001: Pat Buster, KFW Staff
2002: Lorna Littleway, Theatre
2003: Elizabeth Oakes and Jane Olmsted, Writers
2004: Kentucky Women Writers Conference, Writers
2005: Judy Sizemore, Writer
2006: Carridder Jones, Writer
2007: Gail Martin, KFW Board Member[/fusion_text][/one_half][one_half last="yes" spacing="yes" background_color="" background_image="" background_repeat="no-repeat" background_position="left top" border_size="0px" border_color="" border_style="" padding="" class="" id=""][fusion_text]2008: Joyce Ogden, Visual Artist
2009: Crystal Wilkinson, Literary
2010: Kate Larken, Performing- Music
2011: Trish Ayers, Performing-Theatre
2012: Kentucky Domestic Violence Association, Literary, Performance & Visual
2013: Leatha Kendrick, Writer
2014: KFW Community
2015: Nzingha Beverley Sweeney-Sheppard
2016: Bianca Lynne Spriggs
2017: Judi Jennings
2018: Betty Dobson[/fusion_text][/one_half][separator style_type="none" top_margin="" bottom_margin="20″ sep_color="" icon="" width="" class="" id=""][/fullwidth][modal name="" title="" size="" background="" border_color="" show_footer="" class="" id=""][/modal][modal name="" title="" size="" background="" border_color="" show_footer="" class="" id=""][/modal]