2021 Sallie Bingham Award Winner:
Carrie Brunk
"My goal is to contribute meaningfully to building a world where we all live in greater harmony with nature and one another. The arts and cultural organizing are critical components to achieve that goal and make change happen in our own lives, communities and society." -Carrie Brunk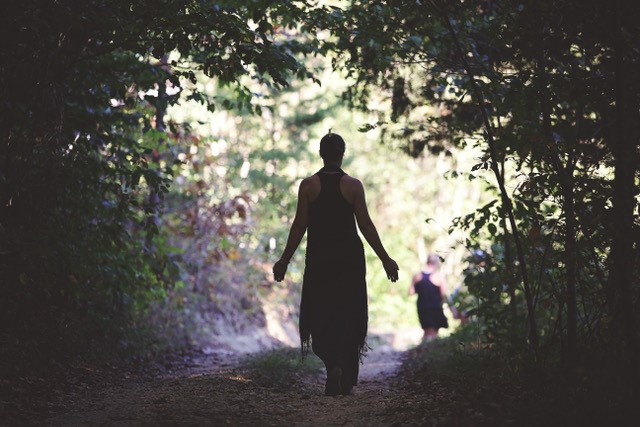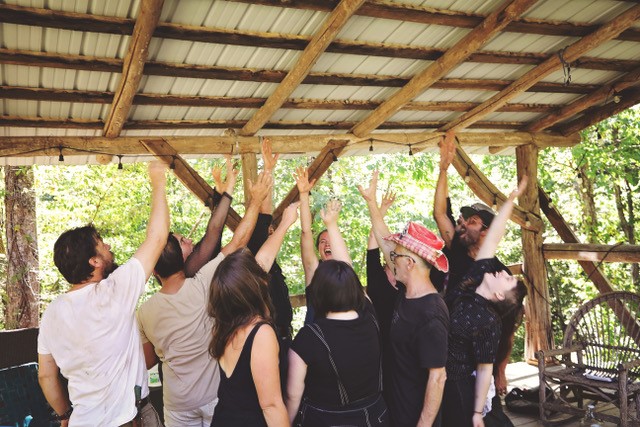 Kentucky Foundation for Women is pleased to announce that Carrie Brunk will be the recipient of the 2021 Sallie Bingham Award.  
The award will be given at the foundation's annual celebration of community, KFW Day, on October 3 at a virtual gathering. 
Ms. Brunk, an artist, community organizer and advocate  was selected for her lifelong dedication to artmaking for social change, particularly in her region of Eastern Kentucky in Rockcastle County, also near Berea. Through Clear Creek Creative, Brunk and Bob Martin work with individuals and organizations to envision and enact a better world. Their work includes art, cultural and community organizing, transformative facilitation and stewardship of the land at their off-grid eco-cultural center in the foothills if Appalachian Kentucky. The art and facilitation Carrie brings into the world challenges patriarchy, and develops personal and collective power in service of transformative personal and societal change.  
In addition to other artistic endeavors, Clear Creek Creative produces original theatre and immersive eco-cultural experiences that explore and inspire the possibility of living in harmony with nature and with one another.  Their latest project currently touring nationally is Ezell: Ballad of a Land Man, a story about the expansion of oil and gas fracking in Appalachia that engages themes of domination and resilience in relation to self, society and the environment.    
Carrie co-organized and co-produced the Clear Creek Festival which was supported by the Kentucky Foundation for Women for over a decade. The event grew from a small local festival to hosting 600 people over a long weekend for original art in genres ranging from folk and bluegrass to hip hop and roots, spoken word, theatre, storytelling, poetry, dance, film, visual art and more. Clear Creek Creative continues to focus on presenting socially conscious artists from near and far as well as providing opportunities for local artists to share and extend their work.
 Through the Festival and other productions Carrie and Bob have hosted, Clear Creek Creative has presented over 200 artists over the last decade, including individual artists and numerous ensembles across multiple genres. 
Carrie's most recent KFW grant will support her personal development as well as artistic endeavors and leadership development efforts.  She received $7,500 to support a writing and research project focused on the critical moments and relationships in her life that have shaped her understanding of race, ethnicity, privilege, and white supremacy in the U.S. The writing will be grounded in an intersectional feminist lens and is intended to be the basis for future projects that will support other white women in connecting authentically with their ethnic identities and dismantling white supremacy.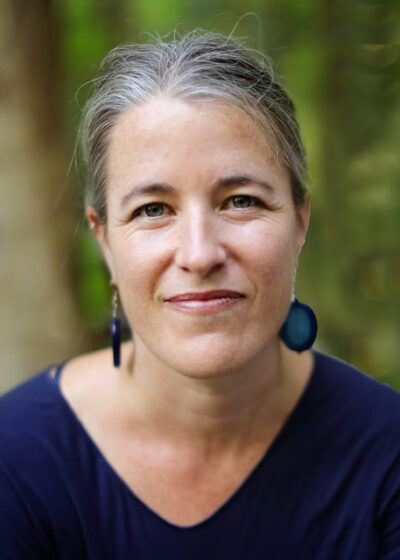 "We have to start by getting ourselves aligned with the values and ways of being that are necessary to create a harmonious, joyful, abundant, equitable world for all of us."
In addition to artmaking, creating and producing art and theatre, Carrie created and leads a leadership program for Kentuckian & Appalachian leaders called the Ridgeway Transformative Leadership Experience. Ridgeway is an immersive year-long cohort experience focused on intensive personal development, interpersonal awareness and network-building among people who are committed to the work of building a better Kentucky and Appalachia for all.  
"My goal is to contribute meaningfully to building a world where we all live in greater harmony with nature and one another. The arts and cultural organizing are critical components to achieve that goal and make change happen in our own lives, communities and society. My journey has led me to be focused both on systemic change and the big picture as well as becoming more attuned to the individual and interpersonal work that each of us must engage in to achieve significant societal change. We have to start by getting ourselves aligned with the values and ways of being that are necessary to create a harmonious, joyful, abundant, equitable world for all of us," said Brunk.  
Brunk said she is humbled by the award and grateful that we have an organization in Kentucky that promotes and supports feminist art for social change.  "KFW is an incredibly unique organization — my own journey to understand myself as a feminist social change artist and support other feminist artists has largely been guided by the ongoing presence, grant-making and networking that KFW offers," said Brunk. 
"Carrie and Bob are leaders in their community, in Kentucky and nationally, serving on multiple Boards, creating original art and supporting other artists to bring perspectives of Kentucky feminist artists to the national level. She/they truly are a transformative force in the lives of women and girls in Kentucky, and in manifesting societal culture shifts. Carrie and Clear Creek Creative's work continually support and uplift so many Kentucky feminist artists. KFW is thrilled to present Carrie Brunk and Clear Creek Creative with this year's Sallie Bingham Award," said Sharon LaRue, Executive Director of Kentucky Foundation for Women. 
For more information or to schedule an interview with Ms. Brunk call Sharon LaRue at 502-562-0045. 
The Kentucky Foundation for Women is a private foundation formed in 1985 by Louisville writer Sallie Bingham.  Its mission is to promote positive social change by supporting varied feminist expression in the arts.