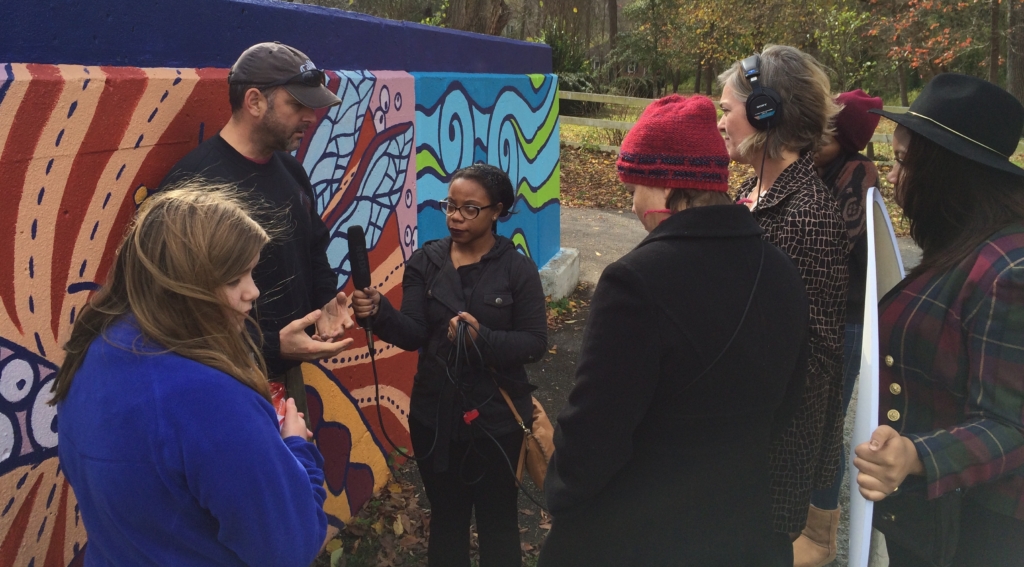 GRANT PROGRAMS
The Kentucky Foundation for Women offers two annual grant programs: Artist Enrichment and Art Meets Activism.
The Artist Enrichment grant provides opportunities for feminist artists and arts organizations to further their artistic development to create art for positive social change.
The Art Meets Activism grant supports feminist artists and organizations in actively engaging individuals and communities in artmaking that is directly focused on positive social change in Kentucky.
KFW awards $200,000 in grants annually, $100,000 in each program.
The deadline for the Artist Enrichment grant is typically the first week of September, and the deadline for the Art Meets Activism grant is typically the first week of March.
If you are interested in applying for either of these grants, please first review the "Thinking About Applying" information here.
To see examples of grants funded under each program, click here.
Who may apply for KFW grants?
Individual artists and organizations who are engaging in arts-based activities may apply. Applicants must be residents of Kentucky. KFW is committed to making grants accessible to all, regardless of age, race, ethnicity, sexual orientation, physical ability, education level, economic condition, or geographic origin.
What criteria are used in the review process?
The reviewers assess the applications based on the following criteria:
Artwork in sample is strong, highly original, and reflects feminism and social change.
AE grant: Proposed activities will further applicant's development as a feminist social change artist. AMA grant: Proposed activities engage community members in artmaking that directly benefits women and girls in Kentucky.
Application and work sample demonstrate applicant's understanding and practice of feminism.
Application and work sample demonstrate a clear understanding of the relationship between art and social change.
Work plan, timeline, and budget are clear, detailed, and realistic.
Applicant's ability to complete the proposed activities is clearly shown.
Note: When considering applications of equal merit, the KFW Board of Directors has asked reviewers to give priority to underrepresented demographic populations and first time applicants (applicants who have not received KFW funding).
How much money can I request?
Grants range from $ 1,000 to $7,500. Due to the number of strong applications received, KFW reviewers are rarely able to recommend full funding. The typical grant award is $2,000 to $4,000 for artist enrichment grants, and $3,000 to $5,000 for Art Meets Activism grants.
What is the grant application timeline?
For the Artist Enrichment Grant:
Applications Available: Typically sometime in July
Application Deadline: Typically First Friday of September
Notification Sent: End of November
Checks Sent: End of December
Final Reports Due: January of the following year
Meets Activism Grant:
Applications Available: Typically sometime in January
Application Deadline: Typically First Friday of March
Notification Sent: End of May
Checks Sent: End of June
Final Reports Due: July of the following year
What are the Eligibility Requirements?
Because KFW focuses on supporting the creation of art by feminists in Kentucky, KFW does not fund:
non-art related expenses (i.e., overdue bills, taxes, etc.)
work conducted by artists or organizations that have not resided in Kentucky for at least one year at the time of application
activities that do not focus on improving the lives of Kentucky women and girls
Duke University is the designated archive for all KFW records. After five years, the foundation forwards the files concerning funded grant proposals to the Rare Book Manuscripts and Special Collections Library at Duke University. All KFW records deposited at Duke are open to qualified researchers. By submitting this application, you waive any right to claim a privacy interest in the funded grant materials.