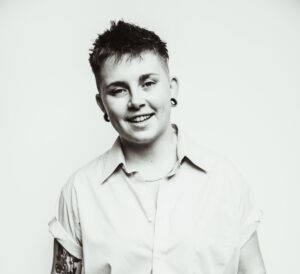 Ceirra Evans, 23, of Louisville/Owingsville, is a painter who incorporates themes of home, Appalachia, queerness, family relationships, and place. Ceirra was selected as a Firestarter for her work's deep examination of the realities and stereotypes of life in Appalachia. 
Ceirra graduated from Spalding University in January 2021 and has established an independent practice exhibiting locally and curating for Folx Gallery. Her work is exhibited in 21c Louisville and held in many private collections.   
Ceirra's latest paintings were a collection she titled "It's Okay to Go Home" where she captured the juxtaposition of the shame and pride that comes from being from the Appalachian region of eastern Kentucky. Her nominator says, "I think that's what I find so appealing about her work. No matter where you call home, there is an inevitable joy and sadness that comes from your experiences that you either embrace or choose to ignore. I love that she has chosen to embrace it and celebrate it with her art." 
Ceirra says, "My body of work depicts scenes directly from my early life in the foothills of the Appalachian region. I use humor within my paintings to sift through the discourse around the stigmas and stereotypes surrounding the holler. My work up to this point has focused primarily on personal stories that involve the effects of poverty, mental health and generational trauma. Right now, I am exploring how being from Appalachia has shaped my queerness and its expression in my personal relationships. I hope that my work can tell untold stories and aid viewers in their perspective on the region."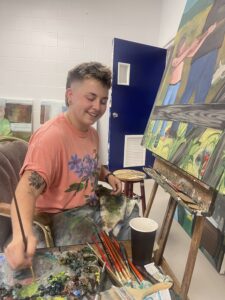 Her nominator writes, "Ceirra proves that her home is more than the prejudice it faces; these foothills and wooded hollows are filled with character and love and respect and deserve a positive recognition of those things that make it dear to the people who live here. I can tell you that she is successful in spite of [negative stereotypes about Appalachia] and doesn't seem to carry a deserved bitterness about it, but rather a determination to help change people's perceptions."
She received a Great Meadows Foundation Grant and her work has been featured in art magazines, Queer KY, and The New Yorker. 
Ceirra says of being nominated, "I feel blessed to be nominated for the Firestarter award. This nomination makes my work feel seen and appreciated by Kentucky folks." 
To learn more about Ceirra and her work visit: