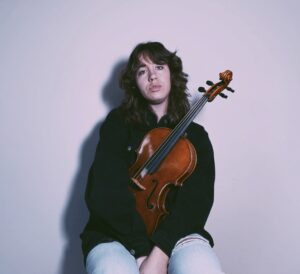 Ellie Ruth, 24, of Louisville, was selected as a Firestarter for her risk-taking work bending stereotypes and breaking musical boundaries as a musician, singer-songwriter, performer and community builder. 
Ellie is a composer, performer and one of the founders of Quartet Dioca, an all-women quartet dedicated to increasing accessibility to string quartet music and creating a community of women and femme orchestral players.  
According to her nominator, Ellie Ruth is one of the most sought-after lead musicians in the central Kentucky region because her instrumental skills are impeccable. Her nominator says, "Ellie Ruth blends into many musical worlds in Kentucky: Americana, folk, Bluegrass, country, classical, and orchestral. She creates a unique voice with this blend.  
Ellie Ruth composes instrumental and lyrical music on the viola/violin that is brutally honest, soul twisting, elevating, and so genuine. To witness her authentic performances is to get closer to oneself."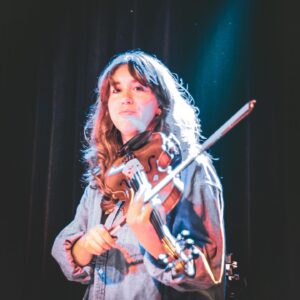 Ellie said of her work, "Being a woman in the music industry is a constant battle for legitimacy, as it is for any people living outside of normativity. This experience is a cornerstone of my journey as an artist. As a musician I take on many roles; teacher, performer, songwriter, arranger, and band leader are a few. In these spaces I've learned that in order to stay grounded as an artist, I have to find a deeper purpose beyond myself. My work is to push the boundaries of what the violin can do and of what women or feminine voices sing about. There I've found purpose in making space for and empowering disenfranchised voices in the music industry."  
Her performance and community building work is described as bending stereotypes about gender, from a woman taking lead instrumentals, to bending stereotypes about how singer-songwriter music is supposed to sound. 
As her nominator describes, "Ellie Ruth's position breaking musical boundaries, as a creative person and as a woman in the spotlight, has incredible impact on everyone who witnesses her art, especially women and girls. She is dedicated to growing into an artist that uses her creative power for change, especially by supporting and making space for other women and femme artists." 
She is also a viola and violin teacher, instructing and inspiring dozens of youth to explore string instruments and original composition.  
You can find her on