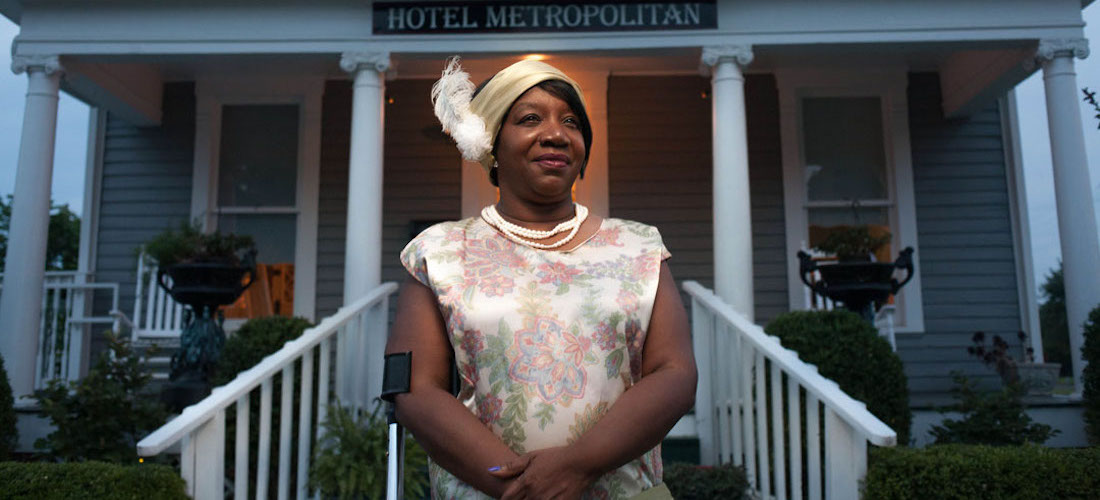 Can you tell me briefly about your project? What did you do?
The name of my project is Miss Maggie's Memories. This project draws on the story of Maggie Steed, an African American woman who owned and operated the Hotel Metropolitan in Paducah from 1909 until 1925, during the era of segregation. The impact I wish to make is to change the negative way the media portrays African American women.
As Maggie I hosted a tea for (12) women of different backgrounds. Maggie shared how Black women were depicted in the 1900's media and how that depiction affected her. She asked the group "how can we make the media industry understand their negative portrayal of Black females hurts our society and what can we do to change this?"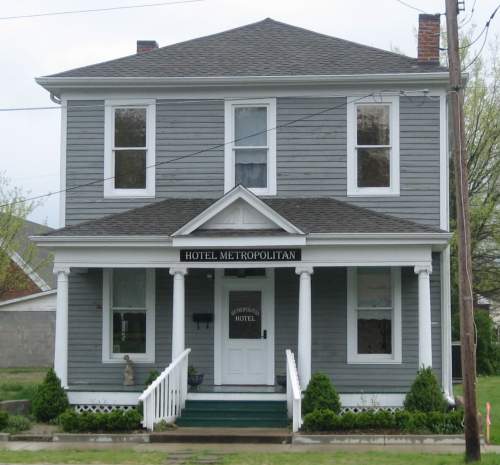 Can you back up and say a little more about the Hotel Metropolitan? How did you learn about it, and then how did you get involved in the work you have done to preserve the history of that place? 
One day while cooking dinner and talking with my friend Sheryl, my 10 yr. old daughter asked if she could go to the store with her friends. I said, sure you can go. But Sheryl said, isn't the store closed now? Realizing that the store was closed I asked my daughter where are you going? She replied, to the liquor store and I replied, No you are not! I told her to wait and I would take her and her friends to the store later. About 20 minutes later 5 kids (all girls) came back ready to go to the store. At that moment I realized that our girls were at risk. Although I knew the owners of the liquor store, I still didn't want my child there buying candy. So Sheryl Cooper and I setup a portable building on the vacant lot across from the liquor store and the then condemned Hotel Metropolitan to sell treats to the kids to keep them away from liquor store.
One afternoon, while at the store an older gentleman, Rev. Jimmy Hodge approached us. He began to share his memories of the Hotel Metropolitan in its heyday. Rev. Hodge's stories about B.B. King sitting on the porch of the hotel playing his guitar while eating sweet potato pie, and how Ike and Tina Turner stayed with their band at the Hotel Metropolitan when performing in Paducah. He said, in a low voice "They stay there because there were NO other hotels in the city that would accept them." Rev. Hodge told us about Thurgood Marshall, Louis Armstrong, Memphis Minnie, Jelly-roll Morton, Count Basie, Bianche Calloway, Cab Calloway, Moms Mabley, Butter Bean and Susie, Satchel Paige, Josh Gibson, the Harlem Globetrotter, Bessie Smith, Ella Fitzgerald, Ray Charles, Billie Holiday, Sam Cook and the list went on and on. Rev Hodge ended the conversation with the statement, "It's a shame that we are losing another historic Black building." After listening to all of Rev. Hodge's amazing stories Sheryl and I were inspired to do something to save this historic building called the Hotel Metropolitan.
In September 1999 the Upper Town Heritage Foundation, a nonprofit organization was cofounded by Sheryl Cooper and myself (Betty Dobson). Neither of us had any preservation experience. We were just armed with the Black Woman Church Lady Mentality, or BWCLM. What is that you ask? It's the uses of food, usually homemade bake goods to help finance a project. It is said that nobody can get mad at you went you bring food to the table. Food was an important part of the negotiations of the future of the Hotel Metropolitan. Sheryl and I took food to every meeting we had about the project. We regularly had dinners and still today the HM host fish fries to pay its bills. Each meal comes with a side of history.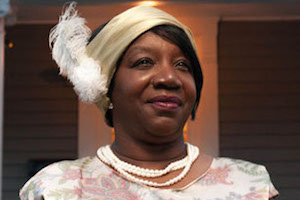 Once you decided to take on this project, how did you go about gathering information about Maggie Steed and this place?  
With all the stories about the hotel no one mentioned Maggie. Most people just knew that the hotel was Black owned. When we began researching the deed of the Hotel Metropolitan that's when we learned about Maggie Steed, and found her to be its first owner. Additional information about Maggie came from the 1910 & 1920 U.S. Census, her will, marriage/divorce, and death records. These documents gave us a unique insight into what life was like for Maggie. The 1910 census showed Maggie married to John Buford. Although, Maggie was the owner of the hotel John was listed as the owner. It also showed a female child, daughter of John Bufford. This daughter was mention in Maggie's will. The census included the names of her boarders as well and their vocation.
The 1920 census showed Maggie married to Charles White. He was also listed as the owner in the census. Maggie later divorce Charles White but, retained ownership of the Hotel Metropolitan. She remained friends with Charles until her death and left him $50.00 in her will for caring for her during her illness.
The divorce and marriage documents showed how many times Maggie was married and divorced. Maggie's last name changed several times. She was Maggie; Mack, Wright, Steed, Buford, and White. Her marriage certificates indicated that Maggie changed her age as she changed her husbands. One marriage certificates where age was requested Maggie put, old enough. Maggie's death certificate told us how she died. She died on May, 29, 1925 from cardio condition. Maggie's Will showed her love for family, and friends. She left her beloved Hotel Metropolitan care to son, Edward Wright. Maggie also had land holdings in Kentucky and Texas. She was a true business woman.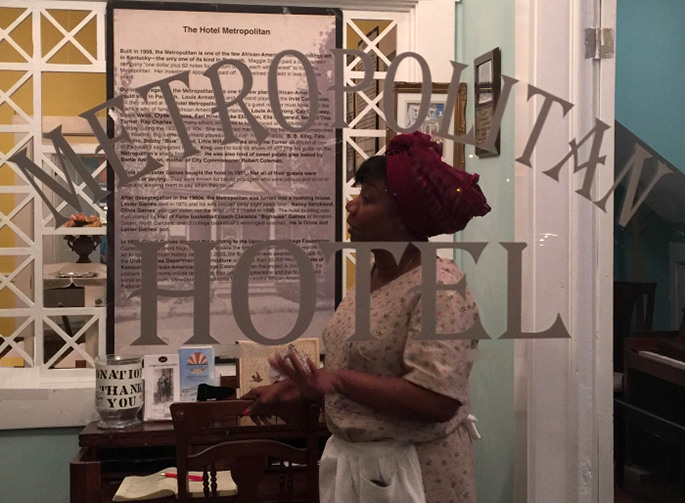 Returning to this most recent project, you say you hosted discussions at the hotel, dressed as Maggie Steed, where women from the community came to discuss media representations of Black women. What kind of social change were you hoping to create?
The kind of social change I hope to create when I started my work was to positively change the way Black women are portrayed in the media mainly, to help young Black women and girls have a better self-image.
The impact I want my work to have upon the participants was to give them a better understanding of how the media's negative portrayal of Black women affects the self-esteem of young Black women and girls and to inspire them to become a part of the solution for a better Kentucky for the women and girls of this state.
At the end of the project, did you feel you had achieved the kinds of impact you had hoped for?
Yes, at the end of the project I believe I achieved the impact I had hoped base on the positive feedback received from the participants.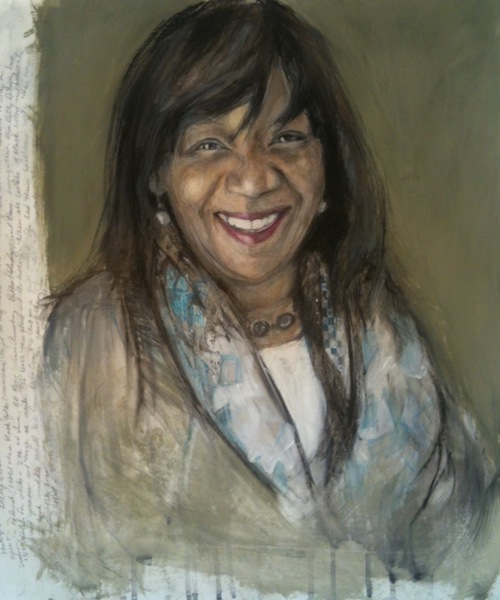 Can you briefly describe some of the impacts you witnessed as a result of the activities?
I have witness three impact activities. Example, when Giuliana Rancini of the Fashion Police made a negative remark about actress-singer Zendaya Coleman by saying her dreadlocks hairstyle at the Academy Awards looked like it "smelled like patchouli oil and weed." After hearing of these comments several project participants contacted E!News regarding these negative comments to let them know this was unacceptable and irresponsible reporting.
Another participant shared how her coworker ask her about offensive stereotypes seen on television regarding Black women were true? Because of her participation in the project she was able to dispel the myths of her coworker in a positive fashion.
Recently, an African American actress starring in a local play was having trouble with her director. The director was using stereotypes to direct her character. We devised a plan to talk with the director to resolve the problem without harming the artistic integrity of play.