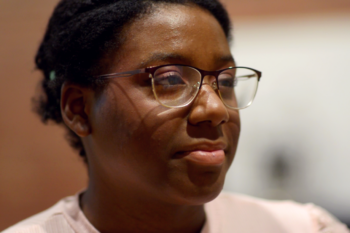 Malaya Wright

,

20

, of 

Berea

 was nominated for her painting and mixed visual media artwork 

that unabashedly showcase

s

 feminine sexuality. 

Her art explores topics such as q

uestioning and unpacking of beauty standards, rape culture, radical Blackness, cultural and social homogeneity, controlling images of Black women, the importance of intersectionality, colorism, normalization of plastic, or beauty 'enhancements'.

 
Malaya

's work is focused on social justice and creating meaningful social change by questioning societal norms and centering 

womens

' strength and power. As her nominator describes, "h

er pieces 'Within the Woman Sky' and 'Sexual Vibes' directly control the viewer to observe the parts that we keep hidden – our sexual selves.
These pieces are not coy, and they boldly ask you: 'Why are you uncomfortable? Should we feel uncomfortable about the naked female body?'." 
"Her creations, nudity and all, exhibit confidence and instantly enacts body and sex-positivity. She believes, and this carries through her work, that the body should not be demonized or shamed. Her pieces demonstrate that acceptance of one's body can be the start to self-acceptable and love." 
(Malaya's art from left to right: A Burning Fire, Sula Ablaze, BODY, Sis, Life's a Paradox.)
Malaya is 

a self-described

 feminist. 

Her nominator describes her as

 

"

passionate, driven, and believes in self-actualization. As an 

African-American

 and Filipino woman, she is unafraid to speak to complex and intercultural topics. Her work primarily consists of women of color, especially Black women.

" Her nominator goes on to explain that

 

w

hile she understands underrepresentation, her creations aim to embody fictional women, those that cannot be set free with society's standards.

 
Malaya says of her work, "

I want others to know that my art are acts of spontaneity. My imagination flows from my pen to envision a feminist world. Our bodies should not be dictated by our gender, identity, sexuality, or past. Humanity is boundless and diverse, and I hope my art represents that.

"

 
In her work, 

she actively uses feminist thematic concepts to have a conversation with the viewer.

 Malaya's nominator reports that 

people often ask 

about 

and question 

Malaya about 

her art. 

Malaya

 calmly explains to them that this work is natural and that all bodies should be enjoyed. 

Her nominator goes on to say, "m

any people are shocked by her work and have to process their inner dialogue.

"
The reviewers were impressed by 

Malaya

's

 "unabashedly feminist" visual artwork

. They say, "

The nomination strongly conveyed the sexual freedom of black women, that is often marginalized and profited from.

 Malaya

 takes giant, innovative risks; and is creating a more inclusive, equitable, and pleasurable place for women through her art.

"

  

 
Malaya says, "

It is an honor to be nominated, not only because my art represents how I envision the world to be, but I strongly believe in viewers taking whatever symbolism they see from my work. I label myself as a feminist artist, but it is astonishing to be treated as such.

"

 
Malaya Wright is a Berea College student studying Asian Studies and Women and Gender Studies with a minor in History. 

She has

 led 

a

 Virtual Feminist Book Club and created an amalgamation of resources for her friends and peers.

 
Currently, Malaya has an exhibit up at the Berea College Hutchins Library through September 30.