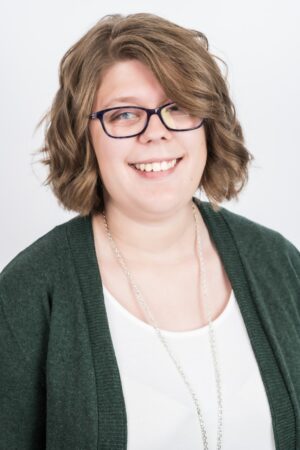 Rachel Petri

, 19, of Independence was nominated and selected for her literary writing, both fiction and nonfiction, and the way she infuses disability advocacy into her work. She writes Young Adult (YA) fiction that addresses issues related to disability, through her characters and as a central theme of her work. 

 
Rachel says of her work, "

I use writing to open peoples' eyes to the world of disability. 

I myself

am visually impaired, and I have significant experience with families and individuals impacted by disabilities. I use both fiction and nonfiction to let people with disabilities know they are not alone and give hope, and to educate people without disabilities and promote compassion.

I like to do this through fiction – compelling, realistic characters with disabilities and the way that fictional societies react to disabilities – and nonfiction – my own life story, combined with training, coursework, and knowledge borrowed from others.

"
She is 

currently 

at work on two YA novels, one of which recently was close to securing literary agent representation 

(

an enormous accomplishment for any writer

).

 

One

novel, "Healer's Scars" is set in a dystopian world, which feels a bit like "The Giver" meets "The Hunger Games." In this world, only able-bodied individuals are selected for prestigious jobs on Choosing Day and those with disabilities are left to fend for themselves. But when the main character decides to mentor a physically disabled fourteen-year-old, the community is forced to reckon with their age-old beliefs about disability.
The second novel she is working on is science fiction, where humanity has been forced to flee earth and live on spaceships. On one such ship, a teenage main character becomes the caretaker for a young child who has kidney disease and other developmental problems.
Her nominator says, "

I have read many pieces of her longer and shorter works and am consistently impressed with her nuance, gorgeous line-level writing, and ability to craft pieces that promote social justice, but never feel didactic.

" Her nominator goes on to describe the feminist and social justice underpinning of her work. "

Petri crafts worlds where inequality begins as the norm, but her characters actively seek to remedy these unideal situations.

" She writes full, 

complex characters with disabilities that break gender norms and challenge the ableism that pervades our society.

 
Focusing on female characters with disabilities is a powerful way to promote feminist social change. Rachel's nominator explains, "

Disability rights are central to social justice work.

 

Petri embodies the disability movement's mantra of "nothing about us without us" as she writes from what the YA publishing industry calls an "own voices" perspective; she is a member of the community about which she writes.
Representing characters with disabilities as full and complex people is 

in itself radical

, as too frequently able-bodied individuals are considered the norm and disabled people are too often defined by only their disability. Petri's work seeks to both educate her audience and illustrate the wonderful, challenging, and brilliant lives of disabled people.

 

Representation matters; as Petri's writing depicts disabled characters as the full people they are, she works towards creating a world with more social justice.

"

 
The reviewers appreciate that she 

advances ideas of disability justice for all. They say, "Rachel

 

is a strong, female advocate in her

 community, and should be for us all."

 
Of being nominated, Rachel says, "

I am very excited about this opportunity. My writing has taken significant steps in the past year, and I'm looking forward to seeing how this nomination may be a part of that.

"

 
Rachel's disability advocacy and social change work goes beyond how she represents her characters in her writing. "

At only 19, Petri is already thinking about how she can build her platform as a writer so she can help the disabled community, through both her writing and hands-on action

," her nominator says.

 

In addition to her writing, Rachel is active in

 her community as a volunteer for Joni and Friends, an international disability 

organization 

that assists families who have been impacted by disabilities.

 

 
Her nominator says, "

She is exactly the sort of young writer the future needs. Her fiction is gorgeously rendered, but more importantly it seeks to create change by advocating for those with disabilities.

"