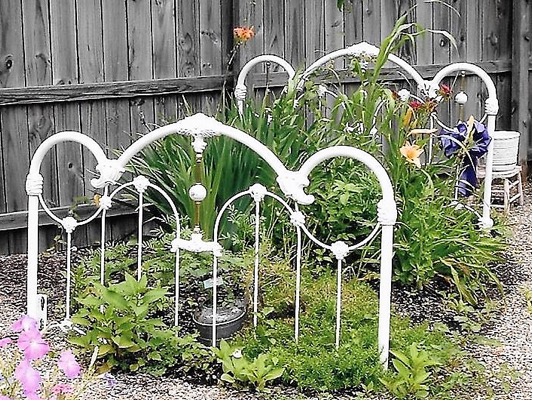 The following guest blog is from KFW Board member Lee Alcott.
Scatter Me Some Seeds
Stories fill my head as I begin to write this blog…which direction to take? Should I focus on myself? My art? My children? My work? Feminist art? The art of humanity? The art of social justice? Should I write about the 35 plus years I worked in different arenas with battered women and children, the last 19 with the Barren River Area Safe Space in Bowling Green, Kentucky? As the newest member on the Board of Directors of the Kentucky Foundation for Women, it is perhaps important to write about the intersection of art and social justice and that impact on discerning, healing and transforming women's lives. I sit. I walk. I listen to music. I drink coffee. And then I write.
Life's journey is often like a river, moving along bends and rocks. Life's creative journey adds additional dimensions to the path one takes. My life has always been surrounded by art and creativity. Ironically, on my way to being a writer, I became an art therapist. I am not a professional artist, but self-taught. I was accepted into the Expressive Therapy Program at Lesley University in Cambridge on the merits of my portfolio, although the program required studio experience. My journey took me along the path of teaching English, teaching art, working in a factory, curriculum developer, having children, working as a clinical art therapist and rape crisis therapist, and as an administrator of a non-profit. My work has, for the most part focused on women and children.
Art takes different forms for different individuals, and presents itself according to current needs, insights, or injustices. Incorporating art into one's everyday life is not an easy task, especially when working in an intense environment that requires 24 hour on call, critical decision making, bringing in enough funds to keep the doors open, and sitting at the kitchen table listening to the stories of survivors as they process their trauma. I realized, during my tenure as the Executive Director of the Barren River Area Safe Space in Bowling Green, Kentucky that I needed to create.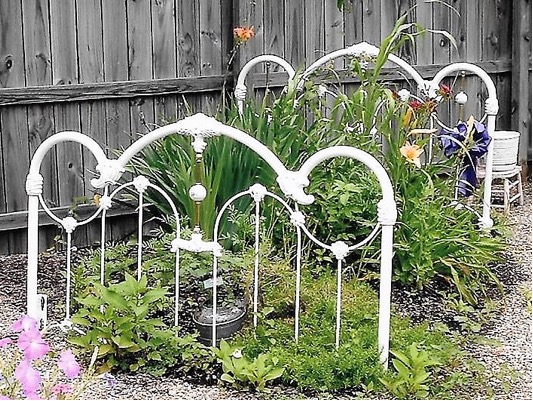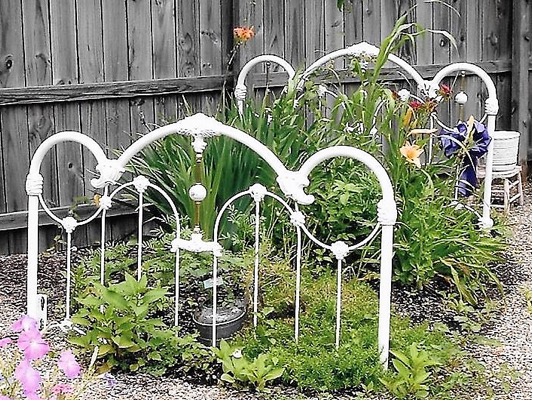 One way I met this need, when there was no time to paint or draw, was to design a garden, a living legacy to battered women and children. This creation came about in a unique way. The shelter had a courtyard with several areas of dirt that hosted seasonal flowers and herbs. One day, while walking through the courtyard I encountered a young girl holding a Styrofoam cup filled with potting soil and a single marigold. She told me they grew them in school and she wanted to plant hers at the shelter so that when she left we would always remember her. I found a trowel for her and she picked out a spot for her marigold. She also found some cardboard and a stick and made a primitive sign that read: "Sara's Garden". She repeated that she did not want anyone to forget her. That was in the spring of 2000. Her words stuck with me and in early March of 2001 the first two trees were planted in a field behind the shelter. The trees, weeping cherries, created the first entrance to the garden. The trees were dedicated to a local attorney who worked tirelessly to help victims of domestic violence, and to her twin sister who was murdered by her husband. Their mother travelled several hundred miles to attend the tree planting and when she saw the trees she said "twins."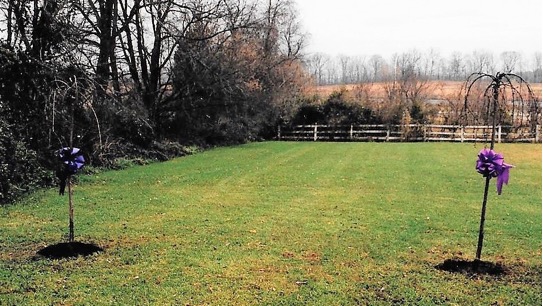 Sara's Garden began to grow as a healing reminder of the lives of women who suffered the ultimate act of domestic violence. The act of remembering their names and honoring their lives is an act of social justice. Over thirty additional trees have been planted in Sara's Garden since 2001. A handful of those trees are a testament to supporters who work to end violence against women. Each tree has a plaque of recognition. Volunteers laid paving stones for walkways, and created garden rooms. Garden clubs dug up perennials from their own gardens to plant. The garden serves as a solace to shelter residents.
The warm days of March 2017 are a reminder of a long-awaited spring. This season continues to remind me of a shelter resident from several years ago. I will call her "Lily." She arrived with some of the most severe physical injuries I had ever seen. She could hardly walk, but she did. She could hardly talk, but she did. Her eyes were swollen and bruised. Yet she smiled and engaged with other residents and advocates. She arrived in spring from one of our most rural counties. She had been isolated from many mainstream resources, but she was quick to tell us that she always had a garden. She always planted flowers and vegetables. Her garden gave her a sense of purpose and independence. She met me in Sara's Garden one afternoon and talked about the joy she felt in walking down the various walking paths. It gave her a sense that she was on a new journey. She was optimistic about returning to her home and creating a garden of her own again. She looked out among the trees and flowers, waved her hand and said, "I'm gonna scatter me some seeds."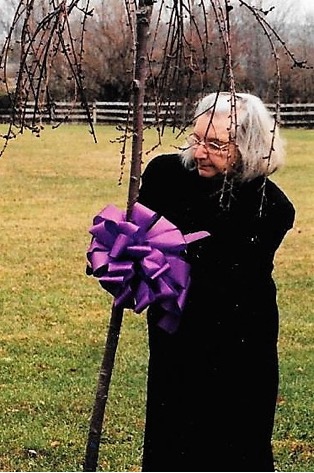 These are a few of the moments that had a creative impact on my life. What began with one child, one flower, and one comment evolved into a living legacy of beauty and healing for women. Twin weeping cherry trees were watered with a mother's tears. Her tears created rivers of hope for other parents to request a tree be planted for a slain daughter, or to visit the garden. A simple statement about planting generated several published articles and presentations about the challenge of women to scatter some seeds. The seeds we scatter have many meanings. They are seeds of peace, seeds of hope, healing, and justice.
And so, as a new Board Member, it is one way I view the Kentucky Foundation for Women's support of the artistic efforts of women who seek to create a world of justice, create new definitions of equity and feminism, and find their own ways to scatter some seeds.
~Lee Alcott, 3/28/17
Disclaimer: 
The content on this blog is composed by an independent voice who is interested in feminist art for social change in KY. The viewpoints expressed belong to the guest author, who is not a member of the KFW staff.