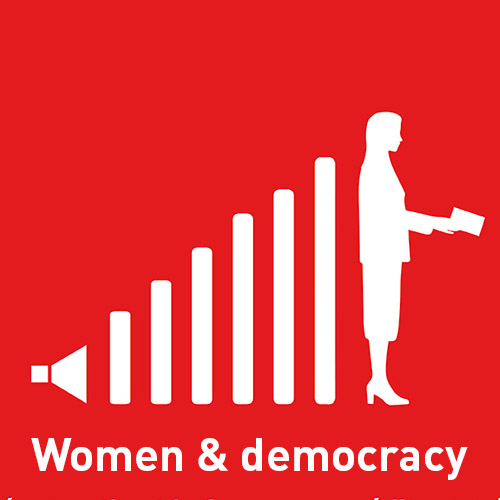 Congrats to the 2019 Advancing Democracy & Building Power Grantees!
Press Release by Ellen Birkett Morris
In an effort to explore essential questions about our democracy, the Kentucky Foundation for Women gave one-time grants for feminist artists and arts organizations to use their artmaking to build power for women and girls and inspire action towards a future democracy grounded in equity and inclusive engagement. This grant was offered in addition to KFW's regular grant programs. Ten grants totaling $60,318 were given.
"These artists will help change the stories currently at the center of our politics and culture by providing opportunities for women to lead the charge to create an equitable and inclusive democracy for all," said Sharon LaRue, Executive Director of the Kentucky Foundation for Women. "Feminist artmaking is democracy in action and can have a profound impact on the future."
The projects seek to imagine a world where all women and girls and gender-nonconforming people can engage equitably. Where women lead and are seen. Where people from diverse worldviews and cultural backgrounds build, share and wield power, leading us toward a future of inclusion across boundaries of age, race, ethnicity, ability, gender identity, sexual orientation, citizenship status, geographic homeplace, and socio-economic status.
Individual artists and organizations based in Kentucky who are using feminist arts-based activities to address democracy and power for women and girls could apply.
Recipients include:
Mikaela Curry (Pikeville) $2,738 to organize a series of writing workshops in Eastern Kentucky for women with felony convictions and their close friends or family members, to raise awareness about and support for the restoration of their voting rights. These writing workshops will give formerly incarcerated women who have lost their voting rights a chance to interact with the arts, affirm their own personal agency and collective civic power, amplify their voices and bring a broader awareness to the issue. The project will give a voice to these women and attention to an issue that is often ignored, misunderstood and caricatured, and will encourage people to build collective civic power, make spaces for new dialogue, and generate action on the restoration of voting rights.
Focus On Race Relations Frankfort (Frankfort) $7,500 to record and share a song written by Rebekkah Berry about the history of slavery and lynching, which asks listeners to consider how authentic democracy can be without adequately facing the past. The project also uses photography of the lynching site in Frankfort to educate and engage community members about how spaces can carry trauma that weighs more heavily on some than others. The goal of the project is to begin a local process of truth and reconciliation in the Frankfort community and make our country's democracy more compassionate and equitable.
Carole Johnston (Lexington)$1,800 to support the "Girl Speak /Dragon Girls Project," to provide free reading, writing, and performance workshops for multicultural 4th-12th grade girls for the purpose of building confidence and power. Ethnically diverse teaching artists will focus on strong women characters in fiction, poetry and in life, including women politicians. The summer camp uses hands-on creative writing and performance activities designed to improve the individual effectiveness and self-esteem in students and promote the psychological well-being, cognitive skills, and interpersonal relationships of the students, and the social cohesion of the greater community.
Moments Matter (Louisville) $6,500 to support the Young Authors Boot Camp, where young women of color ages 9-13 can explore, process, and publish a memoir-based essay. The girls will learn about power and personal agency and will have the opportunity to learn the critical role that personal agency plays in their own value system and the decisions they make (regardless of their age), and explore a moment in which they used their own power as young girls to control their future.
Bethany Pelle (Newport) $7,500 to support participatory action research and creative workshops to engage individuals across Newport, KY to create a collective vision of cultural equity for the city. Activities will include discussion groups, interviews, and creative visioning workshops using creative non-fiction, digital media, and collage. The collective cultural equity vision statement generated will serve as the foundation for a grassroots cultural equity plan for Newport, while artworks generated in creative workshops will be used in cultural organizing campaigns to create greater equity for marginalized groups within Newport.
Tara Remington (Louisville) $7,500 to support four mindfulness and artmaking retreats for women living at the Volunteers of America Family Emergency Shelter. The retreats will use art making, dialogue and sound experimentation to help women and mothers experiencing homelessness develop their voices and change the way they see themselves. Participants will engage with the public art installation and platform, ISEEU, as a place of honor and tool of self expression to explore their own voice and power, develop a positive personal dialogue and connect to their truths. These activities will work to build practical, mindful approaches to help women to engage with their children, families and community, while learning to challenge their place in the American system.
Skylar Smith (Louisville) $7,500 to organize an art exhibition and related programming for the year 2020 in the Mayor's Gallery, located in Metro Hall in Louisville, inviting a diverse group of artists to create new, site-specific work that uses an intersectional lens to look at voting rights in the United States, while considering connections between the 2020 Presidential election, the 2020 Centennial of the 19th Amendment, and past/present voter disenfranchisement to create a public dialog about voting rights and how to build a more equitable democracy.
The Southern Kentucky Performing Arts Center (Bowling Green) $7,500 to support a visual art exhibit titled "The World: Through a Woman's Perspective," which will open on September 3, 2019 and run through October 31, 2019. The show will highlight expressive works from immigrant and refugee women in Kentucky, mostly South Central Kentucky. The artwork displayed will defy gender stereotypes within the artist's own perspective, region and traditions. The exhibit will promote positive change within the community through reflection, giving the artists a voice and encouraging people in the surrounding region to value their multi-cultural community.
Lakshmi Sriraman (Lexington) $5,590 to conduct a series of workshops using movement and theater techniques, including planned and improvised movement, games, role plays and sharing. The workshops will help participants identify their strengths and barriers, claim their personal agency, and recognize their relationship to power and shared power. The workshops will conclude with a painting workshop where participants will be invited to paint/draw how they see themselves embodying personal and shared power.
West Louisville Women's Collaborative (Louisville) $6,190 to create a series of intimate creative gatherings for intersectional explorations of the role of women in families, communities, institutions and governments. "Bahari Sisterhood" meetings, Hip-Hop cyphers, and community printmaking will allow women and their allies to uncover ideas, express emotions and face challenges inherent to feminine identity to spark individual and collective action for the benefit of women and girls and to help people to recognize their shared needs for equality and democracy