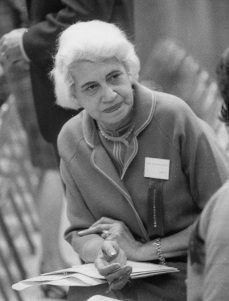 Why Voting Matters: Mae Street Kidd, Kentucky Change Maker
In honor of Black History Month and KFW's Ignite the Vote Monthly Micro Grant to
promote representative democracy, we are celebrating change maker Mae Street Kidd.
Activist, legislator, trailblazer, businesswoman, Kidd provides a vivid example of the power of voting and being counted on our ability to make positive social change that endures.
Kidd, who was interracial, was born in Millersburg in 1904, the year that the Day Law passed, which legally segregated Kentucky's educational facilities. She would go on to open opportunities for women in the Kentucky legislature and pass legislation strengthening civil rights, celebrating the legacy of Dr. Martin Luther King, and promoting fair housing.
Unacknowledged by her birth father, Kidd pursued success attending the Lincoln Institute in Simpsonville, a boarding school that sought to provide a quality education in the Jim Crow south.
After working as a sales agent, Kidd was offered a job as a file clerk at Mammoth Life and Accident Insurance Company, a thriving, Black-owned company based in Louisville. A self-supporting single woman of color in 1925, Kidd's biography recounts the discrimination she encountered.
"I couldn't use the main public library," Kidd recalled. "I couldn't go to the first-run movie shows on Fourth Street."
Kidd worked her way up in the company becoming supervisor of policy issues, was married and widowed, and she served as assistant director of a service club for Black American soldiers in England during World War II for the American Red Cross.
She returned to the company in 1946 as public relations counselor, a position she designed. The National Negro Insurance Association hired Kidd to create a public-relations plan for all of its member companies. In 1948, she also organized the first Louisville Urban League and served as President of the Lincoln Foundation.
Kidd married again, moved to Detroit, returned to Louisville and retired from the Mammoth Company at age 62. Her late in life entry into politics helped change Kentucky in significant ways.
She joined Kentucky's General Assembly in 1968, one of just three African-Americans in the legislature at the time. The first bill Kidd sponsored, the Kentucky Fair Housing Act, prohibited racial discrimination in housing, making Kentucky the first Southern state to enact such laws on its own. Kidd also sponsored legislation to name Martin Luther King's birthday a state holiday.
Her signature achievement, the "Representative Mae Kidd Street Housing Bill," created the Kentucky Housing Corporation in 1972, which promotes and finances low-income housing in the state.
"I worked day and night to get the bill approved. When the bill passed, we cried tears of joy," said Kidd. "It was a milestone in Kentucky history. … It meant that whether you lived in Pikeville or Paducah, you could live where you wanted to – if you could afford to."
In the mid-1970s she learned about a little-known historical fact—Kentucky had never ratified the 13th, 14th and 15th amendments to the U.S. Constitution, which abolished slavery, and gave U.S. citizenship and the vote to African Americans. Kidd was determined to correct this oversight. She launched a campaign in 1976 to have the amendments officially ratified. It passed unanimously. "It was especially important to me because I am a proud Kentuckian, and I didn't want that blot to remain on our history," she wrote in her memoir.
In total, she spent seventeen years in the Kentucky General Assembly promoting civil and human rights, housing and equality.
Mae Street Kidd is an example of the power of the vote to produce leaders who will work for lasting social change. Consider applying for the Ignite the Vote micro grant to help decide the change makers of tomorrow!
Article Written By: Ellen Birkett Morris