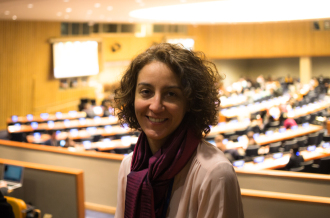 Amira Karaoud wrote a blog detailing her experience at the United Nation's largest meeting on gender equality in New York City. According to Amira, "45 Member States of the UN, organizers, scholars, hundreds of Non-Governmental Organizations (NGOs) from around the globe and many other institutions and individuals representing civil society and their communities, gathered in the headquarters of the UN in NY. They all came to give voice to the voiceless, to hold their national leaders accountable and to push the agenda for more equitable rights for women. This conference offers the platform for civil society to demand changes and influence the Global Policy Document negotiated by Member States behind closed doors."
To read the full blog post, click here.  
Do you enjoy writing? Do you have ideas, stories, or art that are in need of expression? If so, then you're in luck! We are seeking guest bloggers interested in submitting their work to be featured on our KFW Blog. We envision our blog as a creative avenue that offers a wide range of perspectives and views on feminism, art, and social change. If interested, please email us with your name, topic, and a brief description of your proposed blog post.