Instructions for living a life:

Pay attention.

Be astonished.

Tell about it.
–From "Sometimes" by Mary Oliver
KFW Board Member Natalie Gabbard Supports Emerging Artists through Building Networks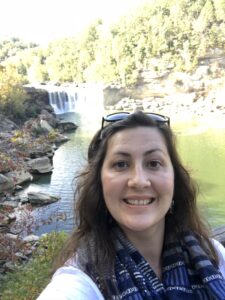 Kentucky Foundation for Women Board Member Natalie Gabbard takes Mary Oliver's poem "Sometimes" as a primer for her work on the board and as Project Director for Arts and Humanities with Partners for Education at Berea College and for KFW. She uses her time and attention to create opportunities for Kentucky artists. 
For nearly a decade, Gabbard has worked with schools, community organizations, artists, and other stakeholders to advance arts education in rural Appalachian Kentucky. She believes the arts are critical to human development and a powerful force to improve and enhance the lives of people in Kentucky. Her work at KFW is an extension of this. 
"I believe all people are creative and that opportunities to nurture creativity are life-giving," said Gabbard. "My early experiences in the arts as a young person growing up in eastern Kentucky helped me build confidence and express myself creatively. I am passionate about ensuring others in the region have those same types of formative opportunities."
She first learned about KFW and its mission from some artists on the Partner for Education teaching artist roster who were previous KFW grantees. She was drawn to serve on the board because of the opportunities KFW gives to emerging artists. 
"I think support for emerging artists is vital in building confidence, as well as a network of trusting arts advocates who can provide encouragement and networking opportunities early on in an artist's journey that can have lasting and far-reaching impact," said Natalie. 
She has always been interested in being a part of efforts that promote positive social change. "I have a desire to advocate for causes that advance equity. In my current role at Berea, this takes the shape of increasing arts education access and opportunity for youth in eastern Kentucky. It also includes developing professional learning and community-building opportunities for regional teaching artists. My work at KFW is also about increasing access and opportunity." 
She is currently inspired by all of the passionate, dedicated people she knows who are continuing to make art and provide opportunities for young people to express themselves creatively during the pandemic. 
Equity is key.  "In my work at Berea, I support rural youth and community development initiatives and work to address arts education equity issues in rural Appalachia. I collaborate with artists (including KFW grantees) to create opportunities to engage young people in artmaking that celebrates the diversity and complexity of our region," said Gabbard. "KFW's commitment to rural artists was a real draw for me."   
"My hope for the future of women and girls in Kentucky is that there are more opportunities for mentorship and intergenerational collaboration toward the empowerment of a future generation of social change makers." 
Board Profile Written by Ellen Birkett Morris