KFW Congratulates

C

ei

rra

Evans,

Teja

Sudhakar,

and

Ellie Ruth

on

2022 Firestarter Award
Press Release written by Ellen Birkett Morris
The Kentucky Foundation for Women is proud to announce that Ceirra Evans, Teja Sudhakar, and Ellie Ruth are the recipients of the 2022 Firestarter Award.  
The Firestarter award honors artists aged 18 to 25 who are taking risks in the creation of new art, involved in social justice/community engagement, and who demonstrate a developing feminist voice, including new insights and visions and/or fresh approaches to feminist topics or art for social change. 
 "These young feminist artists are confronting stereotypes around culture, immigration and self-expression and offering new approaches that are central to build a more just Kentucky and a better world. These artists are offering complex, authentic depictions of female experiences that embrace the full humanity and resilience of women. They are awakening a new awareness with the vision that marks a true Firestarter," said KFW Executive Director Sharon LaRue.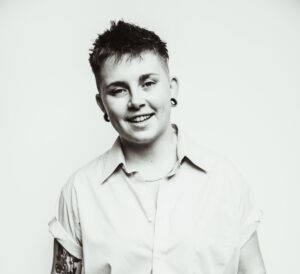 Ceirra Evans, 23, of Louisville/Owingsville, graduated from Spalding University in January 2021 and has established an independent practice exhibiting locally and curating for Folx Gallery. Her work is exhibited in 21c Louisville and held in many private collections.  Evans was selected as a Firestarter for her work's deep examination of the realities and stereotypes of life in Appalachia.  
Evans says, "My body of work depicts scenes directly from my early life in the foothills of the Appalachian region. I use humor within my paintings to sift through the discourse around the stigmas and stereotypes surrounding the holler. My work up to this point has focused primarily on personal stories that involve the effects of poverty, mental health and generational trauma. Right now, I am exploring how being from Appalachia has shaped my queerness and its expression in my personal relationships. I hope that my work can tell untold stories and aid viewers in their perspective on the region."  
Teja Sudhakar, 21, of Lexington, is a poet whose work has explored feminist myth revision of Hindu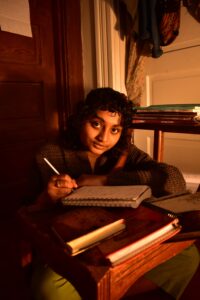 narratologies. She has used docupoetics to combine her own immigrant experience with oral histories from Lexington's women identified immigrant community. Sudhakar's first chapbook won UK's highest prize for undergraduate creative accomplishment. Sudhakar was selected as a Firestarter for her dedication to her craft, and for telling the stories of immigrant women like herself. 
Sudhakar says of her work, "Looking for Smoke" is a collection of poems entailing the experiences of five first-generation immigrant women living in Kentucky, as well as my own navigation of being an immigrant woman. We typically hear about immigration in the context of violence, suffering, and turmoil– but unlike the news, poetry creates space for the underlying humanity of immigrant narratives. These poems communicate immigrant women's stories about tradition, resilience, sisterhood, kindness, and faith."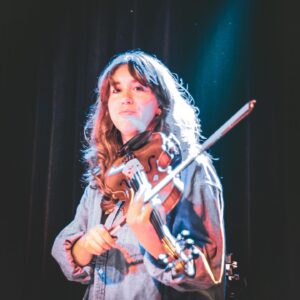 Ellie Ruth, 24, of Louisville, is a composer, performer and one of the founders of Quartet Dioca, an all-women quartet dedicated to increasing accessibility to string quartet music and creating a community of women and femme orchestral players. She is also a viola and violin teacher, instructing and inspiring dozens of youth to explore string instruments and original composition. Ruth was selected as a Firestarter for her risk-taking work bending stereotypes and breaking musical boundaries as a musician, singer-songwriter, performer and community builder. 
Ruth said of her work, "Being a woman in the music industry is a constant battle for legitimacy, as it is for any people living outside of normativity. This experience is a cornerstone of my journey as an artist. As a musician I take on many roles; teacher, performer, songwriter, arranger, and band leader are a few. In these spaces I've learned that in order to stay grounded as an artist, I have to find a deeper purpose beyond myself. My work is to push the boundaries of what the violin can do and of what women or feminine voices sing about. There I've found purpose in making space for and empowering disenfranchised voices in the music industry." 
For more information on each winner, check out www.kfw.org/awards/firestarter/.