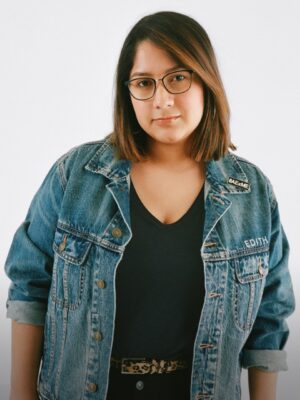 Edith Cruz

,

21, of Lexington

 

was nominated and selected for her audio podcasting work that explores social justice and 

feminism within the Latinx Community.

 

Edith's primary mediums are audio podcasting, 

storytelling

 and citizen journalism. 

Her podcasts center storytelling around immigration, 

biculturalism

 and bilingualism, specifically the

 experiences of persons with DACA

, 

POC and Immigrant youth

.

 
Edith says of her work, "

My work is unique because I give others a platform and a guide for them to tell their own stories. That's what radio/podcasting is all about or at least that's what it should be. When we have big media outlets tell the stories of many 

immigrant

 and Latinx Youth, those stories lose their meaning and reality because they are told by someone who has no relation to it. I believe that the best 

way 

to keep story-telling raw and real is by letting each person tell their own story. This is what I do in my work, I open the conversations of very real and unique events that connect to the immigrant/Latinx community. At the same time, I bring a different person each time to use their own voice 

in order to

 tell their story.

"

 
Edith focuses on telling and highlighting stories of young immigrant youth with a focus on young women

, POC

 and members of the LGBTQIA community. 

"

She is unapologetically focused on creating stories that humanize immigrants and bring LGBTQIA front and center

," said her nominator.

 
Her podcasts focus on showing the impact of attacks on DACA and how the lack of humane reform have left youth struggling with imaging their futures.

 

Edith uses her voice and storytelling to discuss why DACA is so important, but also how it falls short in supporting and protecting people without documentation.

 

She uses her podcast to talk about the need for comprehensive immigration policies that allow for greater access for all persons, not just those immigrants who are desirable.
She challenges ideas around ethnicity/race, through honest conversations and personal narratives which focus on how she has been treated in educational institutions as an English as a Second Language (ESL) student and in interpersonal relationships. Her future episodes have a deeper focus on educational equity, culturally responsive 

curriculum

 and critical race theory. 
One nominator said, "

One of my favorite pieces of Edith's is a guest podcast she did for 

Sobre

 la Meza, where she told stories and interviewed a student about the concept of 

Ni de 

aqui

, Ni de 

alla

. 

'

Nor here, nor there

'

, which speaks specifically to the idea that many 

immigrant

 young people feel of being between cultures. Edith discusses how bridging the space of both Mexican and American identities has allowed her to challenge stereotypes that many people have about what it means to be a young Mexican femme who

 has

 primarily grown up in Kentucky. She holds space for the complexities and contradictions that arise from being bicultural and how defining 

one's self

 for yourself is deeply important to affirming that Mexican and Latinx identities are not and never were a monoculture

."

 
The reviewers said, "

Edith's feminist artform is unique and takes great, great risks for social change.

 Edith's 

ability to use her own experience to not only explore, but challenge the norm is brilliant." 

 
Her art speaks 

to 

feminism as many of her 

works

 touch on the topics of defying Mexican/Latinx Stereotypes and 

challenging 

social expectations of each gender

, such as the idea

 of a 

'

perfect Mexican daughter

'.

 

"

Her feminism is uniquely her own

.

 

A

s a young queer Latinx femme, she is continuing to grow and evolve in her perspective and approach to how she tells stories and whose stories need to be centered.

"

 
Edith

 

takes her feminism beyond ideology. She serves as a mentor and instructor in the 

Latinx Leadership and College Experience Camp

, where she serves as a Social Justice project instructor and teaches technical podcasting skills. 

 
She pushes for social change not only in her work but also in her life. Her nominator says, "

She makes fires everywhere she goes, particularly in higher education where she works. She pushes her institution to not just rely on the rhetoric of inclusion and equity but to live out these principles in practice and policy. I know Edith will continue to use podcasting and storytelling to spark conversations, action and policy work not just in Kentucky, but nationally as she focuses on the experiences of immigrants, newly diasporic persons and refugees.

"

 
Her nominator reports that s

he is currently spearheading an effort to reimage and remix the seminal text, Borderlands/La Frontera by Gloria E. Anzaldúa.

 

This will be a project that promotes education equity. By making literature content accessible for students who are bilingual or need access to reading materials in another format. She will be creating this project by adding audio components such as an audiobook to this literature content.
"Her reimaging of Borderlands/La Frontera is truly exciting and innovative, it will have far reaching resonance and be a bridge to discussing what borderlands exist in Kentucky and beyond." 
Edith says she is very grateful for the nomination, and feels ready for the opportunities it might bring.