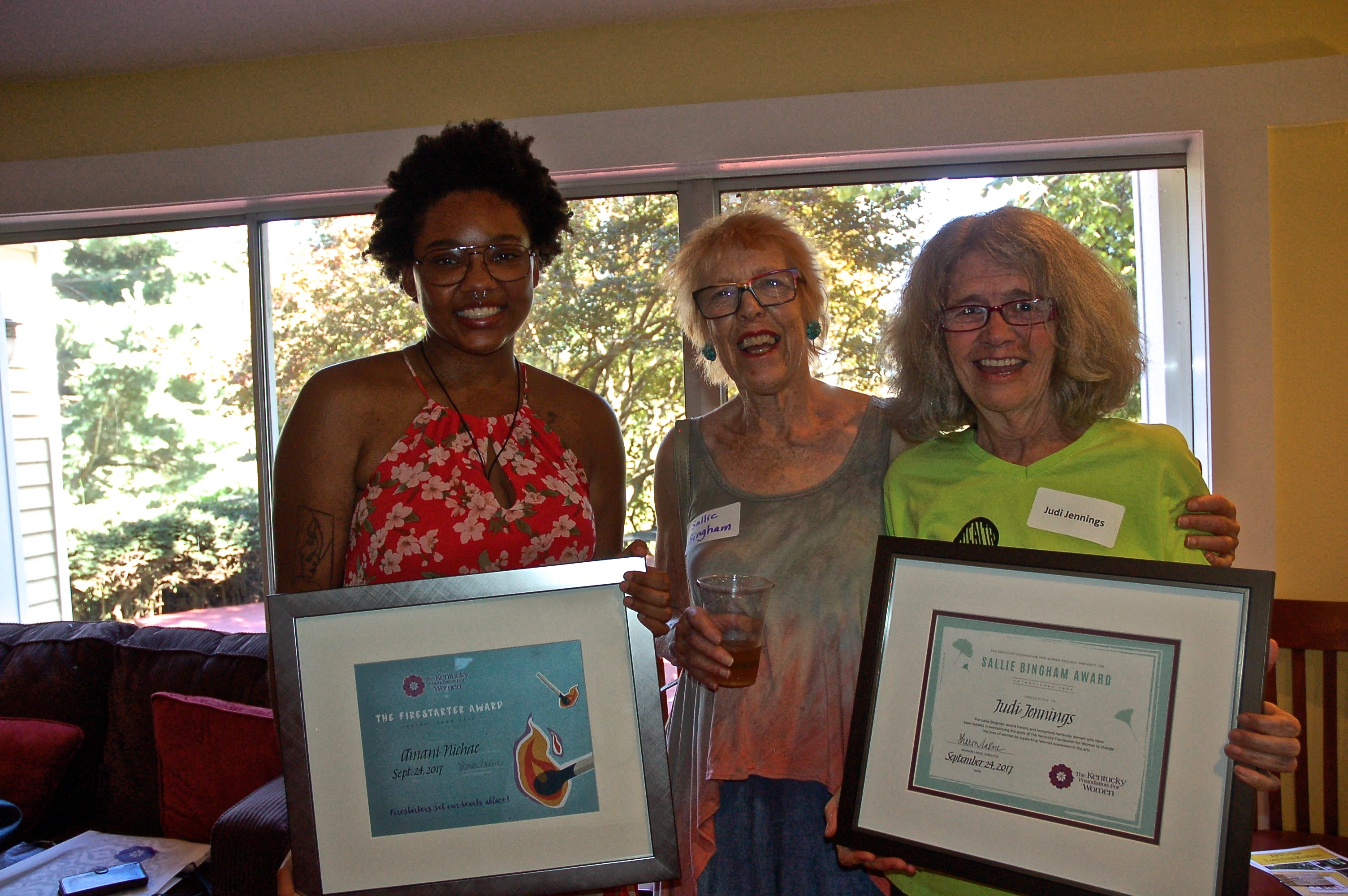 The following guest blog is from Ellen Birkett Morris, a Louisville-based writer.
The Legacy Continues
On Sunday, September 24 Kentucky Foundation for Women community members gathered at Hopscotch House as Judi Jennings, former KFW Executive Director, received the Sallie Bingham Award and Amani Nichae received the Firestarter Award.
The Firestarter Award honors a young woman who shows meaningful promise in developing as a feminist social change artist, and whose work has the potential to create positive change for women and girls in Kentucky.
Nichae, who lives in Lexington, is a photographer and activist. A student at the Art Academy of Cincinnati, she is a photographer for Be Bold, an organization dedicated to feminist ideals of positive body image, self-esteem, and the empowerment of girls ages nine to eighteen. Nichae organized Fairly Local, a Lexington art show designed to showcase artists and build community that benefited Step by Step Lexington, a mentoring ministry for at-risk young single mothers ages fourteen to twenty-four.
Named for KFW's founder, the Sallie Bingham Award recognizes Kentucky women who are leaders in changing the lives of women and girls across the state by supporting feminist expression in the arts. Recipients show a demonstrated and sustained commitment to excellence in feminist art for social change in Kentucky and to advancing social change that impacts women and girls in Kentucky.
The award was founded in 1996 by former KFW Director, Ann Stewart Anderson. Winners are selected by nominations or by recommendation from the KFW staff or Board. Previous winners include fabric artist Alma Lesch, writer and arts mentor Judy Sizemore, and writer Crystal Wilkinson.
"The Sallie Bingham Award honors artists and change makers that create their own legacy and leave their imprint on our world. It is important to recognize how their work has made significant progress towards inclusive gender equity and changed the cultural conversation," said Sharon LaRue, KFW Executive Director.
"Partnering the wisdom of the Sallie Bingham Award with the risk-taking of the Firestarter Award connects two generations and collectively calls into being a future with a bold horizon," she noted.
Here is a look at the work that Judi and Sallie continue to do to provide a pathway for activism for women who want to make a difference.
Judi Jennings Directs Special Project
Anyone who knows former KFW Executive Director Judi Jennings is not surprised that she is still hard at work on creating social change through artistic expression.
Her first awakening to the power of art for social change was in the early 1990s when she was Founding Director of the University of Louisville Women's Center. Having worked at Appalshop, an arts and education center in Whitesburg, Kentucky, Jennings knew about the American Festival Project, which was taking place at Dartmouth College that year. She went to the festival hoping to do a comparable event at University of Louisville (which came to fruition).
"On a very hot day, I was sitting in a very air conditioned theatre on the Dartmouth campus watching the one-woman play Snake Talk, written and performed by Naomi Newman of Traveling Jewish Theatre based in California. As the protagonist, Newman was struggling with religious belonging while growing up Jewish. I remembered how my own grandmother in Kentucky was determined that I would grow up Southern Baptist. Suddenly I knew that part of Naomi Newman's growing up story was my story, and she and I were the same in that respect. I also knew that I only understood that at that moment because of the power of art for social connection and understanding," said Jennings.
These days Jennings is serving as the director of the Special Project, which started in 2008 when a mother whose son was incarcerated in the Louisville Metro Jail approached KFW with a vision that "someone should be making art" with families waiting two or three hours for a video visitation with their incarcerated loved ones.
"No one was doing that work here in 2008, so we developed the KFW Special Project to create weekly art activities with families in the visitors lobby of the jail. When I retired from KFW there was still no one besides the Special Project directly focusing on children with incarcerated parents in the Metro Louisville Jail. So how could we stop offering the art activities then? Since 2016, when the Special Project became an independent network of artists and advocates, we have also began to work for more family friendly policies at the Metro Louisville Depart of Correction. This is especially important now with severe overcrowding inside the jail which makes the visitors lobby severely overcrowded, too," said Jennings.
Jennings believes firmly in the power of art and that art is for everyone. "Art has definitely been used as a tool of oppression, intentionally and unintentionally. Ideas of what counts as "real art" are often very elitist in our community, state, and nation. In my view, art is not a thing, but a way (to totally co-op a tag line for Arts Kentucky from years past)," said Jennings.
"Art produced for pay is too often valued way more than art produced by children and communities. That sends a big message that only some art is important and that "real" art is only produced by some people. Then we wonder why more people don't support "the arts" that other people got paid to create. Research shows that engaging in an arts experience is the first and most powerful entryway into support for the arts for most folks. So let's look for more opportunities for engagement in the arts for all people in our community."
In spite of the challenges faced by artists in our current political environment, Jennings remains hopeful quoting activist Grace Lee Boggs who said "these are the times to grow our souls."
"It's important to me to go beyond being reactive to today's political realities and focus on being proactive, creating something new and hopeful for the future. It is very important to resist the politics of hatred and fear that are being perpetuated right now. And it is very important to rebuild a new and realistically hopeful vision for what our communities, state, and nation can be. And, for me, it is very important for that vision to be built on love and respect for each other and not getting too preoccupied with the lowest common denominators of greed and power that are so clearly surfacing now, and instead be part of a higher calling for the greater good of all of us."
Bingham Continues the Fight
Sallie Bingham's commitment to feminism was born early as she encountered the systemic sexism of mid-century America. "Privilege doesn't protect women from the cultures' harassment, abuse, and diminished expectations," said Bingham. "I was often reminded of this when I was at college at Radcliffe in the 1950s by the condescension of the 'boys'—Harvard students—and some of the instructors. I was not able to express myself openly until the blossoming of the movement in the 1970s and 80s in New York."
Her activism was expressed in her writing and philanthrophy. Sallie's first novel was published by Houghton Mifflin in 1961. It was followed by four collections of short stories; her most recent book, from Sarabande Books in 2014, is titled The Blue Box: Three Lives in Letters. She has also published six additional novels, three collections of poetry, numerous plays (produced off-Broadway and regionally), and the well-known family memoir, Passion and Prejudice (Knopf, 1989).
In 1985, she founded The Kentucky Foundation for Women with a mission to promote positive social change by supporting varied feminist expression in the arts. At the time, the focus on the arts was radical.
But Bingham knew the arts was a powerful tool for education, action, and self-realization. "The art created by talented women reaches under society's prejudices, engaging people on an emotional, spiritual, or intellectual level that can make its message powerful," said Bingham.
Her latest project, a biography of the philanthropist Doris Duke to be published by Farrar, Straus and Giroux in 2018, continues the work of recognizing the achievements of women.
"Doris Duke was maligned in the press during her entire life, and her achievements as a philanthropist have never been acknowledged or celebrated. This still happens to any woman who steps out of the role she has been assigned by the culture. Doris travelled freely, spent freely, and had close relationships with men and women from different class or ethnic backgrounds. This is enough to condemn a woman to misunderstanding even today," said Bingham.
She believes the struggle for equality continues. "Some women are now hired at higher levels than they were two decades ago, but pay inequality is still the rule of the game, advancement is limited, and in order to 'get along' too many women become voices for their male employers and apologists for discriminatory practices," said Bingham. "As long as we are financially and otherwise dependent on men, equality will be a distant dream."
Yet, she is encouraged by the work being done today by feminist activists and artists like Jennings. "This is a battle and will always be a battle; there is no room for self-pity. Acknowledge and celebrate the changes you have made in your own life, then join with your sisters—work to find them—to work together on social change."
-Ellen Birkett Morris, 10/11/17