Press Release written by Ellen Birkett-Morris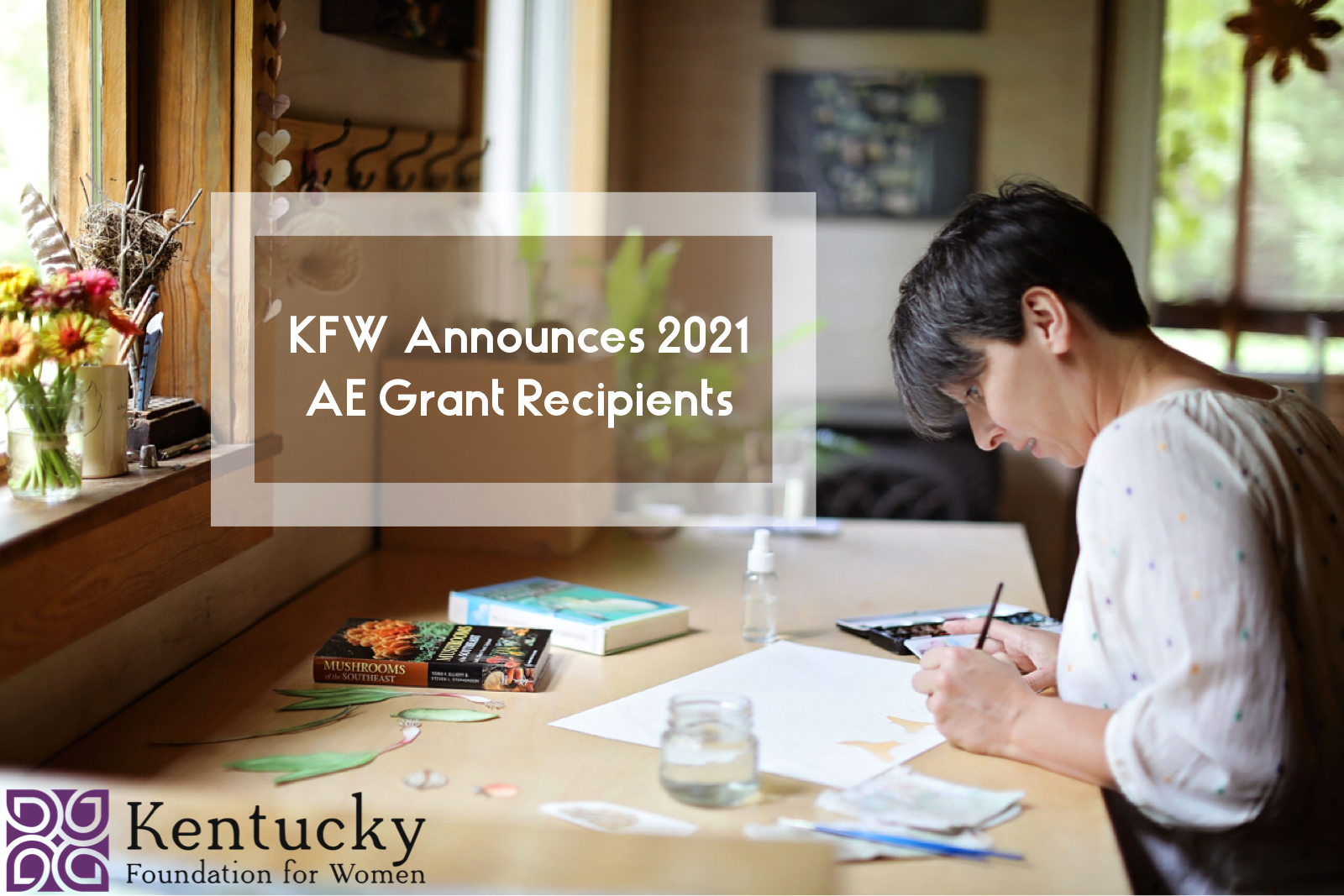 The Kentucky Foundation for Women awarded 36 Artist Enrichment grants totaling $165,207 to Kentucky feminist artists and arts organizations committed to creating positive social change throughout the state.
KFW's Artist Enrichment grants provide opportunities for feminist artists and arts organizations to develop new skills and share art that advances social justice in Kentucky. Applicants may request funds to participate in artist residencies, explore new areas or techniques, and/or build a body of work.
Arts-based organizations and artists at all stages of their careers who demonstrate artistic skill and an understanding of the power of feminist art to enact social change were welcome to apply.
The grant program drew 43 applications from throughout the state.
The Artist Enrichment grants awarded in Kentucky went to a diverse group of artists working in a variety of disciplines across the state. Their projects address vital concerns and highlight the contributions of women to Kentucky's rich artistic and cultural heritage.
They included grants centered on the effects of the COVID-19 pandemic on Kentuckians, the Asian American experience, environmental stewardship and white privilege. By developing their skills and building community, these grantees are at the forefront of spurring positive social change that will better the lives of all Kentuckians.
"These grants focus on vital issues that separate communities and leave women without a voice. Their projects will build community as these artists grow their expertise and create new paths to social change. This work will lead us to a more equitable, just Kentucky," said Sharon LaRue, executive director of the Kentucky Foundation for Women.
Recipients include:
Amelia Martens (Paducah): $3,188 to attend a creative nonfiction workshop to develop her skills as a poet writing across genres and to secure a week-long residency to create and revise work for a hybrid collection. Deepening her knowledge of craft and setting aside time to write will allow her to complete a hybrid collection of prose poems and brief essays that examines female experiences.
Michelle Eigenheer (Louisville): $7,175 to create a podcast centered on stories of Asian American individuals and communities in the South and Midwest, whose lives, victories, and hardships are often left out of narratives of these regions and of Asian America. This project will allow her to strengthen her skills as an audio and multimedia storyteller, connect with other creators for collaboration, and explore under-reported stories.
Gabriela Castillo-Miranda (Louisville): $6,700 to develop her capabilities as a performing artist by devising a magical feminism play inspired by the role of women within Afro-Caribbean religions. The play will bring attention to the cultural multiplicity and intersections that inform 21st-century Latin@ identity and invite spectators to examine how their own spirituality is affected by their assigned sex and culture.
Michelle Donahue (Hebron): $1,941 to allow time to research and complete a novel manuscript, an environmental dystopia that loosely reimagines "Gilgamesh" and "Moby Dick" from a feminist perspective. This will further her career as a writer and professor, so that she can raise awareness about the importance of women's stories and female agency in environmental conservation efforts.
Carrie Brunk, Clear Creek Creative (Disputanta): $7,500 to support a writing and research project focused on the critical moments and relationships in her life that have shaped Carrie's understanding of race, ethnicity, privilege, and white supremacy in the U.S. This project will bridge creative and functional writing with curriculum design and group facilitation in the development of learning labs to support others' journeys in building an authentic sense of self and allyship.
Kiana Mahjub (Richmond): $6,775 to create bold, feminine pieces with woodblock prints on handmade paper that portray the dissonance between her ethnic identity as a biracial Iranian woman and her "regional identity" as a printed paper quilter. Her goal is to expand her understanding of how she fits into her community, family, and region, and how that sense of belonging will create social change.
Jennifer Hart (Lexington): $6,958 to capture the effects of the COVID-19 pandemic on Kentucky women, she will execute ten portraits of women with a particular focus on women from vulnerable populations, including economically disadvantaged, racial, and ethnic minorities, the uninsured, the elderly, the homeless and LGBTQIA. This process will allow her to create a body of work that pushes her artistic development further.
KFW will provide applications and guidelines for its next grant cycle by August 2021.
The Kentucky Foundation for Women is a private foundation formed in 1985 by Louisville writer Sallie Bingham. Its mission is to promote positive social change by supporting varied feminist expression in the arts.
KFW Executive Director Sharon LaRue and selected grant recipients are available for interviews/appearances. Contact Ms. LaRue for further information and to schedule interviews. A complete list of the grants awarded statewide follows.
Click on artist name for profile and project summary