Press Release written by Ellen Birkett-Morris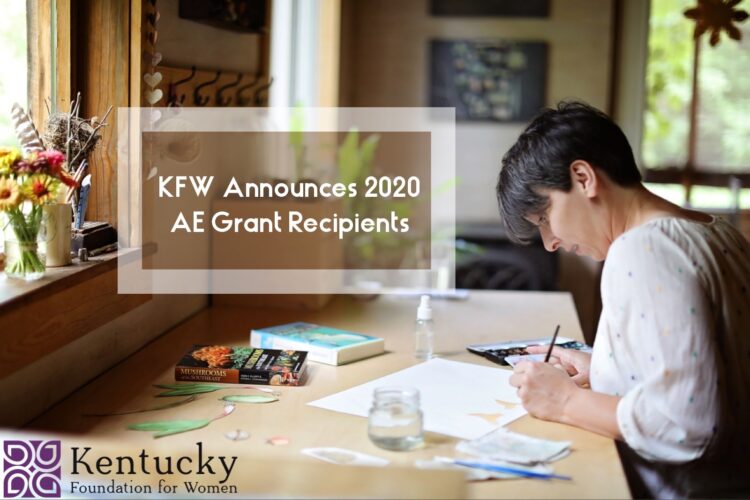 The Kentucky Foundation for Women awarded 44 Artist Enrichment grants totaling $164,960 to Kentucky feminist artists and arts organizations committed to creating positive social change throughout the state.
KFW's Artist Enrichment grants provide opportunities for feminist artists and arts organizations to develop new skills and share art that advances social justice in Kentucky. Applicants may request funds to participate in artist residencies, explore new areas or techniques, and/or build a body of work.
Arts-based organizations and artists at all stages of their careers who demonstrate artistic skill and an understanding of the power of feminist art to enact social change were welcome to apply. The grant program drew 53 applications from throughout the state.
"These grantees are reaching beyond their previous boundaries to expand their craft and their influence while drawing attention to Kentucky's rich history and the breadth of artistic mastery here. These artists build community as they grow their expertise and create new paths to social change That this work is being done in a time of crisis shines a light of hope for better days ahead!" said Sharon LaRue, executive director of the Kentucky Foundation for Women.
Recipients include:
Ashley Taylor (Louisville): $5,885 to fund the artistic process of a full-length book of poems that bridges experimental forms in surreal memoir with queer theory, sex-positive and intersectional feminism(s), including non-binary and trans-affirming advocacy. Each activity enriches their engagement with sex-positive and TNBQ+ feminism, with deconstructionist and queer theories, and with themself as a working creative.
bugz fraugg (Berea): $7,000 to develop an arts and ecology program at The Pinnacles, which is a nature preserve in Berea, using multi-layered interventions (including research/experimentation, education, and creation). This will provide both formal and informal educational opportunities, create spaces for play and wonder, and build bridges across exclusionary divides by inviting femme and femme-queer artists of color to lead aspects of the programming as this process unfolds.
Jacquelyn Carruthers (Paducah): $3,524 to paint murals that reflect feminism in the 1960s Op -Art style using bright colors and bold lines. These murals will attract women to the arts to create new ideas and allow creativity to be infused into the community.
Rosalyn Brandon (Maysville): $5,165 to finish a manuscript (poems, personal essays) based on life experiences and the struggles faced while living as a Black woman in America and to start a YouTube channel to host talks with various women from Kentucky and beyond. Completing the project will enhance her writing and speaking skills and create an online platform that will motivate and empower other women to share their stories.
Vanessa Becker Weig (Voices Amplified) (Lexington): $7,465 to launch Voices Amplified (formerly known as The Girl Project) as a podcast and fund Podcasting and ArtEquity Training. This work will help her grow as an artist while offering her the opportunity to create a culture of equity and inclusion in all areas of her artistry.
KFW will provide applications and guidelines for its next grant cycle by the end of January.
The Kentucky Foundation for Women is a private foundation formed in 1985 by Louisville writer Sallie Bingham. Its mission is to promote positive social change by supporting varied feminist expression in the arts.
KFW Executive Director Sharon LaRue and selected grant recipients are available for interviews/appearances. Contact Ms. LaRue for further information and to schedule interviews.
A complete list of the grants awarded statewide follows.
Click on artist name for profile and project summary