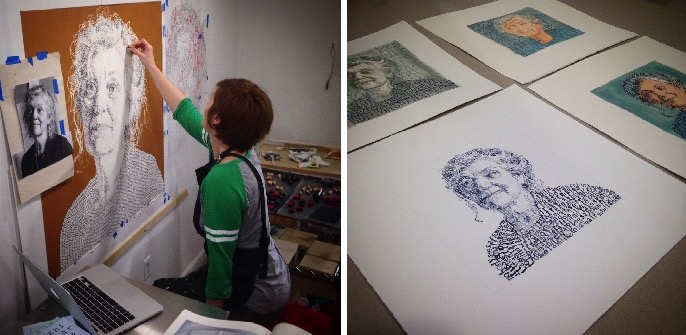 ARTIST ENRICHMENT
The Artist Enrichment (AE) grant provides opportunities for feminist artists and arts organizations to further their artistic development to create art for positive social change. Applicants may request funds for a range of activities including: artistic development, artist residencies, the exploration of new areas or techniques, or to build a body of work. Applicants to the AE grant program, like the AMA grant program, should show high artistic quality in the work sample, and should be able to demonstrate their commitment to feminism and their understanding of the relationship between art and social change. Both grant programs are arts-based and feminist in nature.
Artist Enrichment applications are due on Friday, September 1, 2017 at 5 pm EST. You can learn about the process and preview the application questions HERE. Once you are ready to apply, you can access the online application portal HERE. You will find instructions for how to create an account and get started on your application. You will be able to save your work and return to it as many times as you need to between now and the deadline.
For additional information on completing the application, click HERE.
KFW is committed to making sure our grant programs are available and accessible to all Kentucky artists, regardless of technological access or experience. If at any point you have problems or need assistance with the online process, please do not hesitate to contact us. You can e-mail Jenrose Fitzgerald, Grant Program Manager, at jenrose@kfw.org or call 502-562-0045 to reach KFW staff.
AWARDED ARTIST ENRICHMENT GRANTS
A musician in northern KY transcribes and analyzes jazz solos created by five women musicians between 1910 and 1955, and places these solos within the musical and social contexts of their day. Transcribing the solos will enrich her own work as a jazz artist and bring awareness to the presence of women jazz musicians in the early 20th century.
A literary artist in Louisville completes one week of research in a library archives on pre-Judaic culture for a novel based on the apocryphal Book of Judith. The research and revisions will enrich her capacities as a writer, and the novel will raise awareness of the important role of women in religion, and the universal vitality of women's courage and friendships.
A photographer in Louisville completes and exhibits a photographic body of work exploring the female inmate farming program at Western Kentucky's Correctional Facility. The project will increase her skills, and the completed work will raise awareness of women in prison and the programs that aid their rehabilitation.
A media artist in Russellville collects and audio records the voices of six African American women aged 70 and older singing spirituals and incorporates the songs into a play. The recordings help her learn to translate her research into theatrical productions, preserve this musical tradition, uplift elder artists and deepen understanding of the experiences of enslaved women.
A visual artist in Lexington creates a "memorial wall" visual installation incorporating individual portraits of the disappeared and murdered women of Juarez, Mexico. The traveling installation raises awareness in Kentucky and beyond about violence against women, and explores the intersections between sexism, classism, exploitation, violence, poverty and immigration.
To see a list of grants funded in the last year, click here.